Twenty-one arrested in California as protesters across US press Donald Trump to release tax returns
At least 21 people were arrested after opponents of President Donald Trump and supporters clashed at a march in Berkeley, California, US media said Saturday.
At least 21 people were arrested after opponents of President Donald Trump and supporters clashed at a march in Berkeley, California, US media said Saturday.
Hundreds of people gathered at a park, including Trump supporters who held a free speech rally, while opponents of the president's policies shouted and chanted. Several fights broke out, according to the East Bay Times newspaper.
The Los Angeles Times reported that 21 people were taken into custody.
"We're going to review any surveillance video recordings from the area, as well as videos the public sends in to us, and perhaps send out arrest warrants for those people as well," Berkeley police spokesman Byron White told CNN.
"The two injuries that were reported to us, one involved an officer who was exposed to what we believe is tear gas," he said. "Another person was sprayed with what we believe is... pepper spray."
Activists waved signs reading: "No! Pussy-Grabbing! No! Patriarchy! No! Fascist USA! Drive out Trump-Pence regime!" and "Fascist scum your time is done."
Supporters held signs in support of "Free Speech."
Trump supporters announced earlier in the week that they were holding a "Patriot Day" at the park at noon that would feature speeches by members of the alt-right, an amorphous fringe movement that uses internet memes, message boards and social media to spread a hodgepodge of racism, anti-Semitism, misogyny and xenophobia. Counter-demonstrators then said they would hold a rally at the same place at 10 am.
Police put in a makeshift barrier of plastic orange poles and orange fence mesh to separate both sides, but that quickly came down as demonstrators started punching and kicking each other, while pepper spray and firecrackers were thrown to the crowd.
After the barrier was put back in place, demonstrators shouted at each other from a distance, the San Francisco Chronicle reported.
"You go back to the '60s," shouted a pro-Trump supporter.
"You go back to the 1400s," someone on the opposing side shouted back
The groups then left the park and walked on Berkeley streets with police closely following them. Photographs of the scene showed at least two men with bloodied faces.
Authorities had said ahead of the rallies, that baseball bats, sticks, flagpoles and any items that could be used as a weapon were banned at the park. Officers on Saturday confiscated sticks, knives, flagpoles and helmets and sticks with signs on them.
Thousands of protesters gathered Saturday in cities across the United States to pressure President Donald Trump to release his tax returns, a move of transparency he has refused to make.
"Until he does, we'll never know what he's hiding or who his policies are designed to benefit. We need a president who works for all Americans — and a tax system that does, too," said the organizers of the "Tax March" demonstrations on its website.
The protests were timed to coincide with the traditional 15 April deadline for annual US tax filings.
In Washington, several thousand protesters of all ages gathered in front of the Capitol building housing Congress, holding signs such as "What is he hiding?" and "Real men pay their taxes."
A huge inflatable chicken with an orange-gold beak and a swirl of hair resembling Trump's was displayed on the sidelines of the Washington protest, and at other venues. The figure — seen by some as the unofficial mascot for the protest — apparently meant to suggest that the Republican president was afraid, or chicken, to publish his tax records.
"If he's got nothing to hide, he should release his tax returns," said protester Liz Turner, 31. Asked what she suspected was in them, Turner replied: "Maybe something to do with Russia?"
Ellen Lodwick, 67, a retired corporate researcher from Maryland who has participated in all the local anti-Trump demonstrations since his 8 November election, cast doubt on his business dealings.
"There are probably many illegal or questionable investments in things that could affect how he looks at government and legislation, because he's too connected," Lodwick said.
The protesters then marked along Pennsylvania Avenue in the direction of the White House, shouting "shame" as they passed by the Trump International Hotel.
In New York, thousands of protesters also marched, and demonstrations were held from Boston and Philadelphia on the East Coast to Seattle, San Francisco and Los Angeles out West, and cities and towns in between.
Tradition of Tax releases
For decades, US presidents and presidential candidates have released their tax returns voluntarily, although there is no legal requirement to do so. US law requires only the publication of a financial statement that estimates assets, including debt and revenue, but does not give details on the amount of taxes paid.
Trump, a billionaire property tycoon, released such a financial statement but has kept his tax returns private, both during the election campaign and since taking office in January.
Trump has justified his refusal to publish his returns by noting they are being audited. Federal tax authorities say that does not bar him from releasing the returns. Trump has repeatedly said he has used legal loopholes to minimize his tax burden.
"Disclosing tax returns is the very lowest ethical bar for a president, and we are going to insist that he clear it," Senator Ron Wyden, an Oregon Democrat, told the crowd in Washington.
Trump was not in the city during the demonstration; he is again spending the weekend at his Mar-a-Lago estate in Palm Beach, Florida.
Several hundred "Tax March" protesters demonstrated outside the exclusive property Saturday.
"Pay your taxes!" several people yelled as they marched. One of them, a young girl, held a small sign that read "Trump is a tax e-VADER" and showed an image of Darth Vader wearing a blond hairpiece.
In New York, several thousand protesters assembled around Bryant Park in midtown Manhattan, at a demonstration that was to include a march to the Trump International Hotel and Tower, where Trump lived before his election.
With inputs from agencies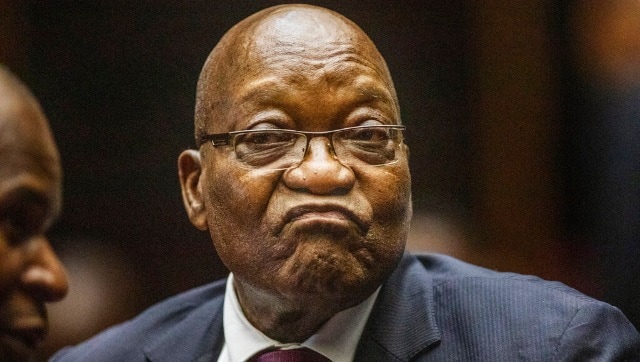 World
The violence broke out after Zuma began serving a 15-month after he refused to comply with a court order to testify at a anti-corruption probe
Arts & Culture
Nickelodeon has several other activities planned to mark the 8 September 1996, premiere of the original Blue's Clues, which aired six seasons' worth of originals. The celebration includes a music video featuring current star Josh Dela Cruz and former Blue's Clues hosts Steve Burns and Donovan Patton.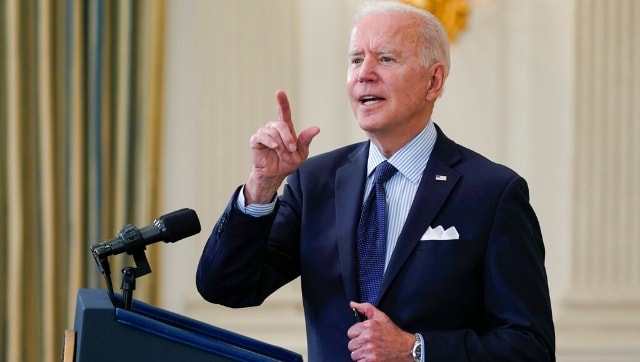 World
The White House and communications experts say Biden's whispering is just this veteran politician's old-school way of trying to make a connection while emphasising a point.