Tusk says Brexit served as 'vaccine' against eurosceptic EU vote
BRUSSELS (Reuters) - Britain's Brexit paralysis served as a 'vaccine' against the eurosceptic vote in the European Union's parliamentary elections, European Council President Donald Tusk said on Tuesday. Eurosceptic parties gained in the bloc-wide election last week, but less than expected and pro-EU liberal and green parties have also gained at the expense of the fragmenting centre, according to the latest preliminary results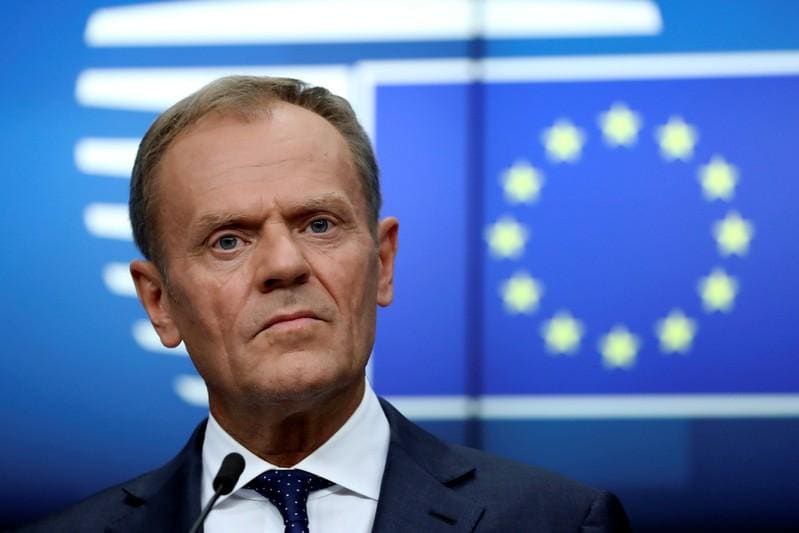 BRUSSELS (Reuters) - Britain's Brexit paralysis served as a "vaccine" against the eurosceptic vote in the European Union's parliamentary elections, European Council President Donald Tusk said on Tuesday.
Eurosceptic parties gained in the bloc-wide election last week, but less than expected and pro-EU liberal and green parties have also gained at the expense of the fragmenting centre, according to the latest preliminary results.
Pro-EU parties will still have a majority in the new EU assembly and the bloc told London on Tuesday it would not renegotiate the UK withdrawal agreement that the outgoing Prime Minister Theresa May had agreed with the EU but then failed to ratify at home.
"I have no doubt that one of the reasons why people on the continent voted for a pro-European majority is also Brexit," Tusk told a news conference after chairing a summit of all 28 EU leaders to pick five names for the bloc's top jobs that are up for grabs after the bloc-wide election.
"As European see what Brexit means in practice, they also draw conclusions. Brexit has been a vaccine against anti-EU propaganda and fake news."
Britain's political crisis and social divisions around Brexit have only deepened since Britons voted to leave the EU nearly three years ago.
How, when and even whether Britain would leave the bloc is uncertain, a political conundrum that has eclipsed May, who is due step down next month. A new Conservative prime minister might want a much more decisive break with the EU.
(Reporting by Gabriela Baczynska; Editing by Lisa Shumaker)
This story has not been edited by Firstpost staff and is generated by auto-feed.
World
ATHENS (Reuters) - Greek police used teargas and water cannon to disperse people who had gathered in central Athens on Saturday to protest against mandatory COVID-19 vaccinations. More than 4,000 people rallied outside the Greek parliament for a third time this month to oppose mandatory inoculations for some workers, such as healthcare and nursing staff.
World
ISTANBUL (Reuters) - Two Turkish soldiers were killed and two were wounded in an attack on their armoured vehicle in northern Syria, and Turkish forces immediately launched retaliatory fire, Turkey's defence ministry said on Saturday. "Our punitive fire against terrorist positions is continuing," the statement on Twitter on said. It did not specify where the attack occurred, but media reports said it was in the al-Bab area.
World
By Marcelo Rochabrun SAO PAULO (Reuters) - Protesters took to the streets in several Brazilian cities on Saturday to demand the impeachment of far-right President Jair Bolsonaro, whose popularity has fallen in recent weeks amid corruption scandals against the backdrop of the pandemic. This week, news broke that Brazil's defense ministry told congressional leadership that next year's elections would not take place without amending the country's electronic voting system to include a paper trail of each vote. Bolsonaro has suggested several times without evidence that the current system is prone to fraud, allegations that Brazil's government has denied