Editor's note: This article was first published on 6 April. It has been updated and republished in light of Anthony Scaramucci's firing.
Any new administration is, inevitably, a reflection of the man sitting in the seat of power. The Oval Office is currently occupied by Donald Trump, a real estate magnate and reality show host who enjoys having his underlings fight it out for his approval. Much like on his television show The Apprentice, alliances are fleeting — built and discarded every week by a cast of rotating characters — the only real constant is unquestioned loyalty to the president.
In fact, Trump recently gave voice to the sentiment, saying that his staff is "fighting over who loves me the most." Right.
The latest victim of this lovers' quarrel was Anthony Scaramucci, who was fired as White House communications director on Monday.  "The Mooch", as he is called, gained global notoriety for his foul-mouthed interview taking shots at Steve Bannon and Reince Priebus.
He was hired just 10 days ago and reportedly axed by the president at the urging of new chief of staff John Kelly, a four-star general who is now tasked with imposing order in a chaotic White House. While all this has made for great entertainment, it has resulted in almost no concrete achievements for Trump, whose political capital is all but spent.
The Trump presidency: A series of firings
On 21 April, US Surgeon General Vivek H Murthy, an Obama administration holdover, was asked to resign by the Trump administration. While it was not  clear why Murthy was relieved from duty, it was just the latest in a series of firings by the US president.
On 5 April, Trump removed chief strategist Steve Bannon from the US National Security Council.
Bannon, one of the president's closest aides, is a controversial figure; the former editor of the Right-wing conspiracy theory website Breitbart News (which also acts as a platform for white nationalism), has described himself as a Leninist, who wants to "destroy the administrative state".
Bannon's elevation to the National Security Council (NSC) in January, which came in conjunction with the demotion of the director of national intelligence and the chairman of the joint chiefs of staff, was seen as a radical move, which drew criticism even from members of his own party.
The New York Times reported that Bannon's departure from the NSC comes as a result of a power play by Trump's son-in-law Jared Kushner and daughter Ivanka Trump, and at the insistence of National Security Adviser Lt Gen HR McMaster.
Bannon is said to have increasingly lost the confidence Trump confidants, including Kushner and Ivanka, after the public implosion of the president's healthcare bill and the immigration ban being repeatedly struck down by the courts.
But the final push came at the urging of McMaster, who insisted that the Situation Room, where key decisions are made, was no place for a political adviser, The New York Times reported.
On 31 January, acting attorney general Sally Yates, another holdover from the Obama administration was let go, for refusing to defend Trump's travel ban. The White House accused her of "betraying" the new administration. Recently, Yates was reportedly blocked her from testifying to Congress about any information she might have of Trump aides dealing with Russia by the White House.
The highest-profile sacking came early into the Trump presidency: In February, National Security Adviser Michael Flynn was relieved of his position in just 24 days (the average serving tenure of an NSA is 2.6 years).
Fynn was reportedly maintaining illegal contact with Russian Ambassador Ambassador Sergey Kislyak during the transition period and reportedly lied to Vice-President Mike Pence about it.
Flynn has reportedly agreed to provide testimony to officials investigating alleged ties between Russia and Donald Trump's presidential campaign, in exchange for immunity from prosecution, The Wall Street Journal reported.
In March, Attorney General Jeff Sessions abruptly demanded the resignations of 46 US attorneys, including New York federal prosecutor Preet Bharara, appointed by Obama. Interestingly, Bharara met with Trump during the latter's transition period and was assured that he would be asked to stay on. No one knows what changed, although some point to the fact that as US attorney for New York, Bharara would have the power to investigate the president's dealings.
I did not resign. Moments ago I was fired. Being the US Attorney in SDNY will forever be the greatest honor of my professional life.

— Preet Bharara (@PreetBharara) March 11, 2017
On 1 August, Scaramucci was fired after he was brought in to bring the White House back on track. However, he proceeded to draw negative attention to himself by describing Reince Priebus, who was shunted out last week, as a "paranoid schizophrenic" and using lurid sexual language to take shots at Trump strategist Steve Bannon. "The president firmly felt that Anthony's comments were inappropriate for a person in that position," said White House spokeswoman Sarah Huckabee Sanders.
Sanders added that everyone in the West Wing — including Scaramucci — reported to Kelly, a return to tradition for a White House that has been anything but. "General Kelly has the full authority to operate within the White House, and all staff will report to him," said Sanders. "That includes everybody at the White House."
Chaos from the outset
The first casualty of Trump's management came during the transition: Former New Jersey Governor Chris Christie was ousted as transition chief in November and replaced by vice president-elect Mike Pence, a move that threw the Trump team into a state of disarray and left world leaders trying to reach the President-elect by blindly dialling Trump Tower.
The axing was the result of behind the scenes maneuvering by Kushner, who reportedly had a frostly relationship with Christie. As a former US attorney in New Jersey, Christie had been involved in the prosecution of Kushner's father, which resulted in a jail sentence, The Washington Post reported.
Two other members of the transition team with strong ties to Christie — Representative Mike Rogers of Michigan and Matthew Freedman, a lobbyist who consults with corporations and foreign governments — were also pushed out.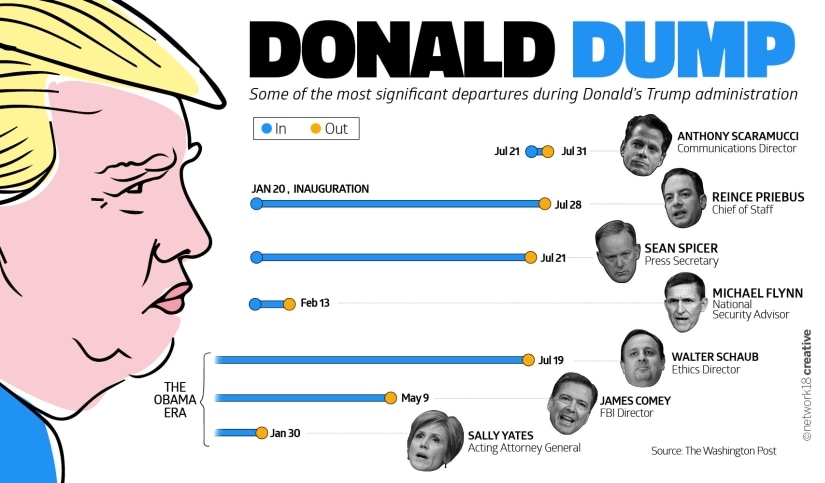 'They view jobs as lollipops, things you give out to good boys and girls'
The Atlantic reported that Eliot Cohen, a top official in George W Bush's State Department and a professor at Johns Hopkins University, warned fellow Republicans to steer clear of serving in the Trump administration right off the bat.
Cohen, who initially asked careerists to serve under Trump before the transition, changed his mind after an incident that occurred with a close friend and Trump aide: When asked to recommendation individuals for the National Security team, Cohen responded by saying that the best and brightest would only enlist if there were credible people leading national security agencies and departments. In response, he received an angry email from his friend, accusing him of trying to insinuate himself with the winners and the President-elect.
After exchange w Trump transition team, changed my recommendation: stay away. They're angry, arrogant, screaming "you LOST!" Will be ugly.

— Eliot A Cohen (@EliotACohen) November 15, 2016
"It became clear to me that they view jobs as lollipops, things you give out to good boys and girls," Cohen told The Washington Post.
With his presidency reaching its 100th day, Trump is facing strong headwinds: His healthcare bill is dead, the second attempt is on life support, and he rather unsuccessfully attempted to revive it, his travel bans have been repeatedly struck down by the courts and his approval rating is hovering at a historic low. Not to mention the Russia cloud hanging over his White House.
According to presidential historian Douglas Brinkley, Trump has led "the most failed first 100 days of any president".  "To be as low as he is in the polls, in the 30s, while the FBI director is on television saying they launched an investigation into your ties with Russia, I don't know how it can get much worse," Brinkley, a best-selling biographer of presidents Gerald Ford, Franklin Roosevelt, and Theodore Roosevelt, told The Washington Post.
Former first lady Michelle Obama once said: "Being president doesn't change who you are. It reveals who you are."
The first 100 days of Donald Trump's presidency have been extremely revealing.
Updated Date: Aug 01, 2017 13:24 PM