Turkish soldier killed, six others wounded in attacks in south east | Reuters
DIYARBAKIR A Turkish soldier was killed in an armed attack in Nusaybin in Turkey's south east and six were wounded in an ambush on a police vehicle, the armed forces and other security sources said on Saturday. The six were wounded when an explosive was detonated as a military vehicle passed on the road to Mazidagi, another town in Mardin province, security sources said, adding that clashes followed. In Nusaybin the soldier was injured having been attacked by members of the 'separatist terrorist organisation' during operations against the group, and was taken to hospital
DIYARBAKIR A Turkish soldier was killed in an armed attack in Nusaybin in Turkey's south east and six were wounded in an ambush on a police vehicle, the armed forces and other security sources said on Saturday.
The six were wounded when an explosive was detonated as a military vehicle passed on the road to Mazidagi, another town in Mardin province, security sources said, adding that clashes followed.
In Nusaybin the soldier was injured having been attacked by members of the "separatist terrorist organisation" during operations against the group, and was taken to hospital. He could not be saved and died by 1100 local time (0800 GMT), a statement from the armed forces said.
A ceasefire between the militant group Kurdistan Workers Party (PKK) and the state collapsed last July and attacks on Turkey's security forces have since increased amid a surge in violence in the predominantly Kurdish southeast that has killed hundreds of people.
The PKK is recognised as a terrorist organisation by Turkey, the United States and the European Union.
(Reporting by Seyhmus Cakan and Dasha Afanasieva; Additional reporting by Ayla Jean Yackley; Editing by Toby Chopra)
This story has not been edited by Firstpost staff and is generated by auto-feed.
World
Their official meeting or reunion took place on Monday (13 September) in Texas, but the two had earlier met at the border last week. They met each other after communicating on social media.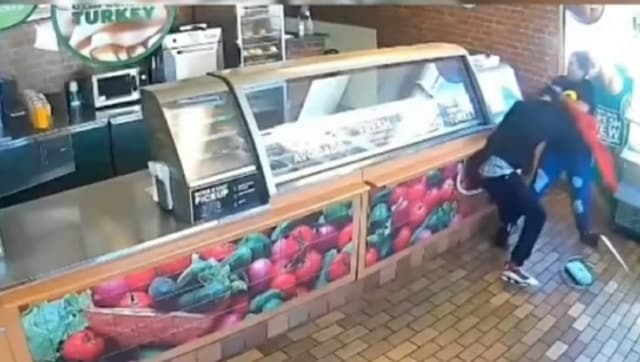 World
The video, captured on 5 September, shows Sotelo fighting off an armed robber, hitting him repeatedly with his own gun.
News & Analysis
In its partnership with Ray-Ban's parent company, EssilorLuxottica, Facebook has called its glasses, a stepping stone toward 'full augmented reality glasses'.