Turkish military jets flew over Turkey's capital, Ankara, and deadly fighting was reported in what appears to have been an attempted military coup that took place on late Friday night. A statement said that military has seized control of the country because of rising autocratic rule and increased terrorism, though Turkey's president, Recep Tayyip Erdogan,  said "a minority" within the military has attempted a coup and he has urged citizens to take to the streets to support the government.
Has the military meddled in politics before?
The military staged three coups between 1960 and 1980 and pressured Prime Minister Necmettin Erbakan, a pious Muslim mentor of Erdogan who was disliked by Turkey's secular establishment, out of power in 1997.
1960 Coup
During this time a lot of religious institutions were reopened and various schools for religious personnel were created.
As a result some military officers launched a coup and the president, prime minister and several cabinet ministers were arrested and tried for treason. The PM was executed the next year. The reign of the military lasted for about five years and then the control was finally handed back to the citizens who then chose a leader in the democratic way.
1971 Coup by Memorandum
After a few years of rule of the PM Suleyam Demirel, a widespread civil unrest gave rise to the growing Islamist movement. The military didn't use violence, instead delivered a 'coup of memorandum' and accused Demirel of driving the country into anarchy. Demirel resigned, and the military asked a member of the right-wing, secularist Republican People's Party to form a government that lasted until 1974 after which a new president was elected by the parliament.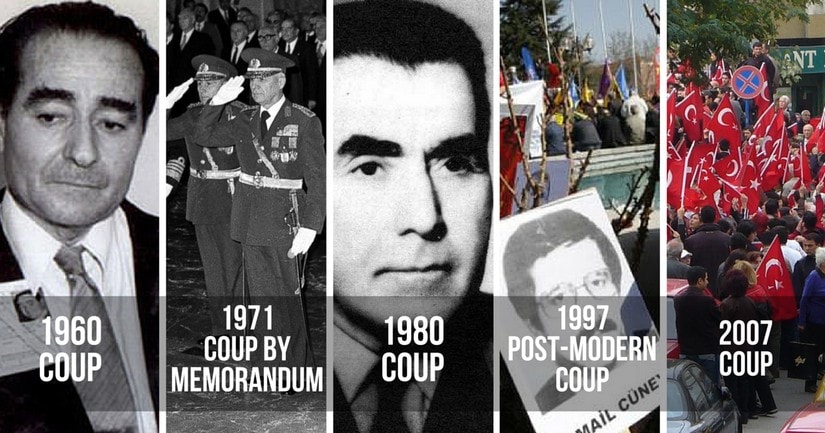 1980 Coup
Turkey was not stable throughout the 1970s. It saw 11 different prime ministers take office in that time. In September the military started a coup.In the next three years were frought with violence and many people were detained, dozens were executed, tortured and missing. A new constitution, was drafted and approved by the majority during a public referendum in 1982.
1997 Post-Modern Coup
In 1996, Necmettin Erbakan became Turkey's first Islamist prime minister. The following year, the military again enacted a coup forcing the ruling government to enact anti-religious measures. They even banned headscarf in universities. Erbakan was forced into resignation soon after.
2007 coup
In 2007, the military threatened to intervene in a presidential election and warned the government to curb Islamic influences, but the action backfired and Abdullah Gul, the candidate favored by a government with Islamic leanings, took office. The apparent coup attempt that is currently unfolding is surprising to many observers because Erdogan's government had taken steps, including dismissals and prosecutions of high-ranking active and former officers for alleged coup plots, to bring the military to heel.
Despite past tensions, Erdogan's government appeared to be working effectively with the military in recent years, coordinating on national security issues and also confronting a perceived anti-government faction said to have infiltrated the police and other institutions.
Why would the military intervene in government?
The Turkish military has traditionally seen itself as the guardian of Turkey's old secular establishment, a legacy of national founder and former army officer Mustafa Kemal Ataturk, as well as an enforcer of order in times of civil unrest and weak civilian leadership. While it was forced to lower its political profile in the past decade under Erdogan's government, the country has increasingly been buffeted by an upswing in the conflict with Kurdish separatist rebels, bombings by suspected Islamic extremists — including an attack on Istanbul's main airport last month that killed dozens — and concern over the war in neighbouring Syria that has pushed huge numbers of refugees across the border into Turkey.
Erdogan has also been a polarizing leader with a combative streak, even though he commands deep support among a pious Muslim class that once felt marginalized under past military-influenced governments.
Why is the Turkish military important?
The military of Nato member Turkey is a key partner in US-led efforts to defeat the Islamic State group, which controls territory in Syria and Iraq, and has allowed American jets to use its Incirlik air base to fly missions against the extremists. Erdogan recently sought to repair strained ties with Russia after Turkey shot down a Russian jet that had been flying a mission against rebels in Syria, killing a pilot.
Turkey's location in the turbulent Mideast region, straddling the Asian and European continents, has made it a critical player in international conflicts in the past.
In 2003, Turkey barred U.S. forces from opening a northern front in the war against Saddam Hussein in Iraq in a stunning rebuff to Washington that raised questions about whether the politically powerful Turkish military had undercut a civilian-led initiative to help the Americans.
What do Turks think about their military?
Turks have a conflicted relationship with their military, an institution that is cloaked in the lore of sacrifice but also tarnished as a past symbol of repression. Military coup leaders in the past drew on the support of Turks who saw them as saviours from chaos and corruption, but they were often ruthless.
With inputs from agencies
Firstpost is now on WhatsApp. For the latest analysis, commentary and news updates, sign up for our WhatsApp services. Just go to Firstpost.com/Whatsapp and hit the Subscribe button.
Updated Date: Jul 16, 2016 12:49:45 IST