Tubman is 'fantastic', but don't scrap Jackson: Trump hits out at $20 bill 'political correctness'
Donald Trump thinks anti-slavery icon Harriet Tubman is 'fantastic' — but he says the move to have her replace seventh president Andrew Jackson on the $20 bill is 'pure political correctness', reports CNN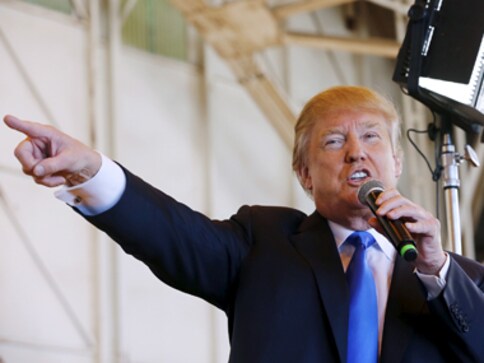 New York: Donald Trump thinks anti-slavery icon Harriet Tubman is "fantastic" — but he says the move to have her replace seventh president Andrew Jackson on the $20 bill is "pure political correctness", reports CNN.
"Well, Andrew Jackson had a great history, and I think it's very rough when you take somebody off the bill," Trump said during a town hall on the Today show on NBC on Thursday morning.
"I think Harriet Tubman is fantastic, but I would love to leave Andrew Jackson or see if we can maybe come up with another denomination."
Trump suggested — as Ben Carson also has — that Tubman be put on the $2 bill, which was no longer printed.
The business mogul heaped praise on Jackson, whose presence on the $20 bill was criticised due to his history as a slave-owner and his dismal record on Native American and racial issues, epitomised by the Jackson administration's infamous "Trail of Tears" policy that forcibly relocated the Cherokee people to devastating effect.
"(Jackson) had a history of tremendous success for the country," Trump said. "(The $20) really represented somebody really that was very important to this country. I would love to see another denomination and that could take place. I think that would be more appropriate."
Trump also attributed Jackson's removal to the popularity of the hit musical Hamilton, since it was the $10 bill, graced by first Treasury Secretary Alexander Hamilton, that had initially been targeted in the push to put a woman on a piece of US currency.
"As you know they were going to do the $10 bill, and then all of a sudden the Broadway play, Hamilton, sort of saved that one," Trump said.
Tubman, who died in 1913 at the age of 91, escaped slavery in the South and eventually led hundreds of escaped slaves to freedom as a "conductor" of the Underground Railroad. After the slaves were freed, Tubman was a staunch supporter of a woman's right to vote.
Of the decision to put Tubman on the $20 bill, which was announced this week, Treasury Secretary Jack Lew said, "What she did to free people on an individual basis and what she did afterward — that's a legacy of what an individual can do in a democracy."
World
While Saudi Arabia is fighting the decision, insisting U.S. courts have no jurisdiction over its high officials, the ruling means lawyers for the PGA Tour would be able to question top officials about business secrets that the Saudis have held close
World
The panel, which operates in secret, usually gathers on Monday, Wednesday and Thursday afternoons, leading to speculation that a vote on a historic indictment of a former president was imminent
World
Republican heavyweights such as House Speaker Kevin McCarthy have urged against protests while backing Trump's claims that an indictment would be unjust. But other lawmakers have joined in promoting baseless theories