Trump's travel ban faces tough scrutiny in US court of appeals
President Trump's controversial executive order barred entry to all refugees for 120 days, and to travellers from Iran, Iraq, Libya, Somalia, Sudan, Syria and Yemen for 90 days, triggering chaos at US airports and worldwide condemnation.
San Francisco: President Donald Trump's controversial immigration order on Wednesday faced intense scrutiny as a court of appeals grilled the Trump Administration whether the travel ban unconstitutionally discriminates against Muslims and questioned the arguments that curbs were motivated by national security concerns.
Asserting that President Trump was within his constitutional rights and obligations to sign the executive order that temporarily bans immigration from seven Muslim-majority countries, the Justice Department urged court of appeals to reinstate the travel ban — put on hold by the courts last week.
During the hour-long hearing, conducted by phone, before a three-judge panel of the Ninth US Circuit Court of Appeals here, the Justice Department lawyer August Flentje said in signing the executive order Trump struck the balance between national security and the practice of allowing people from entering the country.
"The President struck that balance, and the district court's order has upset that balance. This is a traditional national security judgement that is assigned to the political branches and the president and the court's order immediately altered that," Flentje said in his hearing which was telecast live by a number of television news channels.
The lawyer urged the San Francisco court to remove the halt on the executive order by a court in Seattle.
"The district court's decision overrides the President's national security judgment about the level of risk and we've been talking about the level of risk that's acceptable," he said.
Flentje's assertion led to a series of rapid fire exchanges with all three judges pressing him to explain the limits of his position.
"Has the government pointed to any evidence connecting these countries with terrorism," asked Judge Michelle Friedland.
The Court of Appeals is expected to give its verdict soon. The case is likely to hit the Supreme Court in coming days.
The three-judge panel asked the government lawyer whether the Trump administration's national security argument was backed by evidence that people from the seven countries posed a danger.
"Has the government pointed to any evidence connecting these countries with terrorism," asked Judge Friedland.
"Are you arguing then that the President's decision in hat regard is unreviewable (by a court)?" he asked another time.
Another judge Willian Canby asked if the President could simply say the US will not admit Muslims into the countries.
"Could he do that? Would anyone be able to challenge that?" he asked.
"That's not the order. This is a far cry from that situation," Flentje replied. But said that a US citizen with a connection to someone seeking entry might be able to challenge the executive order if that were the case.
President Trump's controversial executive order barred entry to all refugees for 120 days, and to travellers from Iran, Iraq, Libya, Somalia, Sudan, Syria and Yemen for 90 days, triggering chaos at US airports and worldwide condemnation.
Pleading before the court to continue the stay on the executive order, Noah Purcell, Solicitor General of Washington State challenged the claims that there is no evidence of religious discriminatory intent behind the Trump's order.
"There are statements that are rather shocking evidence of intent to harm Muslims," he alleged.
"You don't have to prove it harms every Muslim — you just need to show the action was motivated in part by animus," he argued.
"It would not remedy the order's violation of the establishment clause which harms everyone in our state...by favouring one religious group over another. It also would not fully remedy the order's violation of the equal protection law — denying some of our residents who are here, allowing them to receive those visits and so on," Purcell said.
In his rebuttal, Flentje said the Department of Justice is not saying the case shouldn't proceed.
"But it is extraordinary for a court to enjoin the President's national security determination based on some newspaper articles," he argued.
During the hearing, Flentje cited a number of Somalis in the US who, he alleged, had been connected to the al-Shabab terrorist group after judges asked for the evidence.
Trump last week lashed out over a court order to block the immigration ban, saying on Twitter, "The opinion of this so-called judge, which essentially takes law-enforcement away from our country, is ridiculous and will be overturned!"
During a Congressional hearing, a top Cabinet official said the executive order is lawful and constitutional, exuding confidence that it would prevail over in the ongoing legal battle.
"The President's recent executive order to temporarily suspend entry for foreign nationals from seven countries we believe is lawful and constitutional, and the review ordered by the president is necessary and appropriate," Gen (rtd) John Kelly, Secretary of Homeland Security, said.
"It will enable us to assess the adequacy and availability of information we need from all countries to adjudicate all visa applications, other benefits under our existing immigration laws, and to determine if the person seeking the benefit is in fact who they say they are and would not present as a threat," he said.
"While some of the core tenets of this order are the subject of ongoing litigation, it is my belief that we will prevail and be able to take the steps necessary to protect our nation. Americans must feel safe to walk down the street, go to the mall, or to a night club anywhere and anytime. Fear must not become the status quo as it has in so many parts of the world,"" Kelly said.
Kelly said the Trump Administration is considering other measures, adding to the vetting on the other end so that the US can insure even more so that the right people are coming to the country and not bad people.
Two of the seven countries, which were identified by the previous Obama Administration, are still listed as state sponsors of terrorism.
"So, we don't trust them at all because they are state sponsors of terrorism and they don't cooperate with us to the degree that certainly President Trump and now certainly I'm confident that what we get from those countries, which is very little cooperation to really determine who are the people that want to come here," he said.
Among the other five are nearly fail states in many respects, he argued. "We will take a look at all of these countries going forward as to whether they remain on the pause list. I'm at a total loss to understand how we can vet, people from various countries when in at least four of those countries we don't even have an embassy. So, I think the pause made an awful lot of sense," he said.
"Going forward, we would hope that there are countries that will come off the list," he added. At the same time he said the US is not looking at adding any new countries to the list.
"There are no other countries right now being contemplated, being put on any type of a travel pause. Some other countries out there can be improved and we hope to work with them, to help them improve. Just like we hope to work with one, two, three, whatever of the countries, of the seven countries to help them improve their vetting to satisfy us so that we can, you know, open our doors to their citizens," he said in response to a question.
Kelly said some of these seven countries might come off the list in the next 80 days or so when the review is complete.
"I like to think some of them will, and the ones that won't get off are the ones that once again that are basically failed and, I was just reading this morning where hundreds perhaps even into the thousands of individuals have fled from Africa have fled to Yemen, again a country that almost defines a country, a failed country so that they can try to get on a list to come to the United States," he said.
World
The Vienna talks aimed at reviving the deal were suspended in June, when Iran elected ultraconservative Ebrahim Raisi as president
World
It is unclear if the Saudi royal family was aware of the fake furs or was deceived by a supplier. The Saudi Embassy in Washington declined to respond to the matter, as did a spokesperson for Trump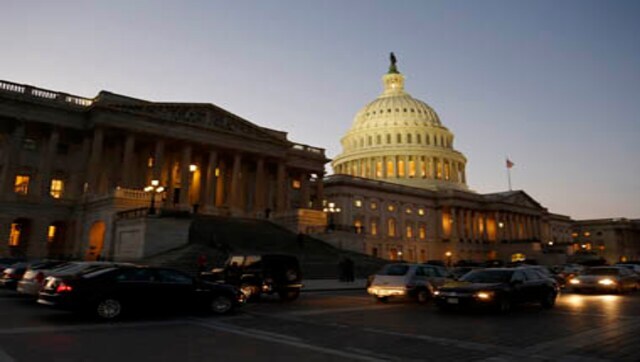 World
The breakthrough — which temporarily defers the crisis by adding another $480 billion to the allowable debt total — came with an estimated 11 days to go until the country would no longer have been able to borrow money or pay off loans for the first time in its history