Trump would not intervene if Whitaker moves to curtail Mueller probe
By Amanda Becker WASHINGTON (Reuters) - President Donald Trump said in an interview aired on Sunday he would not intervene if Matthew Whitaker, his acting U.S. attorney general, moved to curtail Special Counsel Robert Mueller's investigation of Russian interference in the 2016 presidential election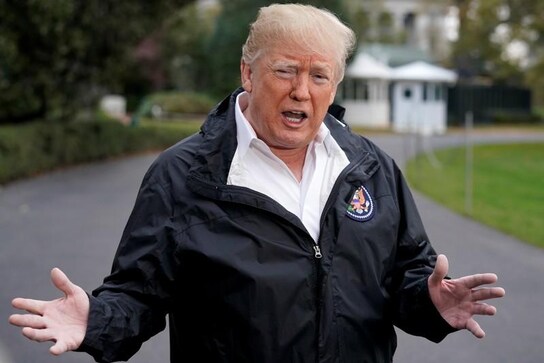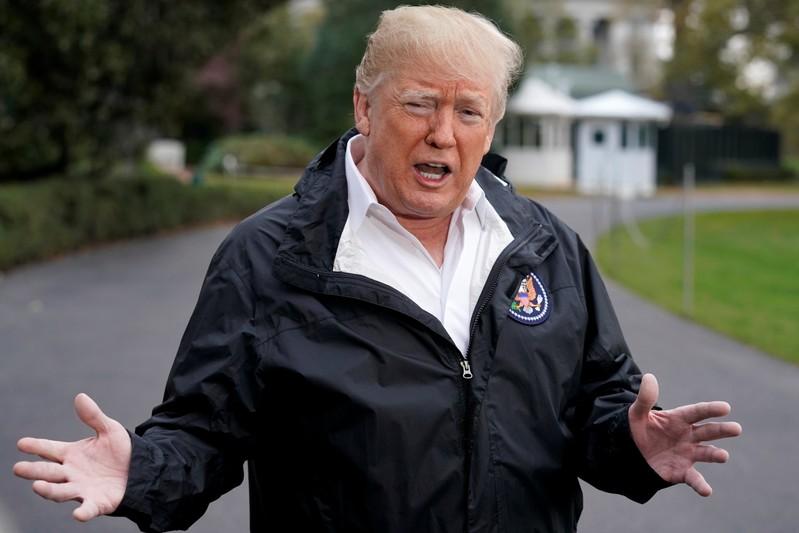 By Amanda Becker
WASHINGTON (Reuters) - President Donald Trump said in an interview aired on Sunday he would not intervene if Matthew Whitaker, his acting U.S. attorney general, moved to curtail Special Counsel Robert Mueller's investigation of Russian interference in the 2016 presidential election.
In an interview with the "Fox News Sunday" program taped on Friday, Trump also said he probably would not agree to a sit-down interview with Mueller, who also is investigating whether the Republican president's campaign conspired with Moscow and whether Trump has unlawfully sought to obstruct the probe.
Whitaker took over supervision of Mueller's investigation on Nov. 7 after Trump appointed him as the chief U.S. law enforcement official to replace Jeff Sessions, who the president ousted. Whitaker, who Democrats have called a Trump "political lackey," in the past criticized the scope of the Mueller probe and brought up the possibility of undermining it by slashing Mueller's funding.
Trump, in the interview, said he was unaware of Whitaker's past statements about Mueller's probe and that he would "not get involved" if Whitaker moved to curtail it.
"It's going to be up to him," Trump said told "Fox News Sunday" interviewer Chris Wallace. "I think he's very well aware politically. I think he's astute politically. ... He's going to do what's right."
Trump has denied any collusion with Moscow and has called the Mueller investigation a "witch hunt." Russia also has denied collusion.
"There is no collusion, he happened to be right," Trump said, referring to one of Whitaker's previous statements.
Mueller has brought charges against a series of former Trump aides, including his former campaign chairman and his former national security adviser, as well as a number of Russian individuals and entities. Congressional critics have voiced concern that Whitaker could hamper or even fire Mueller.
A bipartisan group of U.S. senators renewed a push last week for legislation to protect the special counsel, but Senate Majority Leader Mitch McConnell, a Republican, opposes it. Republican Senator Lindsey Graham, who will likely lead the Senate panel overseeing the Justice Department next year, met with Whitaker last week and expressed confidence Russia probe would continue.
'THE RULE OF LAW'
    U.S. Representative Adam Schiff, the top Democrat on the House of Representatives Intelligence Committee, said Democrats will not stand for any effort by Whitaker to curb Mueller's probe.
    "We will expose any involvement he has in it," Schiff, referring to Whitaker, told ABC's "This Week" program," accusing Trump of appointing Whitaker in order to interfere with the investigation. "This is an attack on the rule of law."
Trump told reporters at the White House on Friday he had "very easily" completed his written answers for Mueller's investigation. In his "Fox News Sunday" comments, he signaled he had no plans to do a face-to-face interview with Mueller's team.
Trump and his lawyers had been in negotiations with Mueller's team for months over how the president would be questioned as part of the investigation. Wallace asked Trump whether it was his final position that he would not do a sit-down interview and would not give written responses to questions relating to obstruction of justice.
"I think we've wasted enough time on this witch hunt and the answer is probably, we're finished," Trump said, though he added "I can change my mind."
"We gave very, very complete answers to a lot of questions that I shouldn't have even been asked, and I think that should solve the problem," Trump added.
(Reporting by Amanda Becker; Editing by Will Dunham)
This story has not been edited by Firstpost staff and is generated by auto-feed.
Business
By Stephen Nellis (Reuters) -Apple Inc on Monday said it will offer the ability to store state-issued identification cards digitally on iPhones and that it is working with the U.S. Transportation Security Administration to accept the digital IDs at airports, one of several updates to the software that runs on its devices. It also showed updates to its FaceTime video chat app, adding the ability to schedule calls with multiple attendees and making the software compatible with Android and Windows devices.
Business
LONDON (Reuters) - The bosses of all airlines flying passenger services between Britain and the United States called on Monday for the countries' governments to relax COVID-19 restrictions to reopen travel routes between the two countries. After more than a year of restrictions, the CEOs of American Airlines, IAG unit British Airways, Delta Air Lines, United Airlines and JetBlue Airways Corp said high vaccination rates in both countries meant travel could restart safely. The push for reopening trans-Atlantic routes on Monday comes ahead of meetings between U.S.
Business
BRUSSELS (Reuters) - The European Union's patience towards Britain over Brexit arrangements in Northern Ireland is wearing thin and the bloc will consider its options should Britain continue its "confrontational path", an EU official said on Monday.