Trump urges Mexico to send migrants home; 42 arrested
WASHINGTON (Reuters) - U.S. President Donald Trump said on Monday that Mexico should send Central American migrants seeking asylum in the United States back to their home countries, a day after U.S. authorities shut the country's busiest southern border crossing and fired tear gas into the crowd.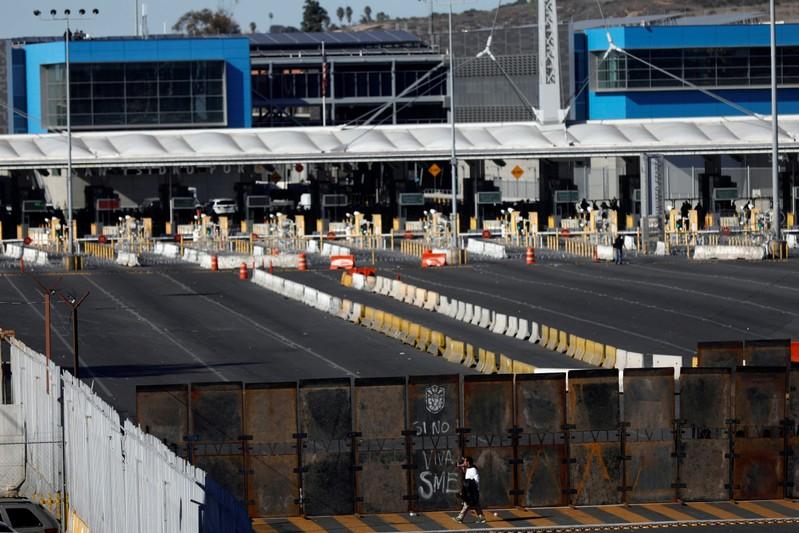 WASHINGTON (Reuters) - U.S. President Donald Trump said on Monday that Mexico should send Central American migrants seeking asylum in the United States back to their home countries, a day after U.S. authorities shut the country's busiest southern border crossing and fired tear gas into the crowd.
U.S. officials reopened the crossing at the San Ysidro port of entry between the U.S. city of San Diego and the Mexican city of Tijuana on Sunday after closing it for several hours.
Sunday's incident, which took place after a group of people rushed at the border fencing, was the latest chapter in a weeks-long saga that has pitted Trump's hardline stance on immigration against a group of thousands of migrants who have made their way north through Mexico from violent and impoverished Central American countries.
As news pictures showing children fleeing tear gas prompted sharp criticism from some lawmakers and rights advocates, U.S. government agencies defended the response.
Rodney Scott, chief U.S. Border Patrol agent in San Diego, said on Monday authorities had arrested 42 people. The vast majority of those assembled at the border were economic migrants who would not qualify for asylum, he told CNN, adding that there were few women and children.
"What I saw on the border yesterday was not people walking up to Border Patrol agents and asking to claim asylum," Scott said.
U.S. Customs and Border Protection officers "were struck by projectiles thrown by caravan members" and "perpetrators will be prosecuted," U.S. Homeland Security Secretary Kirstjen Nielsen said on Twitter Sunday night.
The migrants, mostly Hondurans, have traveled to the border in large groups, or caravans and now number more than 8,000. Many of the thousands who have gathered in Tijuana have said they will wait there until they can seek asylum. If they enter the United States, legally or illegally, they have a right to seek asylum.
Trump has said the migrants should not easily enter the country and on Monday he threatened again to shut down the U.S.-Mexico border, which stretches 2,000 miles (3,200 km).
Although Sunday's incident took place at a part of the border where there is already a physical barrier, Trump again urged Congress to fund his long-promised border wall, as well as reiterating his unsubstantiated assertion that there are many criminals among the migrants.
"Mexico should move the flag waving Migrants, many of whom are stone cold criminals, back to their countries. Do it by plane, do it by bus, do it anyway you want, but they are NOT coming into the U.S.A. We will close the Border permanently if need be. Congress, fund the WALL!" Trump tweeted.
Mexican government officials has no immediate response. Mexico has been in negotiations with the United States over a possible plan to keep migrants in Mexico while their asylum claims are processed.
U.S. lawmakers return to Washington on Monday after the U.S. Thanksgiving holiday break and face a deadline to approve funding for the federal government before some funding runs out on Dec. 7. Trump has repeatedly threatened to shut down the federal government unless Congress pays for the wall.
Some 7,400 of the migrants are now gathered in the Mexican border state of Baja California, in the cities of Tijuana and Mexicali, and tensions had been rising in recent days amid a series of daily protests. On Sunday in Tijuana, hundreds of caravan members including women and children protested peacefully. Mexican authorities intervened, prompting a rush toward the border by some people, before U.S. agents fired tear gas.
It was not immediately clear whether those throwing objects at U.S. agents were part of the caravan, MSNBC reported.
'TEAR GASSING FAMILIES'
Democrats and other critics called the Trump administration's use of tear gas toward the migrants an overreaction, and blamed the administration for rejecting efforts to address larger immigration issues.
"Tear gassing families seems unnecessary," Lee Gelernt, the deputy director of the ACLU Immigrants' Rights Project, told CNN.
For weeks before the Nov. 6 congressional elections, Trump raised the alarm about the migrant caravans and ordered some 5,800 U.S. troops to the border to support border patrol agents. Critics said this was aimed largely at bringing the immigration issue to the fore with his core supporters.
The president now has just a few weeks left to push his fellow Republicans, who currently control both chambers of Congress, to make good on funding the proposed wall before Democrats take control of the U.S. House of Representatives in January following their election gains.
Democrats in Congress want more comprehensive immigration reform in addition to additional border security, but strongly oppose Trump's wall.
"The time is long overdue for Congress and this president to say we need comprehensive immigration reform," U.S. Senator Bernie Sanders, an independent who caucuses with the Democrats, told "CBS This Morning." U.S. authorities need to "minimize the level of force that is being used," he added.
U.S. Senator Angus King, another independent, told the Hugh Hewitt syndicated radio program on Monday the wall did not appear to be a high priority for Republicans or Democrats in Congress.
Republican U.S. Senator Joni Ernst told CNN on Sunday she did not want a government shutdown but that "we're seeing results" from Trump's efforts on asylum seekers.
(Additional reporting by Doina Chiacu; Writing by Susan Heavey; Editing by Jeffrey Benkoe and Frances Kerry)
This story has not been edited by Firstpost staff and is generated by auto-feed.
also read
World
COPENHAGEN A South Korean woman wanted for questioning in connection with the scandal that brought down president Park Geun-hye has withdrawn her appeal against extradition from Denmark, the Danish state prosecutor said on Wednesday.
World
By Philip Pullella and Steve Holland | VATICAN CITY VATICAN CITY Pope Francis urged U.S.