Trump to visit hurricane-stricken North Carolina, death toll at 33
By Ernest Scheyder and Patrick Rucker WILMINGTON/FAYETTEVILLE, N.C. (Reuters) - Residents of the Carolinas struggled to return to normalcy on Tuesday after taking a beating from Hurricane Florence, but their efforts were hindered by standing water and additional flooding expected from already swollen rivers.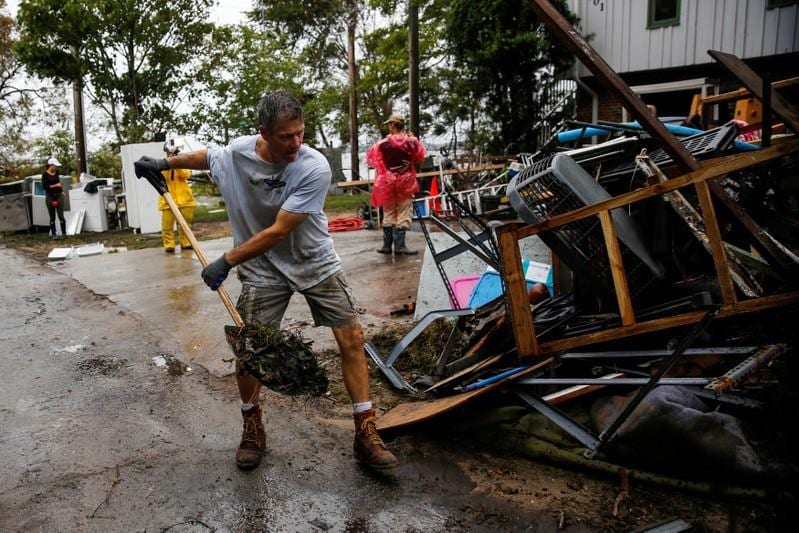 By Ernest Scheyder and Patrick Rucker
WILMINGTON/FAYETTEVILLE, N.C. (Reuters) - Residents of the Carolinas struggled to return to normalcy on Tuesday after taking a beating from Hurricane Florence, but their efforts were hindered by standing water and additional flooding expected from already swollen rivers.
Florence has killed at least 33 people since coming ashore as a hurricane on Friday, including 26 in North Carolina and six in South Carolina. One person was killed when Florence spawned at least 16 tornadoes on Monday in Virginia, the National Weather Service said.
The White House said President Donald Trump would visit North Carolina on Wednesday. He has been criticized for his handling of Hurricane Maria, which devastate Puerto Rico last year, and more recently for disputing the official death toll of 3,000.
Waterways were expected to keep rising on Tuesday in places like Fayetteville, North Carolina, a city of 200,000 in the southern part of the state, according to the weather service, hampering efforts to restore power, clear roads and allow residents to homes.
More than 1,100 roads were still closed across North Carolina, Governor Roy Cooper said on Tuesday, including several portions of Interstates 40 and 95. Sixteen rivers in the state have reached major flood stages, with three more expected to peak in the next two days, he said.
"Road conditions are starting to improve in some parts of our state but rising creeks, streams and rivers continue to make travel unsafe," Cooper said in a news conference.
Brock Long, head of the Federal Emergency Management Agency, appeared with Cooper and said his agency would help restore power and open roads.
"I think the next 48 hours are going to be incredibly critical," he said.
Officials said residents should not attempt to return to the counties along the state's coast around Wilmington yet due to continued risk of flooding.
A portion of the roof collapsed at the Starlight Motel near the U.S. military base at Fort Bragg but there were no immediate reports of casualties.
The storm dumped more than 8 trillion gallons (30 trillion litres) of rain on North Carolina, the weather service said. On Tuesday, the storm's remnants were continuing to soak the mid-Atlantic region and southern New England with heavy rain.
Property damage from the storm is expected to come to $17 billion to $22 billion, the risk management firm Moody's Analytics said. Further flooding could push up that figure.
The risk modelling agency Air Worldwide on Tuesday said insured losses from Florence's winds and storm surge will range from $1.7 billion to $4.6 billion. Those figures do not include losses from continuing flooding.
ROAD CONDITIONS 'STILL CHANGING'
Fire and rescue crews were waiting to go into many areas to assist with structural damage after Florence dumped up to 36 inches (91 cm) of rain on the state since Thursday.
"Road conditions are still changing," the North Carolina Department of Transportation wrote on Twitter on Tuesday. "What's open now may become impassable."
Thousands of rescues have taken place in the Carolinas, and more than 650 people were taken to safety in and around Wilmington, North Carolina, said Barbi Baker, a spokeswoman for New Hanover County.
The coastal city took a direct hit when Hurricane Florence came ashore and has been largely cut off since then due to storm surges and flooding from the Cape Fear River.
More than 347,000 customers, mostly in the Carolinas, were without power on Tuesday morning, according to power companies, down from a peak of nearly 1 million outages.
North Carolina's Emergency Management department has opened four mass feeding kitchens and has plans to open four more shortly.
Gasoline shortages were a problem. In Wilmington, dozens of cars lined up for fuel at a Kangaroo Express service station.
"It is ridiculous that we don't have enough fuel supplies back in this area," Stephanie Schauer, 39, a contractor, said as she waited her turn at the gas pump. "It's been days since the storm."
(Reporting by Ernest Scheyder and Patrick Rucker; Additional reporting by Bernie Woodall in Miami; Brendan O'Brien in Milwaukee; Jessica Resnick-Ault and Barbara Goldberg in New York; Anna Mehler Paperny in North Carolina; and Rich McKay in Atlanta; Writing by Bill Trott; Editing by Jonathan Oatis and Lisa Shumaker)
This story has not been edited by Firstpost staff and is generated by auto-feed.
World
ATHENS (Reuters) - Greek police used teargas and water cannon to disperse people who had gathered in central Athens on Saturday to protest against mandatory COVID-19 vaccinations. More than 4,000 people rallied outside the Greek parliament for a third time this month to oppose mandatory inoculations for some workers, such as healthcare and nursing staff.
World
ISTANBUL (Reuters) - Two Turkish soldiers were killed and two were wounded in an attack on their armoured vehicle in northern Syria, and Turkish forces immediately launched retaliatory fire, Turkey's defence ministry said on Saturday. "Our punitive fire against terrorist positions is continuing," the statement on Twitter on said. It did not specify where the attack occurred, but media reports said it was in the al-Bab area.
World
By Marcelo Rochabrun SAO PAULO (Reuters) - Protesters took to the streets in several Brazilian cities on Saturday to demand the impeachment of far-right President Jair Bolsonaro, whose popularity has fallen in recent weeks amid corruption scandals against the backdrop of the pandemic. This week, news broke that Brazil's defense ministry told congressional leadership that next year's elections would not take place without amending the country's electronic voting system to include a paper trail of each vote. Bolsonaro has suggested several times without evidence that the current system is prone to fraud, allegations that Brazil's government has denied