Trump to provide $12 billion in aid to farmers to ease trade pain
By Susan Heavey and David Shepardson WASHINGTON/KANSAS CITY, Mo. (Reuters) - The Trump administration on Tuesday said it would provide up to $12 billion in aid for U.S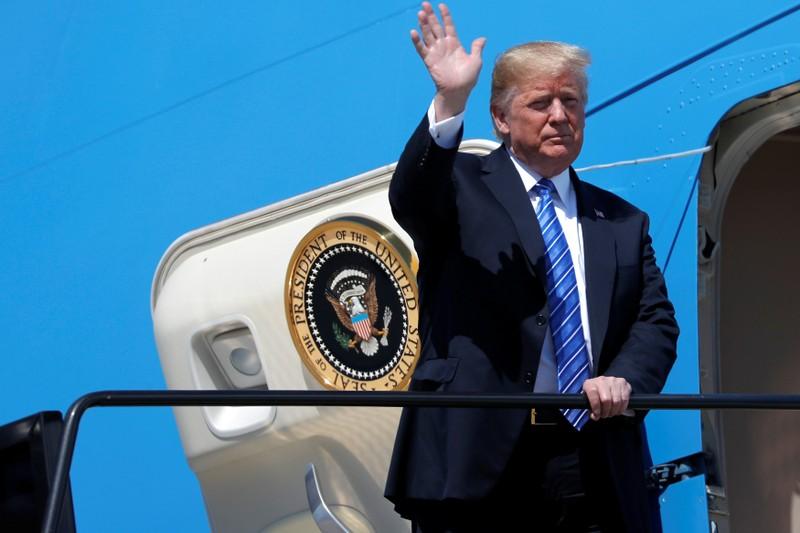 By Susan Heavey and David Shepardson
WASHINGTON/KANSAS CITY, Mo. (Reuters) - The Trump administration on Tuesday said it would provide up to $12 billion in aid for U.S. farmers to shield them from the repercussions felt by trade spats between the United States and China, the European Union and others.
China has targeted U.S. agricultural exports with tariffs in retaliation to those imposed by U.S. President Donald Trump, because the majority of voters in the farm states voted for him in the 2016 election.
Republican candidates in the upcoming congressional elections in November, however, have expressed deep concern about their states' farm economies.
Trump has been talking for months about finding ways to aid farmers as China, in particular, has cancelled orders for soybeans and other crops.
Sonny Perdue, secretary of the U.S. Department of Agriculture, said the relief package will be financed through the USDA's Commodity Credit Corporation and thus will not require congressional approval.
The aid is intended to serve as temporary boost to farmers as the United States and China negotiate over trade issues.
"This obviously is a short-term solution that will give President Trump time to work on a long-term trade policy," Perdue said.
The Commodity Credit Corporation has broad authority to make loans and direct payments to U.S. growers when prices for corn, soybeans, wheat and other agricultural goods are low.
In a speech to in Kansas City, Missouri on Tuesday, the president aggressively defended his trade policies.
"We have to do it," Trump said, blasting both China and the European Union.
"But it's all working out," he said. Farmers would ultimately benefit from his approach, he pledged.
Later this week, Trump will visit Iowa and Illinois, two other farm-belt states, as he seeks to shore up support for Republican candidates in those regions.
Federal subsidies for farmers, however, are likely to place congressional Republicans, who typically resist large-scale government assistance programs, in a difficult position of supporting the president, a fellow Republican, or distancing themselves.
Some were quick to denounce the proposal.
"This trade war is cutting the legs out from under farmers and the White House's 'plan' is to spend $12 billion on gold crutches," said Senator Ben Sasse, a Nebraska Republican who frequently criticizes the president, a fellow Republican.
"Tariffs are taxes that punish American consumers and producers," Kentucky Republican Senator Rand Paul wrote on Twitter. "If tariffs punish farmers, the answer is not welfare for farmers — the answer is remove the tariffs."
Republican Senator Chuck Grassley of Iowa said the aid package is "encouraging for the short term."
"What farmers in Iowa and throughout rural America need in the long term are markets and opportunity, not government handouts," Grassley said.
Democratic U.S. Representative Jackie Speier of California, a major agricultural state, challenged the president on Twitter.
"OK @POTUS - you created this mess with your trade war and now you are going to spend $12 billion to placate the farmers that voted for you," she tweeted.
SHORT-TERM BOOST?
The news, however, lifted shares of farm equipment companies on the prospect that farmers will have more money to spend on tractors and other farm gear. Deere & Co jumped 2.7 percent, while Caterpillar Inc gained more than 1 percent and AGCO Corp rose 0.5 percent. Soybean futures <0#S:>, hit hard by China's retaliatory tariffs, rose 1.2 percent and hit their highest in two weeks as traders bet farm aid would improve demand, reducing a current surplus supply.
Farmers have been a particular target in the current clash over trade policy as other countries seek to retaliate for Trump's duties on Chinese goods as well as on steel and aluminium imports from the European Union, Canada and Mexico. Those affected economies have in turn targeted U.S. agricultural products, including soybeans, dairy, meat, produce and liquor.
Some manufacturers will view the subsidies to farmers as "frustrating," according to a representative of a manufacturing coalition working on trade issues, speaking on condition of anonymity pending the official announcement.
Manufacturers – particularly any who use steel or aluminium – have also been hit hard by the effects of Trump's decision to levy tariffs on the two metals.
Farmers for Free Trade, an agricultural-industry advocacy group, also criticized the administration's proposal.
"The best relief for the president's trade war would be ending the trade war. Farmers need contracts, not compensation, so they can create stability and plan for the future," said the group's executive director, Brian Kuehl. "This proposed action would only be a short-term attempt at masking the long-term damage caused by tariffs."
(Reporting by Ginger Gibson, Susan Heavey, Roberta Rampton, David Shepardson in Washington; Michael Hirtzer, Thomas Polansek, Caroline Stauffer, Mark Weinraub in Chicago, and Steve Holland in Kansas City.; Writing by Susan Heavey and James Oliphant; Editing by Tim Ahmann, Marguerita Choy and Frances Kerry)
This story has not been edited by Firstpost staff and is generated by auto-feed.
Find latest and upcoming tech gadgets online on Tech2 Gadgets. Get technology news, gadgets reviews & ratings. Popular gadgets including laptop, tablet and mobile specifications, features, prices, comparison.
World
MOSCOW (Reuters) - Russian President Vladimir Putin said on Wednesday he had noted what he called "sharp anti-Russian rhetoric" from U.S. Democratic presidential candidate Joe Biden, but that he had been encouraged by Biden's comments on arms control. Putin, in comments on state television ahead of the U.S.
World
By John Irish and Robin Emmott PARIS/BRUSSELS (Reuters) - France and Germany said on Wednesday they would propose European Union sanctions against Russian individuals after receiving no credible answers from Moscow over the poisoning of Kremlin critic Alexei Navalny with a nerve agent. Several Western governments have said Russia, which has denied accusations by Navalny that it was involved in the poisoning, must help in investigations or face consequences. The decision and speed with which Europe's two main powers agreed to push ahead with sanctions suggests a hardening of the bloc's diplomacy towards Moscow.
World
By Steve Holland WASHINGTON (Reuters) - U.S. President Donald Trump, under coronavirus quarantine in the White House and restricted from traveling, is seeking ways to put a spark back in his struggling re-election bid and get behind his desk in the Oval Office with four weeks left until Election Day.