Trump to meet U.S. FBI, Justice officials over campaign spying concerns
WASHINGTON (Reuters) - U.S. President Donald Trump will meet on Monday with Justice Department and intelligence officials to discuss his order to look into whether his 2016 presidential campaign was infiltrated or surveilled under the Obama administration, a White House official told Reuters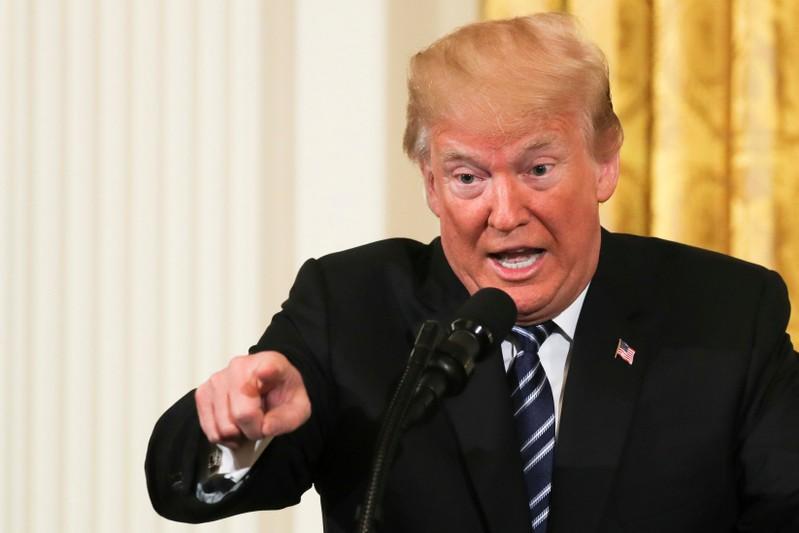 WASHINGTON (Reuters) - U.S. President Donald Trump will meet on Monday with Justice Department and intelligence officials to discuss his order to look into whether his 2016 presidential campaign was infiltrated or surveilled under the Obama administration, a White House official told Reuters.
Trump had a 3 p.m. EDT (1900 GMT) meeting scheduled with Deputy Attorney General Rod Rosenstein, Federal Bureau of Investigation Director Christopher Wray and Director of National Intelligence Dan Coats, the official said.
On Friday, Trump suggested that the FBI may have planted or recruited an informant in his campaign, citing unidentified reports that at least one FBI representative was "implanted" there.
He asked the Justice Department to look into the claims in a Twitter post on Sunday. Hours later, a spokeswoman said the department asked its inspector general to expand a review of the process for requesting surveillance warrants to include determining whether there was impropriety or political motivation in how the FBI conducted its investigation.
The FBI was looking into Trump election campaign ties to Moscow before Special Counsel Robert Mueller took over the probe a year ago.
"If anyone did infiltrate or surveil participants in a presidential campaign for inappropriate purposes, we need to know about it and take appropriate action," Rosenstein said in a statement on Sunday evening.
Federal investigators are probing whether anyone in the Trump campaign worked with Russia to sway the election to the Republican candidate. Trump has denied any collusion and repeatedly dismissed the investigation as a "witch hunt."
Trump has shown increasing signs of impatience with the investigation led by Mueller as it enters its second year, saying it was politically motivated and had its roots in the administration of Democratic President Barack Obama.
His Republican allies in Congress, led by House Intelligence Committee Chairman Devin Nunes, have pushed the same message.
In March, the Justice Department's inspector general launched a review into allegations by Republican lawmakers that the FBI made serious missteps when it sought a warrant to monitor a former adviser to Trump's 2016 election campaign.
Justice Department Inspector General Michael Horowitz said his review will examine whether the FBI and Justice Department followed proper procedures when they applied for a warrant with the Foreign Intelligence Surveillance Court to secretly conduct surveillance on former adviser Carter Page and his ties to Russia.
Republican U.S. Representative Lee Zeldin said he and 16 other members of Congress will introduce a resolution on Tuesday alleging Justice Department and FBI misconduct involving surveillance in the Trump-Russia probe.
Neither Trump nor his new lawyer, Rudy Giuliani, provided any evidence of government infiltration into Trump's presidential campaign.
The New York Times, citing people familiar with the matter, reported that the FBI sent an informant to talk to two Trump campaign advisers, Page and George Papadopoulos, after the agency received evidence that the two men had suspicious contacts linked to Russia during the campaign.
Papadopoulos pleaded guilty last fall to lying to FBI agents about his contacts with Russia.
(Reporting by Steve Holland and Doina Chiacu; editing by Cynthia Osterman)
This story has not been edited by Firstpost staff and is generated by auto-feed.
Business
By Sumita Layek (Reuters) - Gold rebounded from a more than two-week low on Friday after U.S. nonfarm payrolls did not rise as much as expected, although bullion was still on course to register its biggest weekly decline since March
Business
BRUSSELS (Reuters) - Euro zone retail sales fell more than expected in April, dragged down by a decline in sales of non-food products, but were still much higher than 12 months earlier when most countries were under strict pandemic lockdowns, data showed on Friday. The European Union's statistics office Eurostat said retail sales in the 19 countries sharing the euro fell 3.1% month-on-month in April but were 23.9% higher than a year earlier
Business
By Jonnelle Marte and Ann Saphir (Reuters) - Hotels, restaurants and other businesses are boosting pay as they try to rebuild their staffs and meet increasing demand from Americans ready to venture out as pandemic-related restrictions are lifted and more people are vaccinated.