Trump to have banquet with queen and will meet PM May on UK state visit
LONDON (Reuters) - U.S.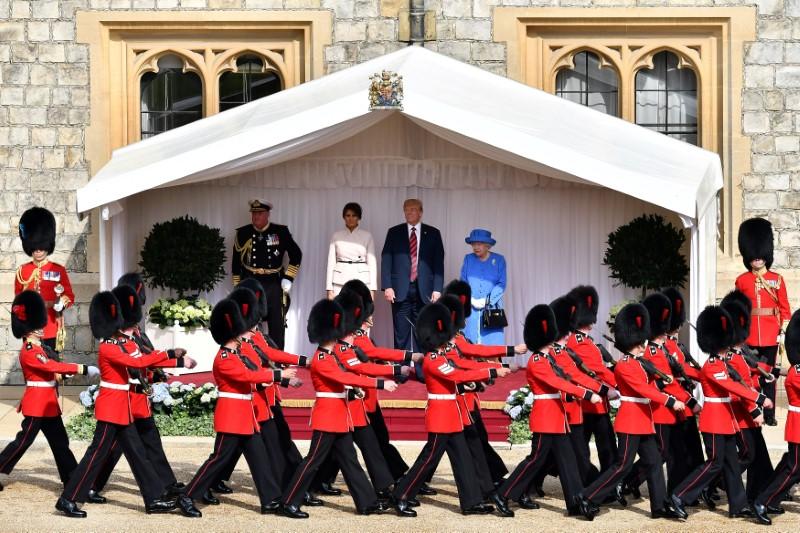 LONDON (Reuters) - U.S. President Donald Trump will attend a banquet at Buckingham Palace with Queen Elizabeth and hold talks with outgoing Prime Minister Theresa May during his state visit to Britain next month, the palace said on Friday.
Trump and First Lady Melania are due in Britain on June 3 for the state visit affair and he will become only the third U.S. president to be accorded the honour, after George W. Bush in 2003 and Barack Obama in 2011.
He will be greeted on his arrival at Buckingham Palace by the 93-year-old monarch with her son Prince Charles and his wife Camilla before he attends a private lunch hosted by the queen.
During his three-day visit, the president will also have a private tea with Charles, lay a wreath at the Grave of the Unknown Warrior in Westminster Abbey as well as attending events to commemorate the 75th anniversary of the D-Day landings.
There will also be talks with May, who announced on Friday that she would quit as prime minister after failing to deliver Brexit. The contest to replace her will begin the week after Trump's visit.
Britain's so-called special relationship with the United States is one of the enduring alliances of the past century, but some British voters see Trump as crude, volatile and opposed to their values on issues ranging from global warming to his treatment of women.
Campaigners have said they would hold large demonstrations during the visit, echoing similar protests by hundreds f thousands of people that accompanied his trip to Britain in 2018.
During that trip, Trump shocked Britain's political establishment by giving a withering assessment of May's Brexit strategy. He said she had failed to follow his advice, such as suing the EU, but later said May was doing a fantastic job.
(Reporting by Michael Holden. Editing by Andrew MacAskill)
This story has not been edited by Firstpost staff and is generated by auto-feed.
World
ATHENS (Reuters) - Greek police used teargas and water cannon to disperse people who had gathered in central Athens on Saturday to protest against mandatory COVID-19 vaccinations. More than 4,000 people rallied outside the Greek parliament for a third time this month to oppose mandatory inoculations for some workers, such as healthcare and nursing staff.
World
ISTANBUL (Reuters) - Two Turkish soldiers were killed and two were wounded in an attack on their armoured vehicle in northern Syria, and Turkish forces immediately launched retaliatory fire, Turkey's defence ministry said on Saturday. "Our punitive fire against terrorist positions is continuing," the statement on Twitter on said. It did not specify where the attack occurred, but media reports said it was in the al-Bab area.
World
By Marcelo Rochabrun SAO PAULO (Reuters) - Protesters took to the streets in several Brazilian cities on Saturday to demand the impeachment of far-right President Jair Bolsonaro, whose popularity has fallen in recent weeks amid corruption scandals against the backdrop of the pandemic. This week, news broke that Brazil's defense ministry told congressional leadership that next year's elections would not take place without amending the country's electronic voting system to include a paper trail of each vote. Bolsonaro has suggested several times without evidence that the current system is prone to fraud, allegations that Brazil's government has denied