Trump to blame for death of Rosanne Boyland, 34, at Capitol riot, family member says
WASHINGTON (Reuters) - The brother-in-law of a woman killed during Wednesday's assault on the U.S.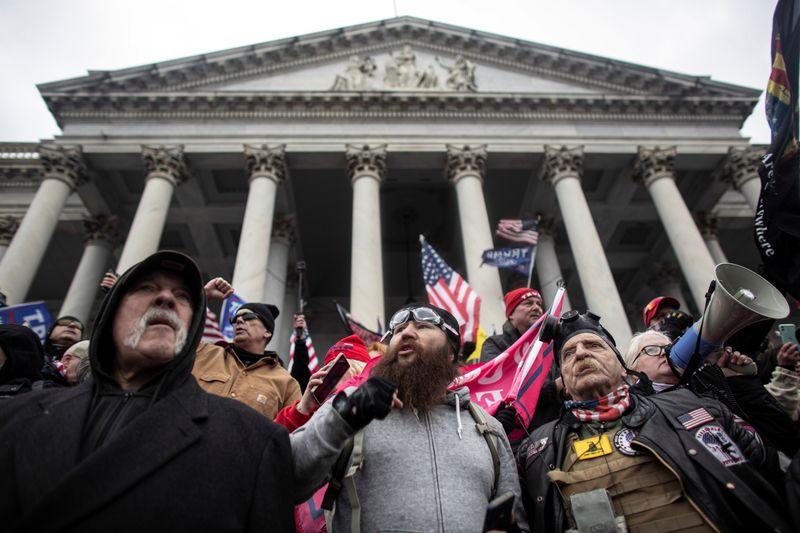 WASHINGTON (Reuters) - The brother-in-law of a woman killed during Wednesday's assault on the U.S. Capitol by a mob seeking to overturn President Donald Trump's election loss said he blames Trump for the riot, and has joined calls for him to be removed from office.
Rosanne Boyland, a 34-year-old resident of Kennesaw, Georgia, was one of four civilians who died in the rioting, according to Washington, DC police. A Capitol Police officer also died from injuries in the melee.
Several news outlets, including the CBS affiliate in Atlanta, reported https://www.cbs46.com/news/kennesaw-woman-is-1-of-4-dead-in-dc-riots/article_1a7950a8-5112-11eb-bbe7-37a8f7f03703.html that Boyland was trampled to death in the massive crowd surge at the Capitol, citing a family friend. Police didn't disclose the cause of her death.
Her brother-in-law, Justin Cave, told Atlanta media her family was still trying to find out the circumstances of her death. She was "passionate about her beliefs" and support of Trump and the family was grieving for others killed and injured in the rioting, he told https://twitter.com/aungeliquefox5/status/1347325983393800194 a local Fox television reporter.
"I've never tried to be a political person, but it's my own personal belief that the president's words incited a riot that killed four of his biggest fans last night and I believe that we should invoke the 25th Amendment at this time," Cave said.
A White House spokesman could not immediately be reached for comment about Boyland's death.
About an hour after violence broke out at the Capitol, Trump on Twitter urged followers to "remain peaceful. No violence!"
Under the 25th Amendment, a president can be forcibly removed from power if the vice president and a majority of cabinet members agree that the president is unfit for office. Democratic leaders in Congress have called for immediate impeachment proceeding if Vice President Mike Pence and Trump's Cabinet fail to seek to remove Trump from power.
Washington, DC, police on Thursday said that three other civilians were killed in the rioting on Wednesday.
Ashli Babbitt, 35, died of a gunshot wound in a shooting by Capitol Police being investigated by DC police. Babbitt, a U.S. Air Force veteran, had embraced far-fetched right-wing conspiracy theories, according to her social media activity.
DC Police also said Kevin Greeson, 55, of Athens, Alabama, and Benjamin Phillips, 50, of Ringtown, Pennsylvania, died of medical emergencies.
Also killed was Capitol Police officer Brian Sicknick, 40, who suffered a stroke and was on life support before he died. CNN reported that federal prosecutors were opening a murder investigation into his death.
(Reporting by David Lawder; Editing by Heather Timmons and Andrea Ricci)
This story has not been edited by Firstpost staff and is generated by auto-feed.
Find latest and upcoming tech gadgets online on Tech2 Gadgets. Get technology news, gadgets reviews & ratings. Popular gadgets including laptop, tablet and mobile specifications, features, prices, comparison.
Business
By Aditya Kalra NEW DELHI (Reuters) - India's tobacco industry will object to a proposal to ban smoking zones in hotels and prohibit advertising at cigarette kiosks as the government steps up anti-smoking efforts, two executives said on Wednesday. India has over the years introduced tobacco controls and launched campaigns to deter its use, but enforcement of the law has been a challenge.
World
HONG KONG (Reuters) - Over 50 pro-democratic activists in Hong Kong were arrested on Wednesday for breaking the city's contentious national security law, local media reported, in the biggest crackdown yet against the democratic opposition under the new law. The arrests in the Asian financial hub included well known democratic figures and former lawmakers James To, Lam Cheuk Ting and Lester Shum, according to the Democratic Party's Facebook page and public broadcaster RTHK. Police did not immediately respond to requests for comment.
World
BRASILIA (Reuters) - Brazil's syringe manufacturers said on Tuesday they will supply 30 million syringes and needles for the country's COVID-19 vaccination program after the government said it would requisition surplus supplies. Executives of the three main manufacturers met with President Jair Bolsonaro at the Health Ministry and it was agreed that each would supply 10 million syringes to cover the initial stages of the vaccination plan.