Trump stands by Saudi Arabia despite Khashoggi murder
WASHINGTON (Reuters) - President Donald Trump vowed on Tuesday to remain a 'steadfast partner' of Saudi Arabia despite saying that Saudi Crown Prince Mohammed bin Salman may have known about the plan to murder dissident journalist Jamal Khashoggi last month.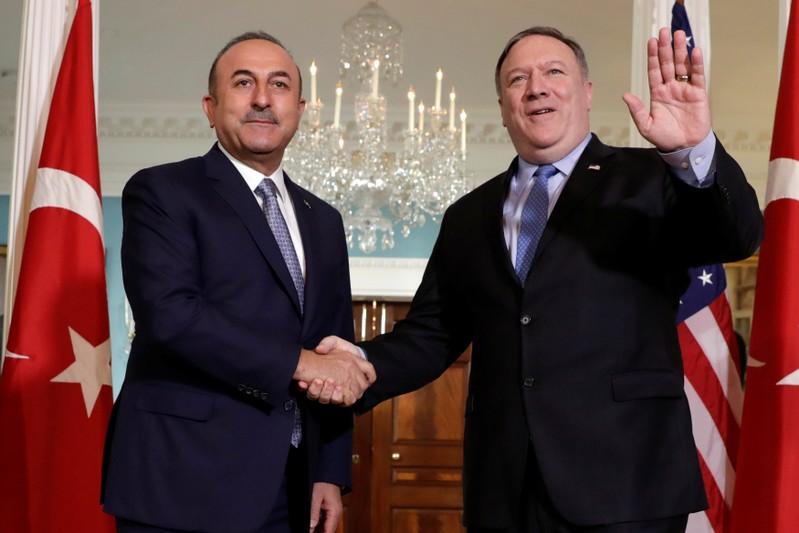 WASHINGTON (Reuters) - President Donald Trump vowed on Tuesday to remain a "steadfast partner" of Saudi Arabia despite saying that Saudi Crown Prince Mohammed bin Salman may have known about the plan to murder dissident journalist Jamal Khashoggi last month.
Defying pressure from U.S. lawmakers to impose tougher sanctions on Saudi Arabia, Trump also said he would not cancel military contracts with the kingdom. Such a "foolish" move would only benefit Russia and China, said the U.S. president, whom critics accuse of exaggerating the importance of those weapons sales to the American economy.
Trump said U.S. intelligence agencies were still studying the evidence around Khashoggi's murder inside the Saudi consulate in Istanbul on Oct. 2 and who planned it.
"Our intelligence agencies continue to assess all information, but it could very well be that the Crown Prince had knowledge of this tragic event – maybe he did and maybe he didn't!" Trump said in a statement issued by the White House.
U.S. intelligence sources say the CIA's assessment is that Khashoggi's death was ordered directly by the crown prince, who is Saudi Arabia's de facto ruler and is widely known by his initials MbS.
Democratic and Republican lawmakers have urged Trump to drop his support for MbS, but the president has been reluctant.
Trump said on Tuesday that both Saudi Arabia's King Salman and MbS "vigorously deny any knowledge of the planning or execution of the murder," and that the truth may never be known.
He also stressed that Saudi Arabia, a major oil producer, is an important business partner and a "great ally" in the fight against Iranian power in the Middle East.
"The United States intends to remain a steadfast partner of Saudi Arabia to ensure the interests of our country, Israel and all other partners in the region," Trump said.
His comments were quickly condemned by Democratic lawmakers.
Adam Schiff, who is expected to become leader of the House of Representatives' Intelligence Committee in January, said the United States should immediately end support for Saudi Arabia in the Yemen war and suspend arms sales to the kingdom.
"The President adds to his track record of ignoring his own intelligence agencies, and undermining American values at home and abroad, by giving Saudi Arabia a pass for the brutal and premeditated murder of a U.S. resident and journalist. Outrageous," Dick Durbin, a senior Democratic senator, said in a Twitter post.
Some of Trump's fellow Republicans have also vowed to break from him and push for firmer U.S. action against Saudi Arabia.
Representative Francis Rooney, a Republican on the House Foreign Affairs Committee, said Washington should apply the so-called Magnitsky Act to those responsible for Khashoggi's death. The legislation hits human rights violators with freezes on U.S. assets, U.S. travel bans, and prohibitions on Americans doing business with them.
"I don't think we have any choice but to take this very seriously and apply the Magnitsky Act," Rooney told CNN.
Trump has placed his alliance with Saudi Arabia at the heart of his Middle East policy and it was the first country he visited after becoming president in 2017.
His son-in-law Jared Kushner has developed a personal relationship with MbS, and Trump has often overstated the economic value of close ties with Saudi Arabia, especially arms sales.
"If we foolishly cancel these contracts, Russia and China would be the enormous beneficiaries - and very happy to acquire all of this newfound business. It would be a wonderful gift to them directly from the United States!" Trump said in his statement on Tuesday.
(Reporting by David Alexander, Susan Heavey and Mohammad Zargham; editing by Jonathan Oatis and Grant McCool)
This story has not been edited by Firstpost staff and is generated by auto-feed.
Business
By Katanga Johnson WASHINGTON (Reuters) - Global equities set both an intraday high and record close on Tuesday as markets as investors weighed the latest U.S. economic data for signs of a rebound and rising inflation while Wall Street's main indexes wavered before ending little changed. Graphic: Global asset performance http://tmsnrt.rs/2yaDPgn Energy shares were among the best performing during the session as the OPEC+ alliance agreed to hike output in July and gave a bullish forecast.
Business
(Reuters) - Zoom Video Communications Inc reported better-than-expected quarterly revenue on Tuesday, benefiting from steady demand for its video-conferencing platform as people wary of the pandemic continued school and work from home. Zoom became a household name during the pandemic as businesses and schools switched to its video conferencing platform for virtual classes, office meetings and social catch-ups.
World
By Michele Kambas NICOSIA (Reuters) -Cyprus's ruling conservatives emerged as winners but failed to get an absolute majority in a parliamentary election on Sunday, with voters turning to smaller parties, including a right-wing party with links to Greece's now outlawed Golden Dawn.