Trump seeks whistleblower sources, mentions treason: reports
WASHINGTON (Reuters) - President Donald Trump told staff from the U.S. mission to the United Nations on Thursday he wanted to know who provided information to a whistleblower on his phone call with Ukraine's president, likening them to a spy, two newspapers reported. 'I want to know who's the person who gave the whistle-blower the information because that's close to a spy,' Trump was quoted as saying by the New York Times and Los Angeles Times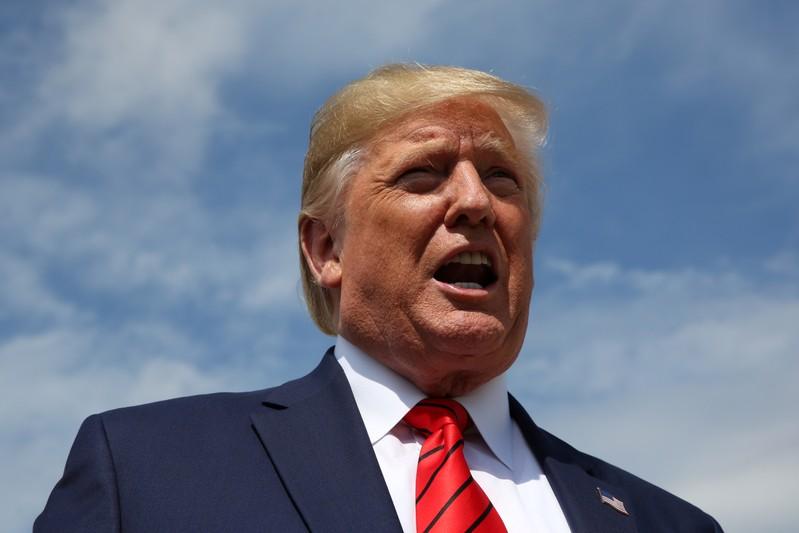 WASHINGTON (Reuters) - President Donald Trump told staff from the U.S. mission to the United Nations on Thursday he wanted to know who provided information to a whistleblower on his phone call with Ukraine's president, likening them to a spy, two newspapers reported.
"I want to know who's the person who gave the whistle-blower the information because that's close to a spy," Trump was quoted as saying by the New York Times and Los Angeles Times.
"You know what we used to do in the old days when we were smart? Right? The spies and treason, we used to handle it a little differently than we do now," the Los Angeles Times reported.
The Los Angeles newspaper said it was given a recording of Trump's remarks by a person who attended the event in New York. The New York Times said its source was briefed on the comments and took notes.
Trump spoke on Thursday as a House of Representatives committee heard testimony from the acting U.S. director of national intelligence on a whistleblower complaint about efforts by Trump to solicit the Ukraine government's help to investigate Democratic presidential hopeful Joe Biden whose son worked in Ukraine.
Upon arriving back in the Washington area later, Trump angrily denounced the Democratic-led hearing as a witch hunt.
The whistleblower report has triggered a controversy and prompted House Speaker Nancy Pelosi, a Democrat, to launch a formal impeachment inquiry this week into the Republican president.
(Reporting by Doina Chiacu; Editing by Chizu Nomiyama and Alistair Bell)
This story has not been edited by Firstpost staff and is generated by auto-feed.
World
BAGHDAD (Reuters) - Rockets hit near U.S. forces and contractors in Iraq on Wednesday, including an air base north of Baghdad and a military base at Baghdad International Airport, the Iraqi army and security officials said. The army reported at least three rockets hit Balad air base, where U.S
World
By Silvia Ognibene and Silvia Aloisi FLORENCE, Italy (Reuters) -Italian police have arrested a Chinese couple accused of running a leather goods business which exploited immigrant workers it employed to make handbags for a Burberry supplier, according to an arrest warrant seen by Reuters. Tax police in Florence said in a statement that the two Chinese nationals were arrested on Wednesday as part of an investigation into alleged labour exploitation and tax fraud and that restrictive measures had been imposed on two other family members, including a ban on them leaving Italy
World
WASHINGTON (Reuters) - The United States on Wednesday blacklisted four Nicaraguans, including a daughter of President Daniel Ortega, as Washington warned it would continue to use diplomatic and economic tools against members of the leftist government engaged in repression. The U.S. State Department called on Ortega to release detained presidential candidates as well as other civil society and opposition leaders arrested over the past week in what Washington called "an increasing wave of repression." "There are costs for those who are complicit in the regime's repression.