Trump seeks whistleblower sources, mentions treason: reports
WASHINGTON (Reuters) - President Donald Trump told staff from the U.S. mission to the United Nations on Thursday he wanted to know who provided information to a whistleblower on his phone call with Ukraine's president, likening them to a spy, two newspapers reported. 'I want to know who's the person who gave the whistle-blower the information because that's close to a spy,' Trump was quoted as saying by the New York Times and Los Angeles Times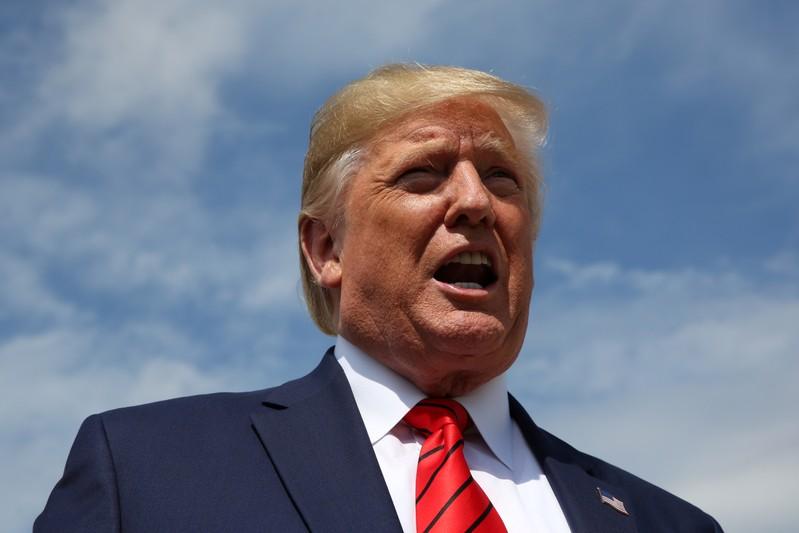 WASHINGTON (Reuters) - President Donald Trump told staff from the U.S. mission to the United Nations on Thursday he wanted to know who provided information to a whistleblower on his phone call with Ukraine's president, likening them to a spy, two newspapers reported.
"I want to know who's the person who gave the whistle-blower the information because that's close to a spy," Trump was quoted as saying by the New York Times and Los Angeles Times.
"You know what we used to do in the old days when we were smart? Right? The spies and treason, we used to handle it a little differently than we do now," the Los Angeles Times reported.
The Los Angeles newspaper said it was given a recording of Trump's remarks by a person who attended the event in New York. The New York Times said its source was briefed on the comments and took notes.
Trump spoke on Thursday as a House of Representatives committee heard testimony from the acting U.S. director of national intelligence on a whistleblower complaint about efforts by Trump to solicit the Ukraine government's help to investigate Democratic presidential hopeful Joe Biden whose son worked in Ukraine.
Upon arriving back in the Washington area later, Trump angrily denounced the Democratic-led hearing as a witch hunt.
The whistleblower report has triggered a controversy and prompted House Speaker Nancy Pelosi, a Democrat, to launch a formal impeachment inquiry this week into the Republican president.
(Reporting by Doina Chiacu; Editing by Chizu Nomiyama and Alistair Bell)
This story has not been edited by Firstpost staff and is generated by auto-feed.
Find latest and upcoming tech gadgets online on Tech2 Gadgets. Get technology news, gadgets reviews & ratings. Popular gadgets including laptop, tablet and mobile specifications, features, prices, comparison.
World
By Tim Hepher and David Ljunggren PARIS/OTTAWA (Reuters) - France said on Friday it would download the black boxes from a Ukrainian airliner downed by an Iranian missile in January, easing a stand-off over where they should be read. France's BEA crash investigation agency said it was acting at the request of Iran, which remains responsible under global rules for conducting a formal accident probe after acknowledging that the Boeing 737 was downed by its forces
World
By Brad Brooks LUBBOCK, Texas (Reuters) - With new coronavirus cases surging in Texas and Florida, officials in both states on Friday ordered bars to close again and imposed tighter restrictions on restaurants, setting back efforts to reopen their economies. Governor Greg Abbott gave bars in Texas until midday Friday to shut, while Florida's Department of Business and Professional Regulation told bars to immediately stop serving alcohol on their premises
World
By Patricia Zengerle WASHINGTON (Reuters) - The U.S. Senate passed legislation on Thursday that would impose mandatory sanctions on people or companies that back efforts by China to restrict Hong Kong's autonomy, pushing back against Beijing's new security law for the city. The measure also includes secondary sanctions on banks that do business with anyone found to be backing any crackdown on the territory's autonomy, potentially cutting them off from American counterparts and limiting access to U.S.