Trump says transgender policy seeks to 'protect the country'
By Gabriella Borter and Barbara Goldberg (Reuters) - U.S. President Donald Trump said on Monday that transgender issues were in flux and he aims to protect the country after a report that his administration was considering defining gender as male or female based on genitalia at birth drew widespread condemnation. 'We have a lot of different concepts right now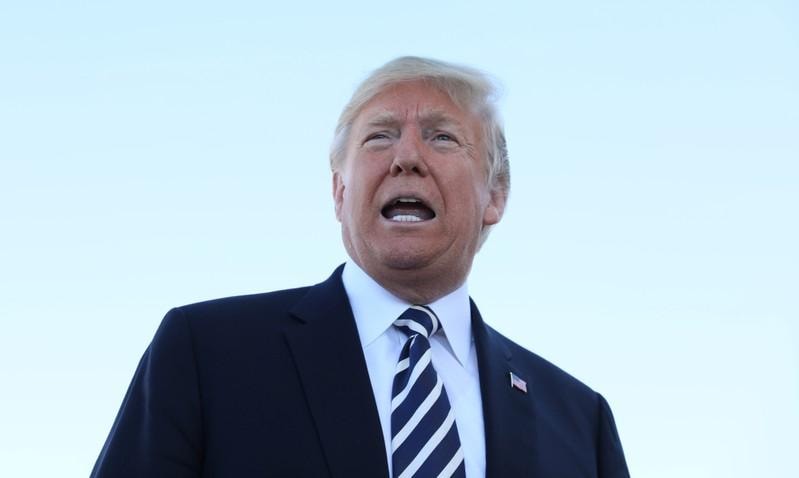 By Gabriella Borter and Barbara Goldberg
(Reuters) - U.S. President Donald Trump said on Monday that transgender issues were in flux and he aims to protect the country after a report that his administration was considering defining gender as male or female based on genitalia at birth drew widespread condemnation.
"We have a lot of different concepts right now. They have a lot of different things happening with respect to transgender right now," Trump said amid a protest outside the White House and outpouring of criticism on social media about the proposal.
Asked about a campaign promise to protect the LGBT community, Trump said: "I'm protecting everybody. I want to protect our country."
Under a proposal first reported by the New York Times on Sunday, the Trump administration would narrow the definition of gender to male or female at birth and it would be unchangeable later in life.
The move would remove recognition of and protections for transgender people under U.S. civil rights laws promoted by the prior administration of President Barack Obama in health care, schools and the military. About 1.4 million U.S. adults identify as transgender, according to a 2016 estimate by the Williams Institute.
"We urge the administration to ensure all public health policy is firmly rooted in science, and to keep discrimination and political interference out of our nation's health," said Dr. Lisa Hollier, president of the American College of Obstetricians and Gynecologists.
Beyond the broader issues raised by the administration memo, doctors said the new policy would be impossible to apply to "intersex" babies who are born with ambiguous genitalia or reproductive organs.
Most transgender people live with a profound sense that the gender assigned to them at birth was wrong and transition to the opposite sex, while others live a non-binary or gender-fluid life.
The reported memo comes little more than a week after New York City created a gender-neutral "X" option for birth certificates, joining California, Oregon, Washington state and New Jersey in offering a third gender category on the government-issued identity documents.
(Reporting by Barbara Goldberg and Gabriella Borter; additional reporting by Daniel Trotta in New York and Jeff Mason in Washington; Editing by Cynthia Osterman)
This story has not been edited by Firstpost staff and is generated by auto-feed.
Find latest and upcoming tech gadgets online on Tech2 Gadgets. Get technology news, gadgets reviews & ratings. Popular gadgets including laptop, tablet and mobile specifications, features, prices, comparison.
Business
By Howard Schneider WASHINGTON (Reuters) - A rebounding stock market and massive federal aid payments pushed the net worth of U.S. households back to pre-coronavirus levels in the second quarter, the Federal Reserve reported on Monday, with savings accounts and equity portfolios both rising sharply despite the pandemic
Business
By Rodrigo Campos NEW YORK (Reuters) - Stocks across the world hit their lowest in seven weeks and other risk assets sold off on Monday on concerns over renewed lockdown measures in Europe and Britain, as well as the United States' inability to agree on fiscal stimulus that would support millions of unemployed. Oil prices fell nearly 5%, the dollar rallied and an index of emerging market currencies fell by the most in six months. The MSCI world equity index , which tracks shares in 49 countries, touched its lowest since Aug.
Business
By Rodrigo Campos NEW YORK (Reuters) - Stocks across the world hit their lowest in seven weeks and other risk assets also sold off on Monday on concerns over renewed lockdown measures in Europe and Britain, as well as the United States' inability to agree on fiscal stimulus that would support millions of unemployed. Oil prices fell more than 3%, the dollar rose against a basket of peers and an index of emerging market currencies fell by the most in six months. The MSCI world equity index , which tracks shares in 49 countries, ended at its lowest since Aug