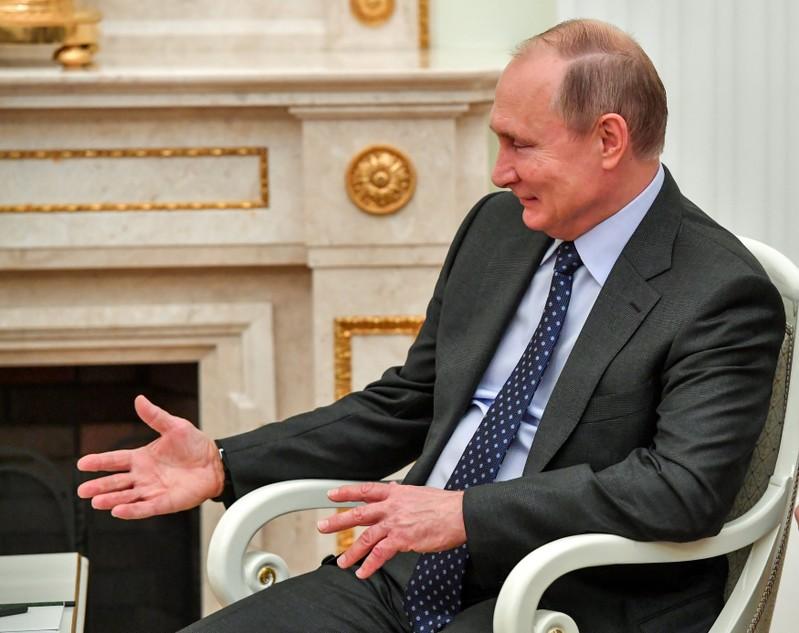 WASHINGTON/MOSCOW (Reuters) - U.S. President Donald Trump said on Friday it was possible he could meet Russian President Vladimir Putin this summer, and Moscow did not rule out a meeting.
Asked whether he was planning to meet with Putin this summer, Trump said it was possible.
"It's possible that we'll meet, yeah," Trump told reporters.
Moscow does not rule out a meeting between Putin and Trump this summer, RIA news agency reported on Friday, citing Kremlin spokesman Dmitry Peskov.
Interfax news agency quoted Peskov as saying there were no concrete details on the time frame for a meeting.
While speaking with reporters, Trump also appeared to blame former President Barack Obama for Russia's annexation of Crimea from Ukraine in 2014.
"President Obama lost Crimea ... Obama lost Crimea because President Putin didn't respect President Obama, didn't respect our country, and didn't respect Ukraine," Trump said.
Speaking at a Naval War College graduation on Friday, U.S. Defense Secretary Jim Mattis was more critical of Russia.
"For the first time since World War Two, Russia has been the nation that has redrawn international borders by force of arms in Georgia and Ukraine," Mattis said.
Earlier this year, the U.S. military said in a new national defense strategy that countering Russia would be a priority.
"Putin seeks to shatter NATO, he aims to diminish the appeal of the western democratic model and attempts to undermine America's moral authority," Mattis said.
"His actions are designed not to challenge our arms at this point, but to undercut and compromise our belief in our ideals," he added.
(Reporting by Idrees Ali in WASHINGTON and Polina Devitt in MOSCOW; writing by Polina Nikolskaya; editing by Catherine Evans and James Dalgleish)
This story has not been edited by Firstpost staff and is generated by auto-feed.
Firstpost is now on WhatsApp. For the latest analysis, commentary and news updates, sign up for our WhatsApp services. Just go to Firstpost.com/Whatsapp and hit the Subscribe button.
Updated Date: Jun 16, 2018 00:07:15 IST