Trump says 'more white people' than Blacks are killed by U.S. police
WASHINGTON (Reuters) - President Donald Trump on Tuesday downplayed police violence against Black people, saying that 'more white people' are killed by police officers. During an interview with CBS News, the Republican president was asked why Black people were still dying at the hands of law enforcement. 'And so are white people, so are white people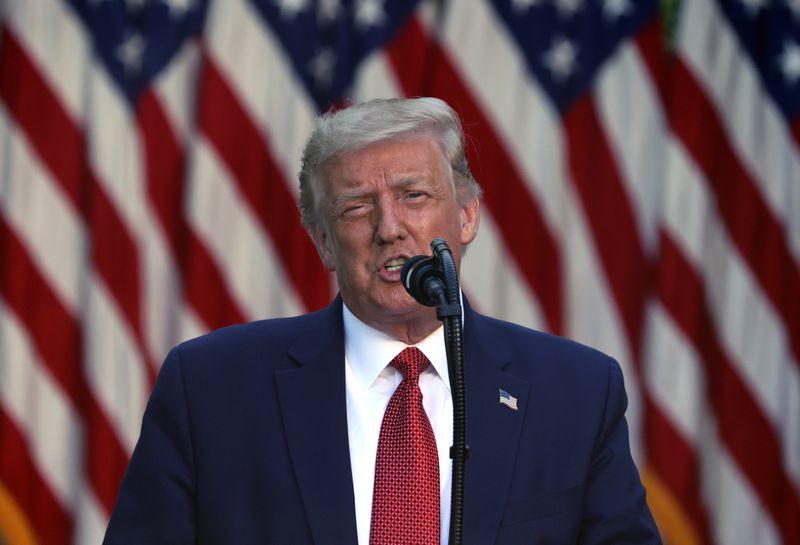 WASHINGTON (Reuters) - President Donald Trump on Tuesday downplayed police violence against Black people, saying that "more white people" are killed by police officers.
During an interview with CBS News, the Republican president was asked why Black people were still dying at the hands of law enforcement.
"And so are white people, so are white people. What a terrible question to ask. So are white people. More white people, by the way. More white people," Trump responded.
Police violence against African Americans has been at the centre of attention in the United States following the May 25 death of George Floyd as a Minneapolis police officer kneeled on his neck for nearly nine minutes. Floyd's death sparked protests across the United States and the world.
According to a Washington Post analysis updated on Monday, half of the people shot and killed by U.S. police are white, but Black Americans are shot at a disproportionate rate. They account for less than 13 percent of the U.S. population but are killed by police at more than twice the rate of white Americans, the newspaper analysis found.
The recent social unrest also raised new questions about the continued flying of the Confederate battle flag in some areas of the country and whether statues honouring Confederate leaders during the U.S. Civil War should be removed from high-profile public places.
Asked by CBS if that flag should be "taken down," Trump responded: "I know people that like the Confederate flag and they're not thinking about slavery."
He added: "It's freedom of speech," whether the issue is the Confederate flag "or Black Lives Matter or anything else you want to talk about."
(Reporting by Richard Cowan; Editing by Peter Cooney)
This story has not been edited by Firstpost staff and is generated by auto-feed.
World
BAGHDAD (Reuters) - Rockets hit near U.S. forces and contractors in Iraq on Wednesday, including an air base north of Baghdad and a military base at Baghdad International Airport, the Iraqi army and security officials said. The army reported at least three rockets hit Balad air base, where U.S
World
By Silvia Ognibene and Silvia Aloisi FLORENCE, Italy (Reuters) -Italian police have arrested a Chinese couple accused of running a leather goods business which exploited immigrant workers it employed to make handbags for a Burberry supplier, according to an arrest warrant seen by Reuters. Tax police in Florence said in a statement that the two Chinese nationals were arrested on Wednesday as part of an investigation into alleged labour exploitation and tax fraud and that restrictive measures had been imposed on two other family members, including a ban on them leaving Italy
World
WASHINGTON (Reuters) - The United States on Wednesday blacklisted four Nicaraguans, including a daughter of President Daniel Ortega, as Washington warned it would continue to use diplomatic and economic tools against members of the leftist government engaged in repression. The U.S. State Department called on Ortega to release detained presidential candidates as well as other civil society and opposition leaders arrested over the past week in what Washington called "an increasing wave of repression." "There are costs for those who are complicit in the regime's repression.