Trump says he is willing to talk to Iranian leader without preconditions
By Roberta Rampton WASHINGTON (Reuters) - U.S. President Donald Trump said on Monday he would be willing to meet Iran's leader without preconditions to discuss how to improve ties after he pulled the United States out of the 2015 Iran nuclear deal, saying, 'If they want to meet, we'll meet.' Asked at a White House news conference whether he was willing to meet with Iranian President Hassan Rouhani, Trump said: 'I'd meet with anybody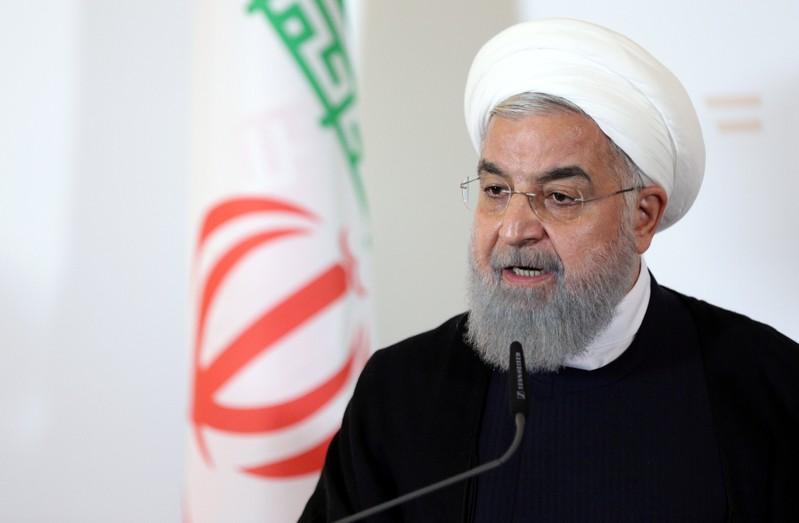 By Roberta Rampton
WASHINGTON (Reuters) - U.S. President Donald Trump said on Monday he would be willing to meet Iran's leader without preconditions to discuss how to improve ties after he pulled the United States out of the 2015 Iran nuclear deal, saying, "If they want to meet, we'll meet."
Asked at a White House news conference whether he was willing to meet with Iranian President Hassan Rouhani, Trump said: "I'd meet with anybody. I believe in meetings," especially in cases where war is at stake.
Trump's remarks represented a marked softening in rhetoric from a week ago, when he lashed out at Rouhani in a tweet, saying "Never, ever threaten the United States again or you will suffer consequences the likes of which few throughout history have ever suffered before."
Shortly before that July 22 tweet, Rouhani had addressed Trump in a speech, saying that hostile U.S. policies could lead to "the mother of all wars".
On Monday, speaking at a news conference with visiting Italian prime minister Giuseppe Conte, Trump said: "I would certainly meet with Iran if they wanted to meet. I don't know that they're ready yet. I ended the Iran deal. It was a ridiculous deal. I do believe that they will probably end up wanting to meet and I'm ready to meet any time that they want to."
Trump said he had "no preconditions" for a meeting with the Iranians, adding: "If they want to meet, I'll meet."
"If we could work something out that's meaningful, not the waste of paper that the other deal was, I would certainly be willing to meet," he added, noting that it would be good for the United States, Iran and the world.
Hours before Trump's statement, Tehran had ruled out talks with Washington.
"With current America and these policies, there will definitely not be the possibility of dialogue and engagement, and the United States has shown that it is totally unreliable," Foreign Ministry spokesman Bahram Qasemi told a weekly news conference on Monday.
Qasemi criticized the U.S. withdrawal from the nuclear deal and economic sanctions that follow, noting "there are no conditions for such a discussion at all."
In May, Trump withdrew the United States from the landmark 2015 international agreement designed to deny Tehran the ability to build nuclear weapons.
Since then, Iran and other signatories have been working to find a way to salvage the agreement, even as the United States has begun reimposing some sanctions on Iran.
World powers and Iran have been working on an economic package to compensate for U.S. sanctions that begin taking effect in August.
Trump drew a comparison with his diplomacy toward North Korean leader Kim Jong Un, who Trump met in a June 12 summit with the aim of convincing Pyongyang to give up its nuclear arsenal.
"We met as you know with Chairman Kim and you haven't had a missile fired off in nine months. We got our prisoners back. So many things have happened so positive," Trump said.
(Additional reporting by Parisa Hafezi in Ankara; Writing by David Alexander and Mary Milliken; Editing by Doina Chiacu and James Dalgleish)
This story has not been edited by Firstpost staff and is generated by auto-feed.
Find latest and upcoming tech gadgets online on Tech2 Gadgets. Get technology news, gadgets reviews & ratings. Popular gadgets including laptop, tablet and mobile specifications, features, prices, comparison.
World
KHARTOUM (Reuters) - An International Criminal Court delegation is to visit Sudan to discuss the cases of ousted president Omar al-Bashir and other former officials, the government said on Saturday. The delegation, led by prosecutor Fatou Bensouda, will discuss "cooperation" with Sudan over the wanted men, the government said in a statement.
World
HONG KONG (Reuters) - A Hong Kong protester dubbed "Grandma Wong" said on Saturday that Chinese authorities kept her in custody for a month and a half across the border in Shenzhen, where she allegedly suffered mental abuse, and then prevented from coming back for over a year. Grey-haired and bespectacled Alexandra Wong, 64, had been a familiar face at anti-government protests in Hong Kong last year, often waving a large British flag, but she disappeared from the streets around August last year
World
WARSAW (Reuters) - Polish prosecutors said on Saturday they had brought fraud charges against a prominent lawyer and former deputy prime minister who is a vocal critic of the government, and prohibited him from leaving Poland or practising law. Prosecutors also denied mistreating Roman Giertych, who fainted during his detention on Thursday and is currently defending billionaire bank owner Leszek Czarnecki, a thorn in the government's side who is suspected of cheating clients of his Idea Bank.