Trump says he 'appreciates' Saudi purchase of U.S. military equipment
OSAKA (Reuters) - President Donald Trump said on Saturday he appreciated Saudi Arabia's purchase of U.S. military equipment, calling Crown Prince Mohammed bin Salman a 'friend of mine' who had worked to open up the country with economic and social reforms. 'It's an honour to be with the crown prince of Saudi Arabia, a friend of mine - a man who has really done things in the last five years in terms of opening up Saudi Arabia,' Trump said ahead of a bilateral meeting with the crown prince, known as MbS, in Osaka, Japan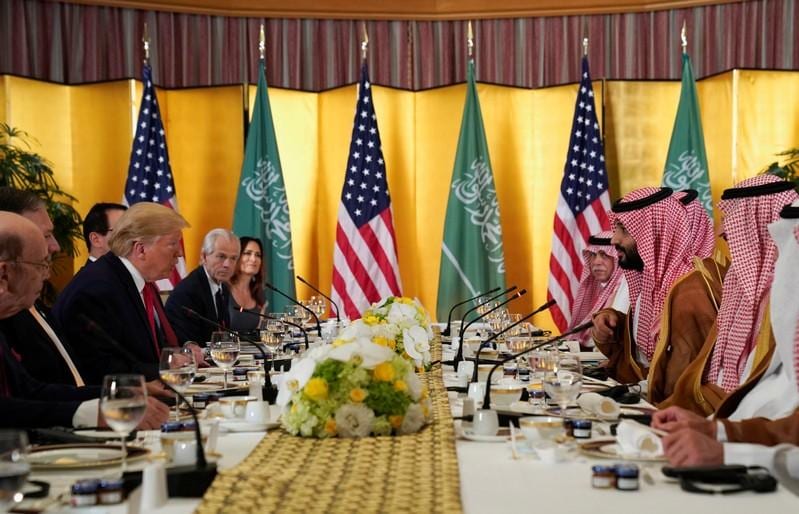 OSAKA (Reuters) - President Donald Trump said on Saturday he appreciated Saudi Arabia's purchase of U.S. military equipment, calling Crown Prince Mohammed bin Salman a "friend of mine" who had worked to open up the country with economic and social reforms.
"It's an honour to be with the crown prince of Saudi Arabia, a friend of mine - a man who has really done things in the last five years in terms of opening up Saudi Arabia," Trump said ahead of a bilateral meeting with the crown prince, known as MbS, in Osaka, Japan.
"I think especially what you've done for women and seeing what's happening - it's like a revolution in a very positive way," he added on the sidelines of the Group of 20 (G20) summit.
Trump declined to respond to reporters' questions on whether he would address the death last year of Saudi journalist Jamal Khashoggi, a critic of MbS. The CIA has determined the prince ordered his killing, but Saudi officials have denied any involvement.
(Reporting by Roberta Rampton; Writing by Chang-Ran Kim)
This story has not been edited by Firstpost staff and is generated by auto-feed.
Find latest and upcoming tech gadgets online on Tech2 Gadgets. Get technology news, gadgets reviews & ratings. Popular gadgets including laptop, tablet and mobile specifications, features, prices, comparison.
World
By Jeff Mason WASHINGTON (Reuters) - U.S. President Donald Trump, facing the possibility of a cash crunch, said on Tuesday he would spend "whatever it takes" of his own money to finance his 2020 presidential campaign against Democrat Joe Biden if he had to
World
By Lisandra Paraguassu BRASILIA (Reuters) - Brazilian House Speaker Rodrigo Maia said on Tuesday that lawmakers are currently finalizing the text of a bill targeting those that finance "fake news" attacks on social media sites, adding that it could be voted on by the end of this year. The draft of the Brazilian bill was approved in the Senate on June 30, but the lower house created a working group to suggest modifications. Those changes will be finalized in two weeks, Maia said
World
DUBLIN (Reuters) - Ireland plans to allow the reopening of all pubs on Sept. 21, dropping a ban on bars that do not serve food, a senior minister said on Tuesday.