Trump relied on evangelical voters in 2016, but accused Christian leaders of 'disloyalty'. Can he count on them in 2024?
Former US President Donald Trump relied heavily on support from evangelical voters during his 2016 campaign.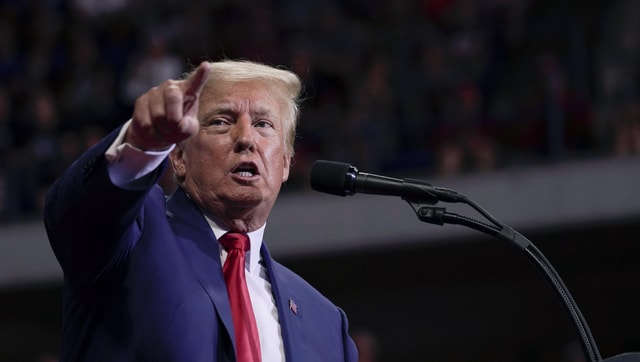 New Delhi: During his 2016 campaign, former US President Donald Trump relied heavily on support from evangelical voters. However, during his presidency, he sometimes publicly criticized Christian leaders, including accusing some of "disloyalty." This caused some tension between Trump and some members of the religious community.
On Sunday, the Rev. Robert Jeffress, a longtime supporter of Donald Trump who has yet to endorse his 2024 White House bid, shared the stage at his Dallas megachurch with one of the former president's potential rivals next year: former Vice President Mike Pence.
The next day, Trump lashed out at Jeffress and other evangelical leaders he spent years courting, accusing them of "disloyalty" and blaming them for the party's disappointing performance in the 2022 midterm elections.
While Jeffress shrugged off the criticism, others weren't as eager to let it slide, instead suggesting that it was time for Trump to move out of the way for a new generation of Republican candidates.
The clash highlighted one of the central tensions inside the Republican Party as it lurches toward an uncertain 2024 presidential primary: wavering support for Trump among the nation's evangelical leaders, whose congregants have for decades been a key constituency for conservatives and who provided crucial backing to Trump in his ascent to the White House.
If these leaders break with Trump — and if evangelical voters follow, which is by no means a certainty — the result will be a tectonic shift in Republican politics.
"When I saw his statement, I thought, 'You're not going to gain any traction by throwing the most loyal base under the bus and shifting blame,'" said Bob Vander Plaats, an influential evangelical activist in Iowa and the CEO of the Family Leader organization.
Vander Plaats said that while evangelicals were grateful to Trump for his federal judicial appointments and for moving the U.S. Embassy in Israel to Jerusalem, many thought that his time as leader of the party has passed, given how hardened many Americans' views of him are. Asked whether Trump would command support among evangelical leaders as he did in the past, Vander Plaats, who has criticized Trump in the past, said, "No way."
Indeed, recent polls point to some Trump fatigue among Republican voters. But it is an open question whether evangelical voters will abandon him if prominent Christian ministers support other candidates. And Trump has previously had an ability to cleave various types of conservative voters from their longtime leaders, as he did during his unexpected Republican primary victory in 2016.
In a New York Times/Siena College poll in October, before the midterm elections, nearly half of Republican voters said that they preferred someone other than Trump to be the party's 2024 presidential nominee. But the same poll showed that 54% of evangelical voters said they planned to support him.
A spokesperson for Trump declined to comment. Paula White, the televangelist who led Trump's evangelical advisory board while he was president, could not be reached for comment.
Since his first campaign, Trump has considered the evangelical movement a crucial piece of his constituency. He was helped by a relationship that his lawyer and fixer at the time, Michael Cohen, had with the Rev. Jerry Falwell Jr., then the president of Liberty University.
Trump tapped Pence to be his running mate in 2016 in part to assure wary evangelicals that a New York businessperson could be trusted to keep his campaign promises.
Many evangelicals set aside their skepticism of Trump's sometimes scandalous behavior and focused on a long list of policy pledges from the candidate, a thrice-married reality television star. In one memorable moment, Falwell celebrated his 2016 endorsement of Trump by posing for a picture with him in front of a Trump Tower office wall that included a framed copy of a 1990 Playboy cover featuring the brash real estate developer.
The uneasy alliance between Trump and evangelical leaders showed signs of strain during an interview he gave with Real America's Voice, a right-wing streaming and cable network.
Asked about Jeffress' neutrality in the 2024 race, Trump said he did not care, then declared that it was "a sign of disloyalty." The former president pointed to the Supreme Court ruling last year overturning the federal right to an abortion — a decision led by three of Trump's appointees — and said he was "a little disappointed" in some evangelical leaders who "could have fought much harder" during the midterms.
"A lot of them didn't fight or weren't really around to fight," Trump said. "And it did energize the Democrats, but a lot of the people that wanted and fought for years to get it, they sort of — I don't know — they weren't there protesting and doing what they could have done."
Trump's interviewer, David Brody, who is also a longtime commentator for the Christian Broadcasting Network, appeared to sense the potential effect Trump's comments could have on evangelical voters. He told the former president that some anti-abortion activists had taken exception to being blamed for midterm losses.
"Do you want to clear that up at all?" Brody asked.
Trump doubled down.
"It's sort of what I explained to you," he said. "I just didn't see them fighting during this last election — fighting for victory for people that were on the same side as all of us." He added, "The only rallies were the rallies I gave."
In reality, Trump, a former Democrat who once called himself supportive of abortion rights, has often been uncomfortable discussing the issue, going back to his 2016 campaign. He privately viewed the Supreme Court decision overturning Roe v. Wade as problematic for Republicans, and he rarely spoke about abortion during his 2022 campaign rallies.
Vander Plaats suggested that Republicans' failure to win control of the Senate in November was due in part to Trump's support for candidates like Mehmet Oz in Pennsylvania, who did not make abortion a central focus of his candidacy.
"Having an instinct to go after a very loyal base that you're going to need in the Iowa caucuses, in the Republican primary, that's just a bad instinct, or it's really bad advice," Vander Plaats said, adding that "it's time to turn the page" and put Trump's movement behind another candidate.
Trump's political future may be complicated by multiple investigations into his conduct, both before he was a candidate in 2016 and his efforts to thwart the peaceful transfer of power after he lost in November 2020.
Even if those investigations close without actions being taken against him, evangelical leaders and voters may have several other Republican options. One of them is Pence, a longtime evangelical who has visited churches in various states and has been outspoken in support of the Supreme Court's abortion ruling. Another is Mike Pompeo, who served as secretary of state and CIA director under Trump. There is also Gov. Ron DeSantis of Florida, who a number of donors are hoping will enter the race.
Marc Short, a top adviser to Pence and his former chief of staff, suggested that faith leaders recognized that the former vice president "is one of them." He said that Trump "confuses their appreciation for what he did" in office with "their commitment to Christ and their congregations, first and foremost."
Ralph Reed, the founder of the Faith and Freedom Coalition, a conservative advocacy group, said Trump was right to be frustrated about the political response from conservatives after the Supreme Court's decision in the abortion case, Dobbs v. Jackson Women's Health Organization.
Democrats had a plan to attack Republicans over the ruling, Reed said, while Republicans struggled to mount a political defense.
"Too many Republican candidates tried to stick their heads in the sand, ignore the Dobbs decision and talk singularly about inflation and gas prices, with predictable results," Reed said.
"Trump is correct that if the party is going to succeed in 2024 and beyond, it has to own this," he added. "We've got to have a plan, get on offense and portray the Democrats as the extremists."
Jeffress said in an interview that he did not view Trump's comments as a personal attack. The pastor of a 16,000-member church, Jeffress was one of the few political veterans who anticipated the sea change in conservative politics six years ago and was one of Trump's early, prominent endorsers.
But even now, he is hedging his bets in his neutrality.
After telling Newsweek in November that he was withholding an endorsement because "the Republican Party is headed toward a civil war that I have no desire or need to be part of," Jeffress said Wednesday that he had not endorsed a 2024 candidate in part because Trump had not asked.
Jeffress predicted that evangelicals would eventually coalesce around Trump, who, he said, "is most likely going to be the 2024 nominee."
"I just don't see the need for an endorsement right now — not because of any lack of enthusiasm for President Trump, but I think keeping my powder dry might be the best thing for the president," Jeffress said. "Timing is everything, and I think it might be a little early to do that."
Read all the Latest News, Trending News, Cricket News, Bollywood News,
India News and Entertainment News here. Follow us on Facebook, Twitter and Instagram.  
World
Twitter also reinstated Trump's account last year after Elon Musk took over the company, but the former president has thus far chosen not to tweet.
World
The ex-president himself claimed he would be arrested on Tuesday over hush money paid to a pornographic actress, but his lawyer said the comments were based on media reports and not any fresh action by prosecutors
World
In the early phase of the 2024 campaign, Trump remains in a dominant position. But he faces notable challenges, including growing interest in the expected candidacy of Florida Gov. Ron DeSantis, who made his debut swing through Iowa last week.