Trump releases first two names of U.S. war dead handed over by N.Korea
WASHINGTON (Reuters) - U.S.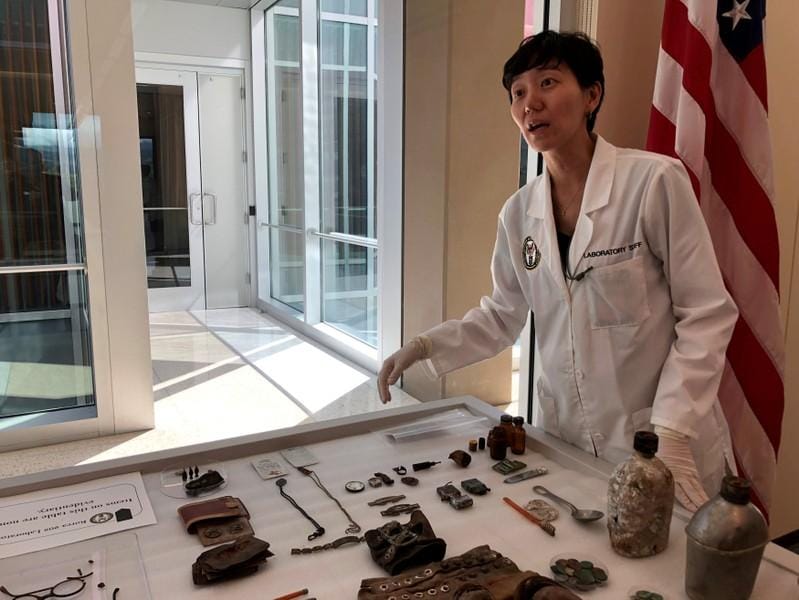 WASHINGTON (Reuters) - U.S. President Donald Trump released the names on Thursday of two Army soldiers killed in the 1950-1953 Korean War whose remains were handed over by North Korea this year in a goodwill gesture.
Trump said the first remains identified by the U.S. military belonged to Army Master Sergeant Charles H. McDaniel, 32, of Vernon, Indiana, and Army Private First Class William H. Jones, 19, of Nash County, North Carolina.
"These HEROES are home, they may Rest In Peace, and hopefully their families can have closure," Trump said in his Twitter post.
North Korea handed over 55 boxes containing the remains of war dead in July, fulfilling a pledge by North Korean leader Kim Jong Un during his June summit with the U.S. president in Singapore.
The remains, which were repatriated to Hawaii on Aug. 1, included only one "dog tag," a form of identification in the U.S. military.
The U.S. Defense POW/MIA Accounting Agency (DPAA) said earlier this month it had identified the first two American troops from the boxes of remains, but declined to name them publicly, saying their relatives would be notified first.
On Thursday, the DPAA said it was hoping to speak next month with the North Korean military about resuming field operations inside North Korea to find remains of U.S. service members.
"We have communicated, through the DPRK mission to the U.N., an invitation to sit down with them to negotiate the resumption of field operations inside North Korea that would commence in the spring of 2019," Kelly McKeague, director of the DPAA, told Reuters.
McKeague said North Korea had not yet accepted the invitation.
More than 7,700 U.S. troops remain unaccounted for from the Korean War.
The United States and North Korea worked together on joint field activities to recover remains from 1996 to 2005, until Washington halted operations, expressing concerns about the safety of its personnel.
The Trump administration has hailed the handover of the remains as evidence of the success of Trump's summit with Kim.
The administration said on Wednesday it was ready to resume talks with North Korea after Pyongyang pledged to dismantle key missile facilities and suggested it would close its main Yongbyon nuclear complex in exchange for unspecified action by Washington.
(Reporting by Idrees Ali and David Alexander; Editing by G Crosse and Peter Cooney)
This story has not been edited by Firstpost staff and is generated by auto-feed.
Business
By Katanga Johnson WASHINGTON (Reuters) - Global equities set both an intraday high and record close on Tuesday as markets as investors weighed the latest U.S. economic data for signs of a rebound and rising inflation while Wall Street's main indexes wavered before ending little changed. Graphic: Global asset performance http://tmsnrt.rs/2yaDPgn Energy shares were among the best performing during the session as the OPEC+ alliance agreed to hike output in July and gave a bullish forecast.
Business
(Reuters) - Zoom Video Communications Inc reported better-than-expected quarterly revenue on Tuesday, benefiting from steady demand for its video-conferencing platform as people wary of the pandemic continued school and work from home. Zoom became a household name during the pandemic as businesses and schools switched to its video conferencing platform for virtual classes, office meetings and social catch-ups.
World
By Michele Kambas NICOSIA (Reuters) -Cyprus's ruling conservatives emerged as winners but failed to get an absolute majority in a parliamentary election on Sunday, with voters turning to smaller parties, including a right-wing party with links to Greece's now outlawed Golden Dawn.