Trump praises North Korea's Kim but says sanctions must stay for now
By David Brunnstrom and Jeff Mason UNITED NATIONS (Reuters) - U.S. President Donald Trump praised North Korea's leader Kim Jong Un on Tuesday for his courage in taking steps to disarm, but said much work still needed to be done and sanctions must remain in place on North Korea until it denuclearizes. 'The missiles and rockets are no longer flying in every direction, nuclear testing has stopped, some military facilities are already being dismantled,' Trump said in his speech to the annual United Nations General Assembly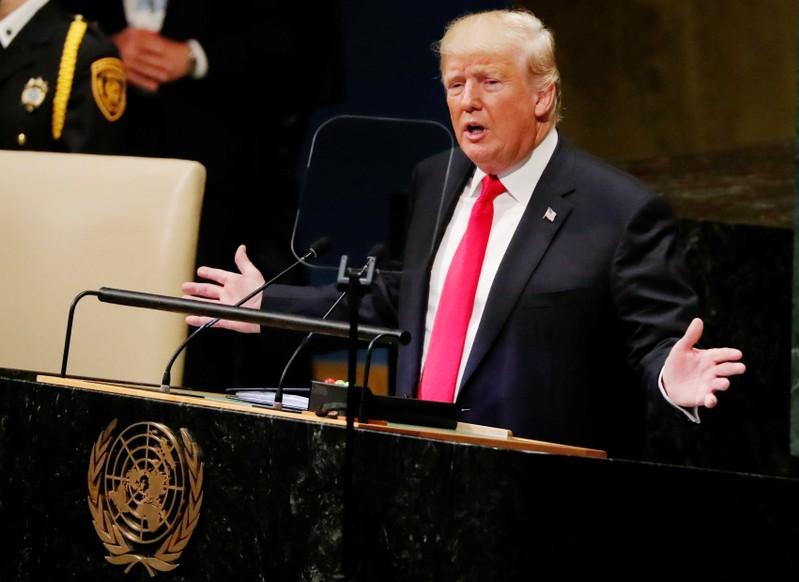 By David Brunnstrom and Jeff Mason
UNITED NATIONS (Reuters) - U.S. President Donald Trump praised North Korea's leader Kim Jong Un on Tuesday for his courage in taking steps to disarm, but said much work still needed to be done and sanctions must remain in place on North Korea until it denuclearizes.
"The missiles and rockets are no longer flying in every direction, nuclear testing has stopped, some military facilities are already being dismantled," Trump said in his speech to the annual United Nations General Assembly.
"I would like to thank Chairman Kim for his courage and for the steps he has taken, though much work remains to be done," Trump said. "The sanctions will stay in place until denuclearization occurs."
Trump's remarks on North Korea were dramatically different from those in his speech last year at the U.N. assembly, when he threatened to "totally destroy" North Korea and mocked the North Korean leader as "Rocket Man" on a "suicide mission."
Trump held an unprecedented summit with Kim in Singapore in June which yielded a broad pledge by Kim to "work towards" denuclearization of the Korean peninsula.
However, Kim's commitments and actions so far have fallen far short of Washington's demands for a complete inventory of North Korea's weapons programs and irreversible steps to give up a nuclear arsenal that threatens the United States.
Trump has nevertheless heaped personal praise on Kim and expressed enthusiasm for a second summit.
On Monday, he said he expected this to be announced "pretty soon" but that the location had yet to be determined.
During a meeting with South Korean President Moon Jae-in at the United Nations on Monday, Trump said Kim has been "really very open and terrific, frankly."
"I think he wants to see something happen."
Trump singled out Japanese Prime Minster Shinzo Abe, Moon and Chinese President Xi Jinping for their support over North Korea, in spite of some questions about the commitment of the latter two leaders to maintaining tough sanctions on Pyongyang.
At a meeting last week with Moon, Kim promised to dismantle a missile site and also a nuclear complex if the United States took "corresponding action".
U.S. Secretary of State Mike Pompeo said on Monday he hoped to travel to North Korea again before the end of the year to make final preparations for a second Trump-Kim summit.
Pompeo has proposed a meeting with North Foreign Minister Ri Yong Ho at the General Assembly this week. U.S. ambassador to the United Nations Nikki Haley said last week the two had agreed to meet but that the meeting could take place later.
Moon and Abe met on the sidelines of the U.N. assembly and the South Korean leader highlighted the importance of improved relations between Tokyo and Pyongyang to accelerate North Korean denuclearization, South Korea's Yonhap news agency reported.
"I believe the normalization of North Korea-Japan relations is required in the process of establishing peace on the Korean Peninsula, and I will actively support and cooperate so a North Korea-Japan summit will be held," Yonhap quoted Moon as telling Abe.
(Reporting by David Brunnstrom; Editing by James Dalgleish)
This story has not been edited by Firstpost staff and is generated by auto-feed.
World
ATHENS (Reuters) - Greek police used teargas and water cannon to disperse people who had gathered in central Athens on Saturday to protest against mandatory COVID-19 vaccinations. More than 4,000 people rallied outside the Greek parliament for a third time this month to oppose mandatory inoculations for some workers, such as healthcare and nursing staff.
World
ISTANBUL (Reuters) - Two Turkish soldiers were killed and two were wounded in an attack on their armoured vehicle in northern Syria, and Turkish forces immediately launched retaliatory fire, Turkey's defence ministry said on Saturday. "Our punitive fire against terrorist positions is continuing," the statement on Twitter on said. It did not specify where the attack occurred, but media reports said it was in the al-Bab area.
World
By Marcelo Rochabrun SAO PAULO (Reuters) - Protesters took to the streets in several Brazilian cities on Saturday to demand the impeachment of far-right President Jair Bolsonaro, whose popularity has fallen in recent weeks amid corruption scandals against the backdrop of the pandemic. This week, news broke that Brazil's defense ministry told congressional leadership that next year's elections would not take place without amending the country's electronic voting system to include a paper trail of each vote. Bolsonaro has suggested several times without evidence that the current system is prone to fraud, allegations that Brazil's government has denied