Trump orders more Russia-related probe documents to be declassified
By Sarah N. Lynch and Warren Strobel WASHINGTON (Reuters) - President Donald Trump has directed the Justice Department to immediately declassify additional information related to the investigation into possible election meddling by Russia, the White House said on Monday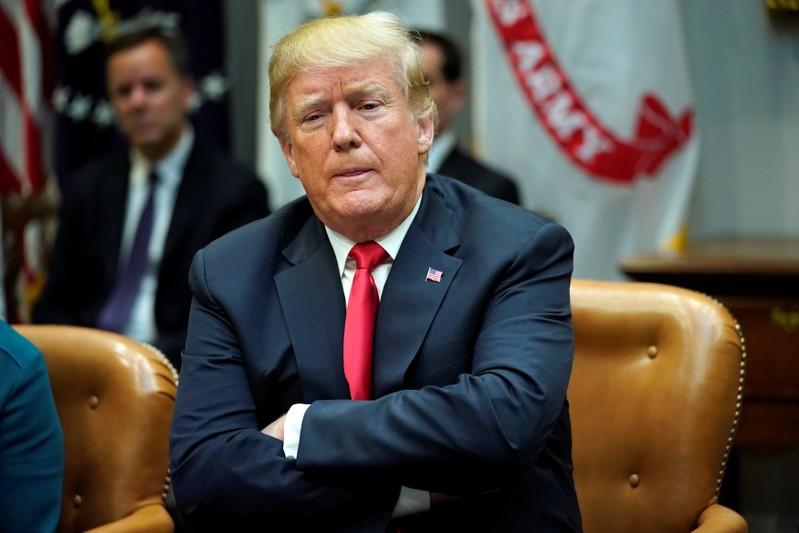 By Sarah N. Lynch and Warren Strobel
WASHINGTON (Reuters) - President Donald Trump has directed the Justice Department to immediately declassify additional information related to the investigation into possible election meddling by Russia, the White House said on Monday.
Among the documents Trump ordered the Justice Department and the director of national intelligence to make public are 20 additional pages of FBI surveillance warrant applications related to his former campaign adviser Carter Page.
Trump also ordered the release of FBI interview reports with Justice Department official Bruce Ohr related to the Russia probe, and FBI interview reports related to the Page surveillance warrant applications, White House spokeswoman Sarah Sanders said in a statement.
Finally, Trump directed the Justice Department to release, without redactions, text messages relating to the Russia probe from former FBI Director James Comey, former FBI Deputy Director Andrew McCabe and other officials, including recently fired FBI agent Peter Strzok. Strzok has come under fire for sending texts disparaging Trump as a presidential candidate.
Trump fired Comey in May 2017, originally saying that he fired him over the Russia probe, and then this past May contradicting that and saying that the firing was not "because of the phony Russia investigation." McCabe was fired in March by Attorney General Jeff Sessions.
Trump's demands mark his latest effort to turn up the heat on the Justice Department, whom he and his Republican allies have accused of running a tainted probe into Russian interference in the 2016 U.S. presidential election.
Democrats say that Trump and his allies are politicizing a law enforcement investigation in order to protect the White House.
A spokeswoman for the FBI declined to comment on Trump's directive.
But one source familiar with the process, speaking on condition of anonymity, said neither the Justice Department nor the FBI had any idea how the declassification process was supposed to work in this case - suggesting Trump's order had taken them by surprise.
Representative Adam Schiff, the top Democrat on the House of Representatives Intelligence Committee, sharply criticized Trump.
"President Trump, in a clear abuse of power, has decided to intervene in a pending law enforcement investigation by ordering the selective release of materials he believes are helpful to his defence team and thinks will advance a false narrative," Schiff said.
"With respect to some of these materials, I have been previously informed by the FBI and Justice Department that they would consider their release a red line that must not be crossed as they may compromise sources and methods," Schiff said.
Republican Representative Matt Gaetz praised the directive. "These documents will reveal to the American people some of the systemic corruption and bias that took place at the highest levels of the DOJ and FBI, including using the tools of our intelligence community for partisan political ends," he said.
The material involving Page amounts to 412 pages of documents comprising an October 2016 bureau application to the secretive Foreign Intelligence Surveillance Court for a warrant to monitor Page's communications for three months, and applications to extend the monitoring for three subsequent 90-day periods. All four applications were approved.
Parts of the material were first declassified and released by the FBI on July 21.
In the original application, the FBI said it believed that "Page has been collaborating and conspiring with the Russian Government."
In a June hearing, some Republican House members shouted at Deputy Attorney General Rod Rosenstein, who oversees Special Counsel Robert Mueller's Russia probe, and accused him of withholding documents related to the investigation into whether Trump's campaign colluded with Russia.
Trump has denied colluding and Russia has denied meddling, though all of U.S. intelligence agencies agree Russia interfered in the election.
(Additional reporting by Jonathan Landay and Lisa Lambert; Editing by Lisa Shumaker and Leslie Adler)
This story has not been edited by Firstpost staff and is generated by auto-feed.
World
BAGHDAD (Reuters) - Rockets hit near U.S. forces and contractors in Iraq on Wednesday, including an air base north of Baghdad and a military base at Baghdad International Airport, the Iraqi army and security officials said. The army reported at least three rockets hit Balad air base, where U.S
World
By Silvia Ognibene and Silvia Aloisi FLORENCE, Italy (Reuters) -Italian police have arrested a Chinese couple accused of running a leather goods business which exploited immigrant workers it employed to make handbags for a Burberry supplier, according to an arrest warrant seen by Reuters. Tax police in Florence said in a statement that the two Chinese nationals were arrested on Wednesday as part of an investigation into alleged labour exploitation and tax fraud and that restrictive measures had been imposed on two other family members, including a ban on them leaving Italy
World
WASHINGTON (Reuters) - The United States on Wednesday blacklisted four Nicaraguans, including a daughter of President Daniel Ortega, as Washington warned it would continue to use diplomatic and economic tools against members of the leftist government engaged in repression. The U.S. State Department called on Ortega to release detained presidential candidates as well as other civil society and opposition leaders arrested over the past week in what Washington called "an increasing wave of repression." "There are costs for those who are complicit in the regime's repression.