Trump opposed to aides testifying to Congress on Mueller report: Washington Post
WASHINGTON (Reuters) - President Donald Trump is opposed to current and former White House aides testifying to congressional committees on Special Counsel Robert Mueller's Russia report, the Washington Post quoted him as saying on Tuesday. In an interview with the newspaper, Trump said the White House cooperated with Mueller's investigation into Russian meddling in the 2016 U.S. presidential election and did not need to comply with congressional committees, which are probing possible obstruction of justice by Trump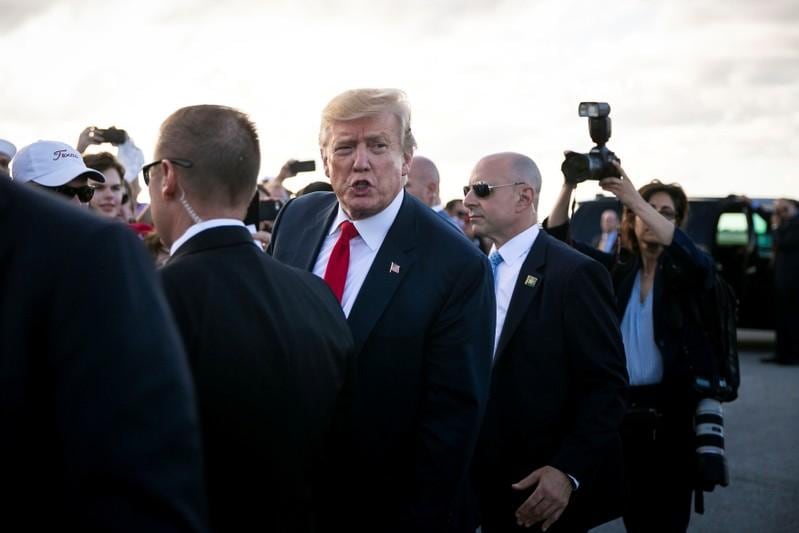 WASHINGTON (Reuters) - President Donald Trump is opposed to current and former White House aides testifying to congressional committees on Special Counsel Robert Mueller's Russia report, the Washington Post quoted him as saying on Tuesday.
In an interview with the newspaper, Trump said the White House cooperated with Mueller's investigation into Russian meddling in the 2016 U.S. presidential election and did not need to comply with congressional committees, which are probing possible obstruction of justice by Trump.
"There is no reason to go any further, and especially in Congress where it's very partisan - obviously very partisan," Trump said, according to the Post.
Earlier, the Post reported that the White House was planning to oppose a subpoena issued by the House of Representatives Judiciary Committee for former White House Counsel Don McGahn to testify.
The Post said the White House planned to assert executive privilege to prevent McGahn and other current and former Trump administration officials from testifying.
Trump said the White House lawyers had not "made a final, final decision" about whether to assert executive privilege, according to the Post.
But Trump said he opposed cooperating with House Democrats, who he said were trying to score political points against him.
"I don't want people testifying to a party, because that is what they're doing if they do this," the Post quoted Trump as saying.
According to the Mueller report, Trump called McGahn in June 2017 to say he should tell Deputy Attorney General Rod Rosenstein to remove the special counsel because he had conflicts of interest. McGahn did not carry out the order.
(Reporting by Eric Beech; Editing by Mohammad Zargham and Peter Cooney)
This story has not been edited by Firstpost staff and is generated by auto-feed.
Find latest and upcoming tech gadgets online on Tech2 Gadgets. Get technology news, gadgets reviews & ratings. Popular gadgets including laptop, tablet and mobile specifications, features, prices, comparison.
World
By Tim Hepher and David Ljunggren PARIS/OTTAWA (Reuters) - France said on Friday it would download the black boxes from a Ukrainian airliner downed by an Iranian missile in January, easing a stand-off over where they should be read. France's BEA crash investigation agency said it was acting at the request of Iran, which remains responsible under global rules for conducting a formal accident probe after acknowledging that the Boeing 737 was downed by its forces
World
By Brad Brooks LUBBOCK, Texas (Reuters) - With new coronavirus cases surging in Texas and Florida, officials in both states on Friday ordered bars to close again and imposed tighter restrictions on restaurants, setting back efforts to reopen their economies. Governor Greg Abbott gave bars in Texas until midday Friday to shut, while Florida's Department of Business and Professional Regulation told bars to immediately stop serving alcohol on their premises
World
By Patricia Zengerle WASHINGTON (Reuters) - The U.S. Senate passed legislation on Thursday that would impose mandatory sanctions on people or companies that back efforts by China to restrict Hong Kong's autonomy, pushing back against Beijing's new security law for the city. The measure also includes secondary sanctions on banks that do business with anyone found to be backing any crackdown on the territory's autonomy, potentially cutting them off from American counterparts and limiting access to U.S.