Trump-Kim 'breakup' sparks Twitter mirth over commemorative coins
(Reuters) - U.S. President Donald Trump's letter to North Korean leader Kim Jong Un cancelling their summit next month prompted a deluge of derisory comments on Twitter on Thursday, including many about the now discounted commemorative coin pre-minted for the occasion. The 'President Trump United States and Korea Summit' coin was the 'deal of the day' at the White House Gift Shop on Thursday after Trump earlier in the day called off the historic summit with Kim, citing Pyongyang's "open hostility." The coin, which was selling for $19.95 after the price was cut from $24.95,shows gold embossed images of Trump and Kim facing each other with a montage of their countries' flags in the background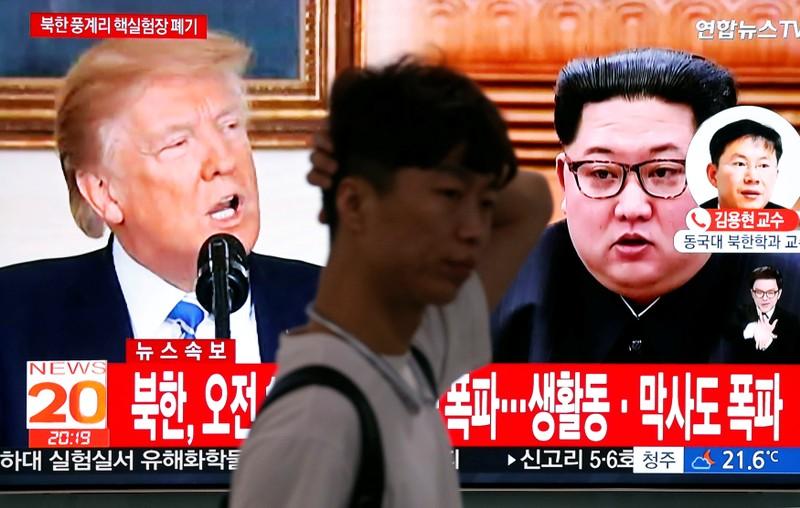 (Reuters) - U.S. President Donald Trump's letter to North Korean leader Kim Jong Un cancelling their summit next month prompted a deluge of derisory comments on Twitter on Thursday, including many about the now discounted commemorative coin pre-minted for the occasion.
The "President Trump United States and Korea Summit" coin was the "deal of the day" at the White House Gift Shop on Thursday after Trump earlier in the day called off the historic summit with Kim, citing Pyongyang's "open hostility."
The coin, which was selling for $19.95 after the price was cut from $24.95,shows gold embossed images of Trump and Kim facing each other with a montage of their countries' flags in the background. Kim's title is designated as "Supreme Leader".
The coin was minted by the U.S. military, which has long issued "challenge coins" commemorating specific events or accomplishments. A military detachment called the White House Communications Agency, regularly issues coins when the president travels abroad.
What some described as the "breakup" tone of Trump's letter to Kim, coupled with the premature coins, drew a lively response from social media users on Twitter.
"I am going to break up with you before you can break up with me and I get to keep all of the commemorative coins... SO THERE," said @AOPhoenix
"Are they going to make a coin to commemorate the breakup between Kim Jong Un and Trump?" Steelsnowflake1 asked.
"No bel! No bel! Worthless coins! Worthless coins!", said Sally Thomas, @SallyTh24566914, referring to speculation that Trump could be in line for a Nobel Peace Prize if the summit takes place.
"Seeing as Trump never apologises for anything, except the break up letter to Kimmy, do you think he'll keep the money from the commemorative coin?," morosejews asked.
"What about his break up email to Kim Jong? What will he do with all his silly challenge coins he made?," asked Stablegenius Steve @numberone2
"You didn't break up with me, I broke up with you first. I want my ring back and reimbursed for the stupid coins I had made," said @sandrafualkenb1.
Trump's letter to Kim announced his abrupt withdrawal from what would have been a first-ever meeting between a serving U.S. president and a North Korean leader. It had been due to take place in Singapore on June 12.
"Sadly, based on the tremendous anger and open hostility displayed in your most recent statement, I feel it would be inappropriate, at this time, to have this long-planned meeting," Trump wrote in his letter to Kim.
"Please let this letter serve to represent that the Singapore summit, for the good of both parties, but to the detriment of the world, will not take place."
(Reporting by Bill Tarrant; Editing by Tom Brown)
This story has not been edited by Firstpost staff and is generated by auto-feed.
World
BAGHDAD (Reuters) - Rockets hit near U.S. forces and contractors in Iraq on Wednesday, including an air base north of Baghdad and a military base at Baghdad International Airport, the Iraqi army and security officials said. The army reported at least three rockets hit Balad air base, where U.S
World
By Silvia Ognibene and Silvia Aloisi FLORENCE, Italy (Reuters) -Italian police have arrested a Chinese couple accused of running a leather goods business which exploited immigrant workers it employed to make handbags for a Burberry supplier, according to an arrest warrant seen by Reuters. Tax police in Florence said in a statement that the two Chinese nationals were arrested on Wednesday as part of an investigation into alleged labour exploitation and tax fraud and that restrictive measures had been imposed on two other family members, including a ban on them leaving Italy
World
WASHINGTON (Reuters) - The United States on Wednesday blacklisted four Nicaraguans, including a daughter of President Daniel Ortega, as Washington warned it would continue to use diplomatic and economic tools against members of the leftist government engaged in repression. The U.S. State Department called on Ortega to release detained presidential candidates as well as other civil society and opposition leaders arrested over the past week in what Washington called "an increasing wave of repression." "There are costs for those who are complicit in the regime's repression.