Trump insists grand jury subpoena for tax records is overbroad
By Karen Freifeld (Reuters) - U.S. President Donald Trump on Monday insisted in court papers that a grand jury subpoena for his tax returns was overbroad and issued in bad faith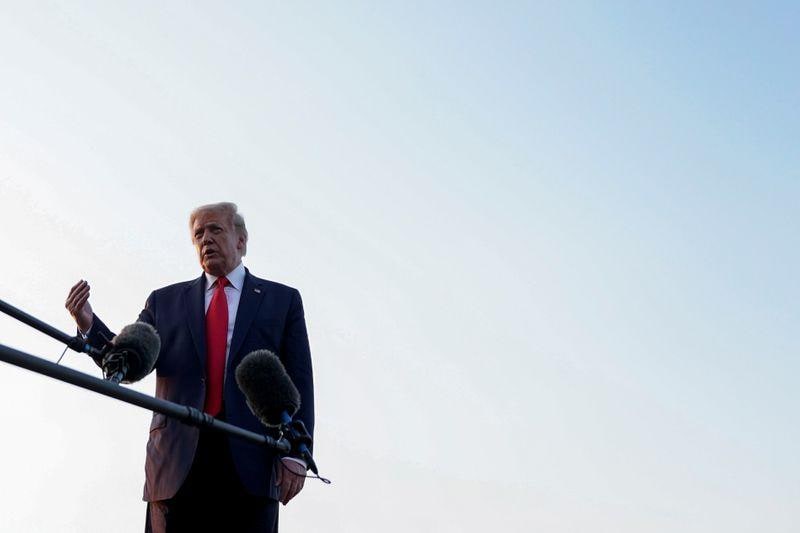 By Karen Freifeld
(Reuters) - U.S. President Donald Trump on Monday insisted in court papers that a grand jury subpoena for his tax returns was overbroad and issued in bad faith.
Trump reiterated the argument in his latest court filing challenging the subpoena for eight years of his personal and corporate tax records.
The filing in federal court in Manhattan was in response to a motion by Manhattan District Attorney Cyrus Vance to dismiss the new challenge to the subpoena without delay.
The dispute already was subject to a ruling from the U.S. Supreme Court last month that the president was not immune from state criminal probes.
Grand jury deliberations are secret, and the public may not learn what the subpoena uncovers until after the Nov. 3 election.
But on Monday, Trump's lawyers argued the probe is about hush-money payments made in 2016 by Trump's former lawyer and fixer Michael Cohen.
"The president plausibly alleges that the grand jury investigation is about certain payments made in 2016 - not some murky inquiry into broader financial practices," Trump's lawyers wrote in opposition to the motion to dismiss.
Vance last week said in his papers that it was a "false premise" that the investigation was limited to the hush-money payments.
Rather, Vance hinted, it is part of an investigation of "possibly extensive and protracted criminal conduct at the Trump Organization," including alleged insurance and bank fraud.
Cohen pleaded guilty in 2018 to campaign violations tied to the payments to pornographic film actress Stormy Daniels and former model Karen McDougal, who said they had affairs with Trump, which he denies.
(Reporting by Karen Freifeld; editing by Grant McCool)
This story has not been edited by Firstpost staff and is generated by auto-feed.
World
ATHENS (Reuters) - Greek police used teargas and water cannon to disperse people who had gathered in central Athens on Saturday to protest against mandatory COVID-19 vaccinations. More than 4,000 people rallied outside the Greek parliament for a third time this month to oppose mandatory inoculations for some workers, such as healthcare and nursing staff.
World
ISTANBUL (Reuters) - Two Turkish soldiers were killed and two were wounded in an attack on their armoured vehicle in northern Syria, and Turkish forces immediately launched retaliatory fire, Turkey's defence ministry said on Saturday. "Our punitive fire against terrorist positions is continuing," the statement on Twitter on said. It did not specify where the attack occurred, but media reports said it was in the al-Bab area.
World
By Marcelo Rochabrun SAO PAULO (Reuters) - Protesters took to the streets in several Brazilian cities on Saturday to demand the impeachment of far-right President Jair Bolsonaro, whose popularity has fallen in recent weeks amid corruption scandals against the backdrop of the pandemic. This week, news broke that Brazil's defense ministry told congressional leadership that next year's elections would not take place without amending the country's electronic voting system to include a paper trail of each vote. Bolsonaro has suggested several times without evidence that the current system is prone to fraud, allegations that Brazil's government has denied