Trump Fed nominee Shelton blocked in Senate, for now
By Doina Chiacu and Ann Saphir (Reuters) - The U.S. Senate on Tuesday blocked President Donald Trump's controversial nomination of Judy Shelton to the Federal Reserve's board, though a White House spokesman expressed confidence she would eventually be confirmed. Shelton, a former economic adviser to Trump, has come under fire for inconsistent, controversial views, including a past embrace of the gold standard and a shifting stance on interest rates as control of the White House passed from Democrat Barack Obama to Trump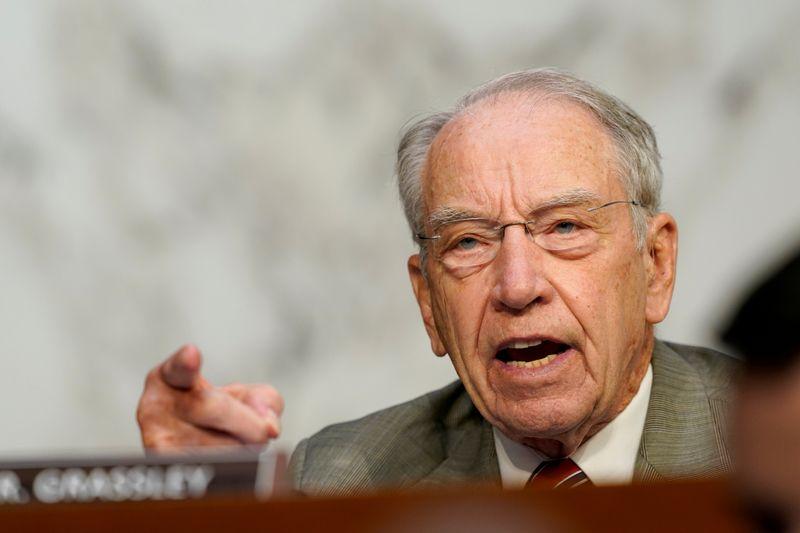 By Doina Chiacu and Ann Saphir
(Reuters) - The U.S. Senate on Tuesday blocked President Donald Trump's controversial nomination of Judy Shelton to the Federal Reserve's board, though a White House spokesman expressed confidence she would eventually be confirmed.
Shelton, a former economic adviser to Trump, has come under fire for inconsistent, controversial views, including a past embrace of the gold standard and a shifting stance on interest rates as control of the White House passed from Democrat Barack Obama to Trump.
Critics also say she is too partisan for the job and would imperil the Fed's independence, although Shelton told lawmakers in her confirmation hearing that "no one tells me what to do."
Supporters praise an out-of-the-box thinker who they say can shake up an institution they view as being dominated by "groupthink" because of its consensus-driving decision-making style.
"President @realDonaldTrump's nominee to the Federal Reserve is incredibly qualified," White House spokesman Judd Deere wrote in a tweet. "The @WhiteHouse fully supports her, and we remain confident that Judy Shelton will be confirmed upon reconsideration."
Trump's Republican Party has a 53-47 majority in the current Senate, but several senators were absent on Tuesday, including two who were quarantining due to exposure to the coronavirus
. Others joined Democrats in voting "no" in the so-called cloture vote.
The vote was 47-50, with Senate Majority Leader Mitch McConnell voting "no" to preserve the option to reconsider Shelton's nomination later, when colleagues including Senator Charles Grassley of Iowa and Senator Rick Scott of Florida, both quarantining due to the virus, return to the Senate floor.
Shelton, an adviser to Trump's 2016 presidential campaign who has argued the nation would be better off returning to the gold standard, as recently as 2017 criticized the Fed's power over money and financial markets as "quite unhealthy." During her Senate confirmation process, she called the Fed's bond buying and zero interest rates in the last crisis "extreme."
Her views on rates have moved in lockstep with Trump's. She lambasted easy money before his presidency, but supported it after he took office, and has expressed skepticism over the Fed's need to set policy independently from the president and Congress.
That skepticism was part of the appeal for some Republicans voting "yes" on Tuesday.
"The Federal Reserve plays too much of a role shaping our economy," Marco Rubio, a Republican senator from Florida, said in a statement after the vote. He added that he thinks Shelton shares his belief "that relying on the Federal Reserve to boost asset prices is no substitute for a strong American economy."
Shelton is the latest in a string of failed Trump picks for the central bank
Other Trump Fed nominees that failed to be confirmed included former Republican presidential candidate Herman Cain, although none of them got as far as Shelton did in the process.
(Reporting by Patricia Zengerle, Doina Chiacu, Rick Cowan, David Morgan, Andrea Shalal; writing by Ann Saphir; editing by Jonathan Oatis and Edward Tobin)
This story has not been edited by Firstpost staff and is generated by auto-feed.
Find latest and upcoming tech gadgets online on Tech2 Gadgets. Get technology news, gadgets reviews & ratings. Popular gadgets including laptop, tablet and mobile specifications, features, prices, comparison.
World
MUNICH/FRANKFURT (Reuters) - German police fired water cannon during an anti-lockdown rally in Frankfurt on Saturday and eventually broke up the gathering as rules like wearing masks and socially distancing were not observed. About 600 people from the loosely organized Querdenker movement that opposes the government's measures to halt the rise in coronavirus infections took to the streets in Frankfurt.
World
By Christian Hartmann PARIS (Reuters) - A silk shoe that belonged to Marie Antoinette, the last queen of France who was executed during the French Revolution, will go up for auction on Sunday - with a starting price of 10,000 euros ($11,800).
World
By Juarawee Kittisilpa and Matthew Tostevin BANGKOK (Reuters) - Thailand's King Maha Vajiralongkorn told well-wishers of the importance of unity as he marked the opening of a new railway line on Saturday, after thousands of protesters had turned their backs on his motorcade as it passed through central Bangkok. Around 2,500 demonstrators had gathered at the capital's Democracy Monument in the latest of months of protests against Prime Minister Prayuth Chan-ocha, demanding changes to the constitution as well as reforms of the monarchy. The protesters draped the centrepiece of the monument, which has become a rallying point for the protests, in a cloth covered in grievances and insults