Trump escorted from briefing after shooting outside White House
WASHINGTON (Reuters) - U.S. President Donald Trump was abruptly escorted from the White House briefing room on Monday shortly after a shooting outside the fence surrounding the complex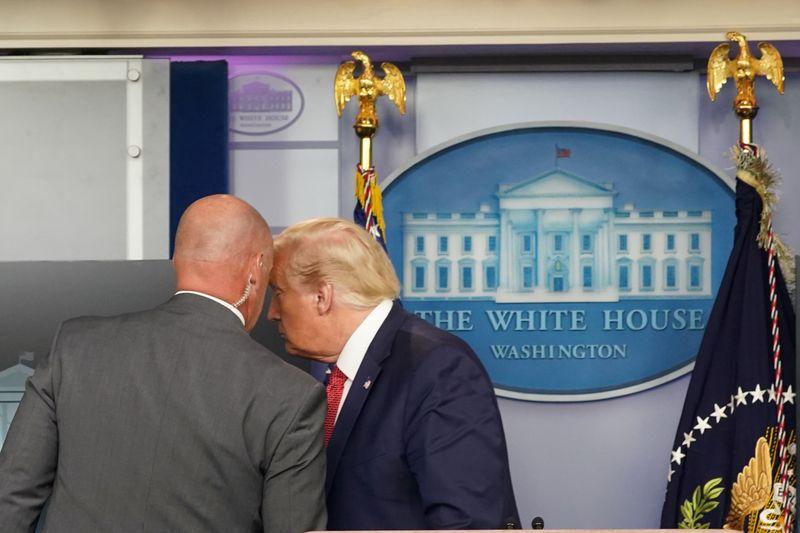 WASHINGTON (Reuters) - U.S. President Donald Trump was abruptly escorted from the White House briefing room on Monday shortly after a shooting outside the fence surrounding the complex.
Trump returned to the briefing room after several minutes and said a person was shot by law enforcement and has been taken to the hospital. He said he understood the suspect had been armed.
"It was a shooting outside of the White House," Trump said. "It seems to be very well under control. ... But there was an actual shooting, and somebody has been taken to the hospital. I don't know the condition of the person."
The Republican president told reporters he was taken to the Oval Office outside the briefing room after he was escorted out.
Minutes into a news briefing, Trump was taken out of the room with no explanation for the disruption. Treasury Secretary Steve Mnuchin and Office of Management and Budget Director Russ Vought were also taken out of the room and the doors were locked.
(Reporting by Jeff Mason; Editing by Mohammad Zargham and Sandra Maler)
This story has not been edited by Firstpost staff and is generated by auto-feed.
Find latest and upcoming tech gadgets online on Tech2 Gadgets. Get technology news, gadgets reviews & ratings. Popular gadgets including laptop, tablet and mobile specifications, features, prices, comparison.
Business
By James Davey LONDON (Reuters) - Distribution of several British newspapers was disrupted on Saturday after climate change activists blockaded printworks used by Rupert Murdoch's News UK, publisher of The Times and The Sun, drawing condemnation from Prime Minister Boris Johnson.
Business
PARIS (Reuters) - France denied the European Union's Brexit negotiator Michel Barnier was about to be sidelined by EU leaders in a bid to break the deadlock in trade talks, as reported by British newspaper the Daily Telegraph. Twisting a famous British war slogan, European affairs minister Clement Beaune tweeted on Saturday: "Keep calm and support Michel Barnier".
World
MEXICO CITY (Reuters) - Mexico's National Electoral Institute (INE) has denied former President Felipe Calderon's bid to register his Free Mexico movement as a new political party, saying some of its funding was questionable.