Trump denounces fabrication; multiple women claim candidate groped them | Reuters
By Roberta Rampton and Emily Flitter | WASHINGTON WASHINGTON Two women accused Donald Trump of inappropriate touching in interviews with the New York Times, claims his spokesman called fiction but which may further damage the Republican presidential candidate's chances of winning the Nov. 8 election.The report on Wednesday was followed by a stream of similar allegations from several other women, putting more pressure on Trump as he lags Democratic rival Hillary Clinton in national opinion polls. The campaign was already struggling to contain a crisis after a video surfaced last week showing the candidate bragging in 2005 about groping women and making unwanted sexual advances.One of the women, Jessica Leeds, appeared on camera on the New York Times' website to recount how Trump grabbed her breasts and tried to put his hand up her skirt on a flight to New York in or around 1980
By Roberta Rampton and Emily Flitter
| WASHINGTON
WASHINGTON Two women accused Donald Trump of inappropriate touching in interviews with the New York Times, claims his spokesman called fiction but which may further damage the Republican presidential candidate's chances of winning the Nov. 8 election.The report on Wednesday was followed by a stream of similar allegations from several other women, putting more pressure on Trump as he lags Democratic rival Hillary Clinton in national opinion polls. The campaign was already struggling to contain a crisis after a video surfaced last week showing the candidate bragging in 2005 about groping women and making unwanted sexual advances.One of the women, Jessica Leeds, appeared on camera on the New York Times' website to recount how Trump grabbed her breasts and tried to put his hand up her skirt on a flight to New York in or around 1980. (nyti.ms/2dx8k5R)The second woman, Rachel Crooks, described how Trump "kissed me directly on the mouth" in 2005 outside the elevator in Trump Tower in Manhattan, where she was a receptionist at a real estate firm.Trump denied there was any truth to the accounts and the candidate took to Twitter on Thursday morning: "The phoney story in the failing @nytimes is a TOTAL FABRICATION. Written by same people as last discredited story on woman. WATCH!"On Wednesday night, Trump's campaign made public a letter to the newspaper from Marc Kasowitz, a lawyer representing Trump, demanding it retract the story, calling it libelous, and threatening legal action if it did not comply."This entire article is fiction, and for the New York Times to launch a completely false, coordinated character assassination against Mr. Trump on a topic like this is dangerous," the Trump campaign's senior communications adviser Jason Miller said in a statement.Reuters could not independently verify the incidents. Leeds and Crooks did not immediately respond to requests for comment from Reuters."We stand by the story, which falls clearly into the realm of public service journalism," a New York Times spokeswoman said.The report came just two days after a Reuters/Ipsos opinion poll showed one in five Republicans thought Trump's comments about groping women disqualified him from the presidency. The poll also showed him 8 points behind Clinton among likely voters.
It coincided with an endorsement of Clinton on Thursday by The Washington Post. "In the gloom and ugliness of this political season, one encouraging truth is often overlooked: There is a well-qualified, well-prepared candidate on the ballot ... we endorse her without hesitation," it said.MORE ACCOUNTS SURFACE
Within hours of the Times report, several other media outlets published similar reports. People magazine published a detailed first-person account from one of its reporters, Natasha Stoynoff. (bit.ly/2dTm90D)Stoynoff said Trump pinned her against a wall at his Florida estate in 2005 and kissed her as she struggled to get away.
"I turned around, and within seconds, he was pushing me against the wall, and forcing his tongue down my throat," Stoynoff said. Trump, 70, denied the People story, attacking his accuser for not coming forward sooner. "Why didn't the writer of the twelve year old article in People Magazine mention the "incident" in her story. Because it did not happen!" he wrote on Twitter. The article included a denial from a Trump spokeswoman who called the article a "politically motivated fictional pile-on."The Palm Beach Post reported a claim by Mindy McGillivray, 36, a woman in South Florida, that Trump had grabbed her bottom 13 years ago while she was working at his Mar a Lago estate as a photographer's assistant."There is no truth to this whatsoever," Trump's spokeswoman Hope Hicks told the Post. McGillivray could not be reached for comment.
'DISTURBING'
The reports followed the emergence of the video from 2005 in which Trump bragged about groping women, kissing them without permission, and trying to seduce a married woman. Trump, a New York businessman who has never previously run for elected office, said during a presidential debate on Sunday that he had not actually done the things he had boasted about, and apologized for his remarks, which he called private "locker room talk."The video has jeopardized Trump's chances of winning the White House and thrown a cloud over Republican hopes of retaining control of the U.S. Congress. It has also deeply split the party as a slew of elected officials have abandoned support for the candidate.U.S. House of Representatives Speaker Paul Ryan, the country's most senior elected Republican, said on Monday he was no longer going to campaign for or defend Trump. Trump has veered since between pronouncing himself free to campaign as he likes, and expressing fury at Ryan and other "disloyal" Republicans.A spokeswoman for Clinton said Wednesday's report in the New York Times was "disturbing.""These reports suggest that he lied on the debate stage and that the disgusting behavior he bragged about in the tape is more than just words," said spokeswoman Jennifer Palmieri. (Additional reporting by Emily Flitter, Jonathan Allen, Emily Stephenson, Susan Cornwell, David Morgan, Michelle Conlin, Eric Beech, Eric Walsh, Doina Chiacu; Editing by Bill Rigby and Frances Kerry)
This story has not been edited by Firstpost staff and is generated by auto-feed.
World
According to government data, 3,671 people died by suicide in Spain in the year 2019, making it the second most common cause of death after natural causes
World
Amess was holding a his regular weekly meeting with constituents at the Belfairs Methodist Church, in the small town of Leigh-on-Sea when he was stabbed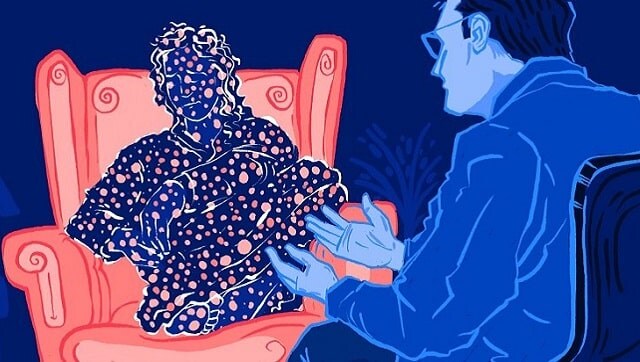 Health
Although many people are struggling and these struggles are not to be ignored, the pandemic has also provided a chance to flourish — functioning well and feeling good, with a sense that life is meaningful and worthwhile, despite challenging circumstances