Trump denies knowing of 2016 Trump Tower meeting with Russians
By Doina Chiacu WASHINGTON (Reuters) - U.S. President Donald Trump on Friday denied knowing about the 2016 meeting his son Donald Trump Jr. and other campaign staff held at Trump Tower with a group of Russians who offered damaging information about Democratic rival Hillary Clinton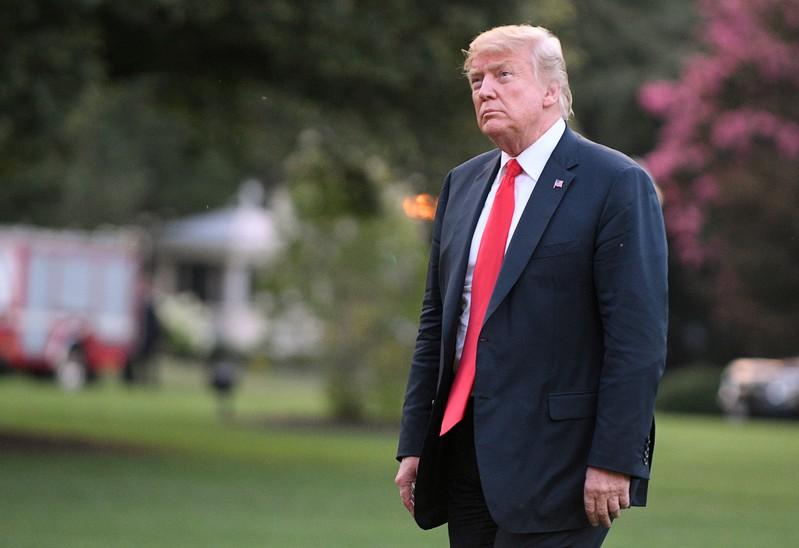 By Doina Chiacu
WASHINGTON (Reuters) - U.S. President Donald Trump on Friday denied knowing about the 2016 meeting his son Donald Trump Jr. and other campaign staff held at Trump Tower with a group of Russians who offered damaging information about Democratic rival Hillary Clinton.
"I did NOT know of the meeting with my son, Don jr," Trump wrote in on Twitter after a CNN report cited his longtime lawyer Michael Cohen as saying Trump had known about the meeting in advance.
CNN, citing unidentified sources with knowledge of the matter, said Cohen was willing to make that assertion to Special Counsel Robert Mueller, who is investigating whether Trump's presidential campaign had worked with Russia to sway the 2016 U.S. presidential election.
Federal prosecutors in New York are investigating Cohen for possible bank and tax fraud, and for possible campaign law violations linked to a $130,000 payment to adult film star Stormy Daniels, a person familiar with the investigation has told Reuters. The payment to Daniels, who says she had an intimate relationship with Trump, was meant to buy her silence over the affair.
Cohen has not been charged with any crime.
Trump, who has said in the past he did not know about the meeting in advance, suggested Cohen was implicating Trump in exchange for possible immunity on unrelated charges related to his business dealings.
"Sounds to me like someone is trying to make up stories in order to get himself out of an unrelated jam," Trump speculated on Twitter, without supporting his claim.
The criticism of a man who was once Trump's fierce defender reflects the tensions wrought by the federal investigations in New York and Washington.
The role Cohen, a longtime personal confidant of Trump, might play in the Mueller probe is unknown. On Wednesday, Trump expressed disbelief that Cohen would have taped conversations with him, a day after an audio recording of a conversation between the two men was aired on U.S. television.
Trump personal lawyer Rudy Giuliani called Cohen a liar on Thursday night after the CNN report on the Trump Tower meeting. "He's been lying all week, or for two weeks - he's been lying for years," Giuliani told CNN.
The Republican president has been infuriated by the suggestion he might owe his White House victory to Russia, and has focused on denying the collusion allegations rather than on concerns about the U.S. intelligence community's findings that Moscow intervened on his behalf.
In a series of angry Twitter posts on Friday morning, he again denied any collusion with Moscow and denounced the Mueller probe as a witch hunt. Russia has denied meddling in the election.
Cohen did not return a request for comment on Trump's tweet or the CNN report. His attorney Lanny Davis declined to comment on the report, as did spokeswomen for Mueller and the U.S. attorney in Manhattan.
Trump's eldest son, Donald Trump Jr., along with Trump's son-in-law, Jared Kushner, and senior campaign aide Paul Manafort took part in the June 9, 2016, meeting with Nataliya Veselnitskaya, a Russian lawyer and acknowledged Kremlin informant.
Trump Jr. told congressional investigators he did not tell his father about the meeting beforehand, according to documents released by the Senate Judiciary Committee.
(Reporting by Doina Chiacu; Additional reporting by Karen Freifeld; editing by Bernadette Baum and Jonathan Oatis)
This story has not been edited by Firstpost staff and is generated by auto-feed.
Find latest and upcoming tech gadgets online on Tech2 Gadgets. Get technology news, gadgets reviews & ratings. Popular gadgets including laptop, tablet and mobile specifications, features, prices, comparison.
World
OTTAWA (Reuters) - Canadian Prime Minister Justin Trudeau on Friday said he will continue to stand up against China's "coercive diplomacy" and its human rights abuses in Hong Kong and Xinjiang after being rebuked by Beijing for similar comments earlier this week. "We will stand up loudly and clearly for human rights all around the world, whether it is talking about the situation faced by the Uighurs, whether it is talking about the very concerning situation in Hong Kong, whether it's calling out China for its coercive diplomacy," Trudeau said in a news conference. (Reporting by Steve Scherer and Julie Gordon, Editing by Franklin Paul)
World
By Caroline Pailliez PARIS (Reuters) - Solene Tissot, a 19-year-old student in Paris, will obey the curfew imposed to fight COVID-19, but she has one request for her country's leaders: don't blame young people for the second wave of the virus. "There's been this kind of assigning guilt to young people," she said on Friday, hours before the new curfew was to come into force in Paris and major French cities. "I reject that." After a lull over the summer, the rates of transmission of coronavirus are going up in many parts of Europe and officials have identified social interactions between young people as a source of the resurgence.
World
By Adrian Portugal and Eloisa Lopez MANILA (Reuters) - Jailed Philippine activist Reina Mae Nasino wanted to hold her three-month-old daughter for the last time before she was laid to rest on Friday but she could not. Heavily armed prison officials guarding her refused to uncuff her despite pleas from her family and human rights supporters, who have decried what they described as inhumane treatment of Nasino and other mothers in Philippine jails.