Trump criticized for praising congressman who body-slammed reporter
WASHINGTON (Reuters) - President Donald Trump came under criticism on Friday from U.S. lawmakers and press organizations after praising a Montana congressman who body-slammed a reporter last year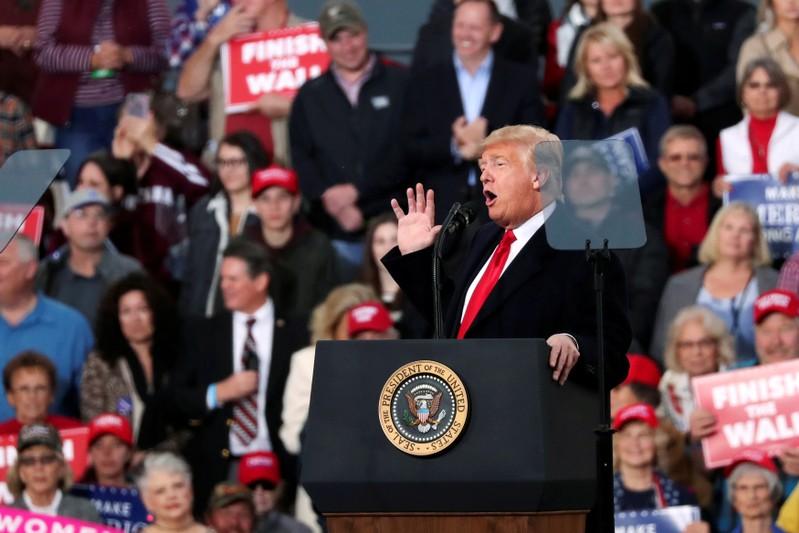 WASHINGTON (Reuters) - President Donald Trump came under criticism on Friday from U.S. lawmakers and press organizations after praising a Montana congressman who body-slammed a reporter last year.
Trump's praise for Greg Gianforte, a Republican member of the U.S. House of Representatives who pleaded guilty to a misdemeanor assault charge for the incident involving the reporter, coincides with an international outcry over the disappearance of Saudi journalist Jamal Khashoggi.
"Any guy that can do a body-slam, he's my guy," Trump told a political rally in Missoula, Montana on Thursday night, referring to Gianforte.
"There's nothing to be embarrassed about," Trump added, with the crowd cheering.
Trump has been holding frequent rallies in the build-up to the Nov. 6 U.S. congressional elections in which Trump's fellow Republicans are seeking to retain control of the House and Senate.
Gianforte body-slammed Ben Jacobs, a correspondent for Britain's Guardian newspaper, in May 2017, the day before a special election to fill Montana's only House seat. Gianforte, who is running for re-election, was ordered to perform community service as part of his sentence after pleading guilty.
Trump drew rebukes from several lawmakers including U.S. Senators Jeff Flake, a Republican, and Patrick Leahy, a Democrat, as well as Gianforte's Democratic opponent Kathleen Williams.
"We are different than dictatorships and totalitarian governments because we have a free press," Leahy told CNN, calling Trump's comments "terrible" and "irresponsible."
"In dictatorships, they don't have freedom of speech. They do attack reporters. They do body-slam reporters. We should not be encouraging that in the United States. We should be the beacon of freedom," Leahy added.
Flake, a frequent critic of Trump, wrote on Twitter: "Body slamming journalists is nothing to be proud of."
Trump has frequently criticized journalists, calling the news media the "enemy of the American people" and deriding some news organizations as "fake news."
Olivier Knox, president of the White House Correspondents' Association, accused Trump of "cheerleading for a violent act targeting a free and independent news media."
"All Americans should recoil from the president's praise for a violent assault on a reporter doing his Constitutionally protected job," Knox said in a statement.
But some dismissed the criticism. The president's son, Eric Trump, said on Fox News Channel: "Oh, stop it. He wasn't the guy who body slammed anybody. He can have fun."
(Reporting by Makini Brice; Additional reporting by Susan Heavey; Editing by Will Dunham)
This story has not been edited by Firstpost staff and is generated by auto-feed.
Find latest and upcoming tech gadgets online on Tech2 Gadgets. Get technology news, gadgets reviews & ratings. Popular gadgets including laptop, tablet and mobile specifications, features, prices, comparison.
Business
By James Davey LONDON (Reuters) - Distribution of several British newspapers was disrupted on Saturday after climate change activists blockaded printworks used by Rupert Murdoch's News UK, publisher of The Times and The Sun, drawing condemnation from Prime Minister Boris Johnson.
Business
PARIS (Reuters) - France denied the European Union's Brexit negotiator Michel Barnier was about to be sidelined by EU leaders in a bid to break the deadlock in trade talks, as reported by British newspaper the Daily Telegraph. Twisting a famous British war slogan, European affairs minister Clement Beaune tweeted on Saturday: "Keep calm and support Michel Barnier".
World
MEXICO CITY (Reuters) - Mexico's National Electoral Institute (INE) has denied former President Felipe Calderon's bid to register his Free Mexico movement as a new political party, saying some of its funding was questionable.