Trump-Clinton final presidential debate - you're better off with SNL
Polls conducted around just the debates timeline starting from the first one on September 26 say Trump is perilously close to the worst ever drubbing in American political history.
Alec Baldwin or Donald Trump? Saturday Night Live (SNL) or the Presidential Debate? As new surveys peer into past statistics to figure how historic the election day rebuke to Donald Trump could be, the rites of passage remain - a final presidential debate and election day itself when the bottom may likely fall out for Trump.
Pundits called the first debate boring, the second one ugly, the third one will most likely be as bad as it gets. You're better off with SNL and actually going to the WikiLeaks page and looking up some of the emails to get a voyuer's view into how the powerful communicate. It'll tell you why Huma Abedin is Hillary's Clinton's most trusted aide and why she will only grow in power and authority.
Polls conducted around just the debates timeline starting from the first one on September 26 say Trump is perilously close to the worst ever drubbing in American political history.
Hillary Clinton has shot to her best lead yet in an average of all general election polls - she's up by 7 points overall and her leads are in double digits is some individual polls. One lone poll continues to put Trump a hair breadth ahead of Clinton - the LA Times/USC survey which has not budged since June this year. All other polls are going Clinton.
While news networks talk up the presidential debates till they go red in the face, SNL is out and out the big winner.
Donald Trump, who provides endless red meat for SNL, dismissed the wildly popular Saturday Night Live spoof of the second presidential debate as a "hit job." Trump went on to write that it's "time to retire" the show, calling it "boring and unfunny" and adding that Alec Baldwin's portrayal of him "stinks."
Baldwin, who retweeted Trump's critique, has been playing him on "Saturday Night Live" since its 42nd season kicked off a few weeks ago, with Kate McKinnon depicting Democratic presidential hopeful Hillary Clinton.
During its first two weeks on the air this fall, SNL bigger season-opening audiences than at any point since Tina Fey was doing her memorable Sarah Palin impersonation in 2008.
Saturday Night Live will take a break Oct. 29, and will be back on the Saturdays immediately before and after the November 8 election.
Yet, if you still insist on watching two rich people talk about themselves, e-mails, extra-marital affairs, women and their vocabulary while pretending to talk about America, you can catch it on pretty much every cable and mobile screen near you at these times, live from the University of Nevada, Las Vegas:
9 pm EDT, Oct 19
6:30 am IST, Oct 20
The 90 minute debate will be divided into six segments of 15 minutes each, with the topics for each segment selected by moderator Chris Wallace of Fox News:
Debt and entitlements
Immigration
Economy
Supreme Court
Foreign hot spots
Fitness to be president
If you're tuning in, here's a politics blast to keep you in step:
Just call it the email debate
Republicans are seizing the latest developments in the Hillary Clinton email controversy as an issue that could help Donald Trump make up ground in the final presidential debate — if he can hammer home the message. It follows news that the State Department had asked FBI officials to lower the classification of a sensitive email related to the attack on the U.S. compound in Benghazi, Libya. FBI notes revealed discussion of a "quid pro quo" in trying to get the email reclassified.
Blame everybody
Trump is accusing the speaker of the House Paul Ryan of sabotaging his campaign to benefit his own political future.
The real contest
Trump, who? Republicans are pooling all their resources on their most urgent mission: Build a firewall to prevent a Democratic takeover of the House. All the 435 seats in Congress are up for grabs. The Senate contests are looming - these will be the most important results for the Republicans who have hunkered down for a loss of stunning proportions on the main GOP ticket for Prez. They just want to keep control of the House and Senate. They're using Trump's lines against Trump to try and shore up their conservative base.
Our own Brexit, says Trump
Donald Trump is claiming that if he doesn't win the presidential election, "history will remember 2017 as the year America lost its independence."
Trump unleashed a series of tweets Tuesday suggesting that he will "#DrainTheSwamp" of corrupt Washington.
Trump has repeatedly called for Americans to reclaim their independence and has linked his candidacy to the "Brexit" vote in which the United Kingdom chose to leave the European Union.
Hillary landslide?
With roughly three weeks to Election Day, Republican strategists nationwide publicly concede Hillary Clinton has a firm grip on the 270 Electoral College votes needed to win the White House — and may be on her way to an even more decisive victory over Donald Trump.
"Not the man I know": Melania
Melania Trump dismissed her husband's sexually aggressive language as "boy talk," insisting his remarks do not reflect "the man I know," and said she does not believe that he has assaulted any women.
Trump's wife, in a series of media interviews, said she has accepted her husband's apology and the couple is "moving on." The comments come more than a week after the release of a 2005 video in which Trump brags about kissing women and grabbing their genitals without their permission.
"I said to my husband that, you know, the language is inappropriate. It's not acceptable. And I was surprised, because that is not the man that I know," she told CNN.
World
The agreement between Iran and the world powers related its controversial nuclear programme has been moribund since former US president Donald Trump walked out of the deal in May 2018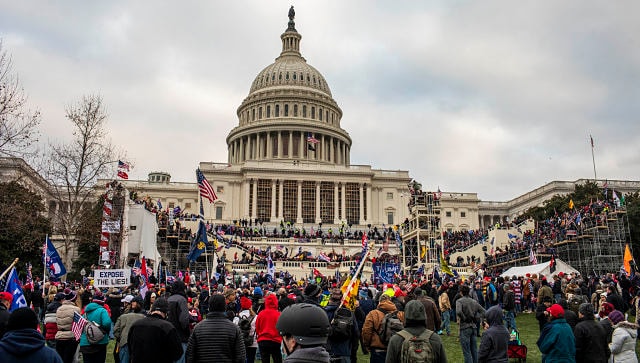 World
The Biden administration, in clearing the documents for release, said the violent siege of the Capitol more than nine months ago was such an extraordinary circumstance that it merited waiving the privilege that usually protects White House communications.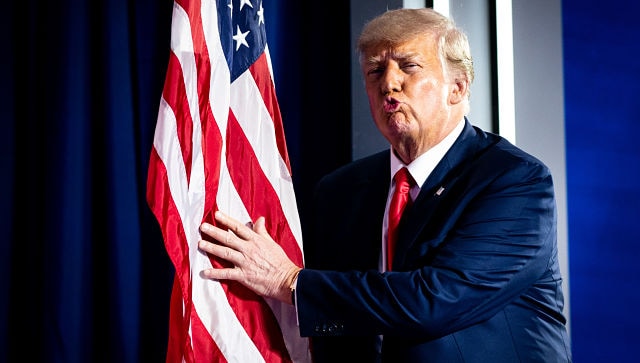 WorldT20
In interviews Thursday, the hackers, who are affiliated with Anonymous, a loose hacking collective, said the effort was part of their "online war against hate."