Trump administration may not hit 2020 border wall goal, official says
By Ted Hesson WASHINGTON (Reuters) - U.S.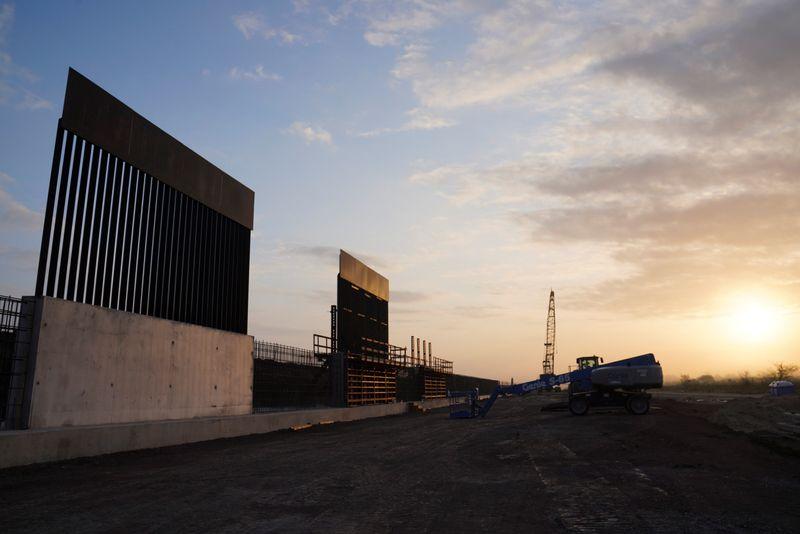 By Ted Hesson
WASHINGTON (Reuters) - U.S. President Donald Trump's administration may fall short of its promise to build 450 miles of wall along the U.S. border with Mexico by the end of next year, a top official said on Tuesday.
Trump made the construction of a border wall a centerpiece of his 2016 election campaign, and has continued to focus on building a wall as he seeks re-election next year.
"Our goal at the end of 2020 was 450 miles," Mark Morgan, acting commission for the U.S. Customs and Border Protection, told reporters. "It's hard right now to be able to say whether we're still going to be able to meet that goal, but I'm confident that we're going to be close."
Morgan said that 93 miles of wall had been built so far during the Trump administration. At least 90 miles of that replaced existing structures, according to CBP figures - although Morgan argued during the briefing that all barriers built under Trump should be considered "new."
A U.S. federal court order handed down last week that blocks the administration from transferring $3.6 billion (£2.81 billion) in military construction funds to build a border wall could negatively affect the timeline if the ruling is not quickly lifted by an appeals court, Morgan said.
Trump administration officials have said for months that they aim to build 450 miles of new and replacement wall by November 2020, when the presidential election will be held.
Trump himself has been less exact. He said in April he expected his administration would build "close to 400 miles" of wall within a roughly two-year timeframe. But during a September news conference at the border in San Diego, he said the anticipation was that nearly 500 miles would completed by the end of 2020.
The $3.6 billion in military construction funds that have been blocked for use for a border wall represent roughly a third of the approximately $10 billion that the Trump administration has obtained for wall construction.
A spending package passed by the House of Representatives on Tuesday would maintain funding for border barriers at $1.37 billion, which Morgan indicated would be used for wall construction.
The Senate is expected to take up the spending package before current funding expires at the end of the week.
(Reporting by Ted Hesson; Editing by Andy Sullivan and Leslie Adler)
This story has not been edited by Firstpost staff and is generated by auto-feed.
Find latest and upcoming tech gadgets online on Tech2 Gadgets. Get technology news, gadgets reviews & ratings. Popular gadgets including laptop, tablet and mobile specifications, features, prices, comparison.
World
By Cristina Sanchez and Belén Carreño MADRID (Reuters) - Schools in Madrid remained shut, some supermarkets ran out of fresh produce and few cars were on the streets on Monday as officials urged people to stay home after a huge snow storm hit the Spanish capital and several regions over the weekend. However, most flights and trains, including the high-speed link to Barcelona, have resumed operations. While many people enjoyed the rare snowfall by skiing in the centre of Madrid and holding mass snowball fights, a further cold spell was set to turn the snow into ice this week and authorities rushed to clear more streets.
World
By Ludwig Burger FRANKFURT (Reuters) - Pfizer Inc's partner BioNTech SE has boosted the 2021 delivery target for their COVID-19 vaccine to 2 billion doses, up from 1.3 billion previously, as they add new production lines and as more doses can be extracted per vial. Special syringes known as low dead space syringes allow for extraction of six vaccine doses from a standard vial, instead of the usual five, avoiding wasting unused liquid left in a syringe. That would result in 1 billion people getting the designated two-dose regimen, BioNTech said on Monday in a presentation for the annual JP Morgan healthcare conference being held virtually this year due to the coronavirus pandemic.
World
GENEVA (Reuters) - The World Health Organization said on Monday it had been notified by Japan of a new variant of the coronavirus discovered there. Japan's health ministry said on Sunday it had detected a new coronavirus variant in four travellers from Brazil's Amazonas state.