Toronto gunman a puzzle to his own tight-knit immigrant community
By Anna Mehler Paperny and Danya Hajjaji TORONTO (Reuters) - A close-knit vibrant immigrant community of Toronto's Thorncliffe Park neighborhood, where Faisal Hussain grew up and went to school, is struggling to square the image of the quiet, skinny boy they knew with the man who went on a shooting spree late on Sunday, killing two and wounding 13. Hussain would never talk to anybody, said resident Saira Ahmed, who would see him going out for a walk. He worked in a grocery store but spent much of his time at home, according to one neighbor, and attended high school at nearby Marc Garneau Collegiate Institute, another neighbor said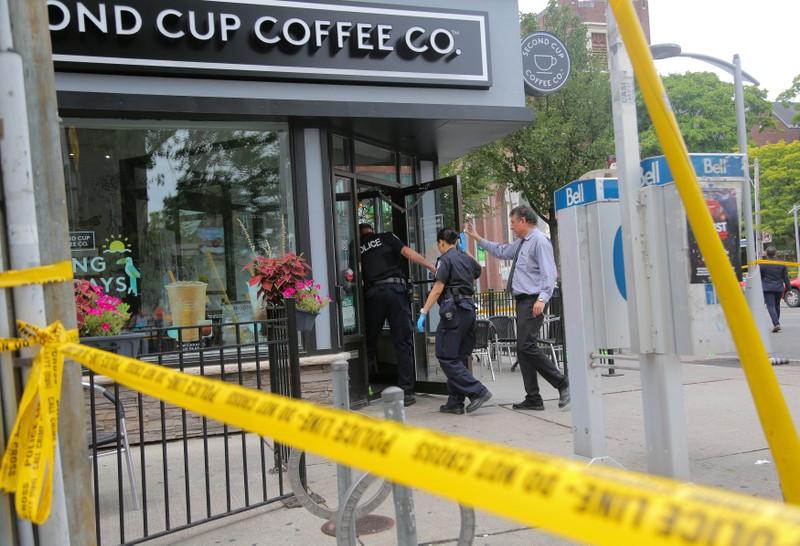 By Anna Mehler Paperny and Danya Hajjaji
TORONTO (Reuters) - A close-knit vibrant immigrant community of Toronto's Thorncliffe Park neighborhood, where Faisal Hussain grew up and went to school, is struggling to square the image of the quiet, skinny boy they knew with the man who went on a shooting spree late on Sunday, killing two and wounding 13.
Hussain would never talk to anybody, said resident Saira Ahmed, who would see him going out for a walk. He worked in a grocery store but spent much of his time at home, according to one neighbor, and attended high school at nearby Marc Garneau Collegiate Institute, another neighbor said.
However, Hussain, 29, struggled with severe mental illness, battled depression and psychosis, his parents, Farooq and Fakhara Hussain, wrote in a statement Monday evening.
Treatments could not fix his mental illness, his parents added. "While we did our best to seek help for him throughout his life of struggle and pain, we could never imagine that this would be his devastating and destructive end."
On Sunday night, police say, Hussain shot dead an 18-year-old woman and a 10-year-old girl and injured 13 others using a handgun on the bustling Danforth Avenue before he fled an altercation with police and was later found dead.
Eighteen-year-old Reese Fallon had just graduated high school and was looking forward to studying nursing.
"An engaging student, Reese Fallon graduated from Malvern CI just last month and was highly regarded by staff and loved by her friends," John Malloy, director of education at the Toronto District School Board, said in a statement.
Fallon was attending a birthday celebration with friends at a restaurant when the shooter struck, the Globe & Mail said in a report on Tuesday. People who knew Fallon described her as "very smart" and with "full of energy," the report added.
Police have not identified the 10-year-old.
"Our hearts are in pieces for the victims and for our city as we all come to grips with this terrible tragedy," Hussain's parents said. "We will mourn those who were lost for the rest of our lives."
The Hussains are no strangers to heartbreak, neighbors told Reuters. Their only daughter died following a car accident years ago, and one of their sons has been in a coma for some time. The family, originally from Pakistan, is known to have lived in the apartment for more than 25 years, neighbors said, though Reuters was not able to independently verify it.
Farooq Hussain, known by neighbors to walk the area no matter the season, has had health problems of his own and recently underwent surgery, two neighbors said.
Thorncliffe Park is a community with a high immigrant population, a large part of it South Asian.
(Reporting by Anna Mehler Paperny and Danya Hajjaji; Additional reporting by David Ljunggren in Ottawa; Editing by Steve Orlofsky)
This story has not been edited by Firstpost staff and is generated by auto-feed.
Find latest and upcoming tech gadgets online on Tech2 Gadgets. Get technology news, gadgets reviews & ratings. Popular gadgets including laptop, tablet and mobile specifications, features, prices, comparison.
World
MOSCOW (Reuters) - Russian President Vladimir Putin said on Wednesday he had noted what he called "sharp anti-Russian rhetoric" from U.S. Democratic presidential candidate Joe Biden, but that he had been encouraged by Biden's comments on arms control. Putin, in comments on state television ahead of the U.S.
World
By John Irish and Robin Emmott PARIS/BRUSSELS (Reuters) - France and Germany said on Wednesday they would propose European Union sanctions against Russian individuals after receiving no credible answers from Moscow over the poisoning of Kremlin critic Alexei Navalny with a nerve agent. Several Western governments have said Russia, which has denied accusations by Navalny that it was involved in the poisoning, must help in investigations or face consequences. The decision and speed with which Europe's two main powers agreed to push ahead with sanctions suggests a hardening of the bloc's diplomacy towards Moscow.
World
By Steve Holland WASHINGTON (Reuters) - U.S. President Donald Trump, under coronavirus quarantine in the White House and restricted from traveling, is seeking ways to put a spark back in his struggling re-election bid and get behind his desk in the Oval Office with four weeks left until Election Day.