Top Ukrainian general says Russian invasion imminent
Kremlin spokesman had earlier dismissed a Moscow newspaper report of Russia weighing 'targeted retaliatory strikes' against Ukraine as 'complete nonsense'.
Donetsk: Ukraine's Western-backed leaders on Tuesday invited pro-Kremlin insurgents to a video-conference aimed at halting spiralling violence and what Kiev has warned was an imminent invasion by thousands of Russian troops.
Kiev sharply raised the stakes in Europe's most explosive crisis in decades by declaring on Monday that a Ukrainian transport plane downed in the eastern conflict zone had been hit by a rocket fired from the Russian side of the frontier between the two ex-Soviet states.
Russia had not publicly answered the charge by Tuesday morning. A Kremlin spokesman had earlier dismissed a Moscow newspaper report of Russia weighing up "targeted retaliatory strikes" against Ukraine as "complete nonsense".
But NATO said Russia had behaved in a "highly destabilising" manner by beefing up its military presence along the Ukrainian border to 12,000 troops.
A top Ukrainian general went a step further late on Monday by telling a live television audience in Kiev that he feared a Russian invasion was imminent.
"Ukraine, like never before, stands on the cusp of a wide-scale aggression from our current northern border," National Security and Defence Council Deputy Secretary Mykhaylo Koval said on private ICTV television.
Koval said the Kremlin had parked 22,000 troops in the annexed Black Sea peninsula of Crimea and had other units stretching from the north-central region of Chernigiv to the southeastern edge of the Russian-Ukranian border on the Sea of Azov.
Ukrainian President Petro Poroshenko's office added that Foreign Minister Pavlo Klimkin had presented "photo and video evidence" of Russia covertly supplying the fighters with weapons and armoured vehicles.
Putin rejects accusations of orchestrating the uprising in reprisal for the February ouster of a Russian-backed leader and Kiev's subsequent signature of an historic EU alliance instead of a new Kremlin pact.
But Poroshenko argues that no truce with the rebels is possible until his troops manage to seal the Russian border and halt the continuing flow of gunmen and arms.
Days of Mourning
The frontier became the conflict's new frontline after last week's evacuation by the rebels of a host of towns and cities that they had held since early April in the coal mining region of Donetsk.
The militias have since concentrated their forces around the cities of Donetsk and Lugansk -- both capitals of their own "People's Republics" -- and are hoping for new weapons deliveries to revive their campaign.
Witnesses in Donetsk told AFP they had seen the insurgents dispatch four tanks and eight armoured transport vehicles toward Lugansk to help them repel an intensifying air and artillery push by Kiev forces on the city of 420,000.
It remained unclear on Tuesday how many of the eight transport plane's crew had died when their AN-26 came down on Monday in the Lugansk region but a military spokesman said two had been taken captive by the rebels.
A top defence spokesman said all Ukrainian jets had been temporarily grounded in the two separatist regions as a safety precaution.
Lugansk on Tuesday declared three days mourning for 17 civilians killed since the weekend in artillery strikes that both sides have blamed on each other.
But the fighting continued and the local city council announced the death of eight more residents overnight.
Donetsk regional officials said four civilians had also been killed in a raid by an unidentified jet on the border town of Snizhne Tuesday morning.
A defence spokesman said six Ukrainian soldiers had also been killed overnight as the toll in the low-scale war approached 600 civilians and fighters on both sides.
Skype Talks
Germany and France have been spearheading EU efforts to revive a Ukrainian truce that could save the bloc from having to introduce sweeping economic sanctions against energy-rich Russia to which Putin has already vowed to respond.
Indirect negotiations between Kiev -- represented by former president Leonid Kuchma -- and the separatists aimed at extending a shaky 10-day ceasefire fizzled out after two rounds last month.
But Poroshenko's office said he had agreed with Germany Chancellor Angela Merkel to arrange "Skype videoconference talks" that Kiev had first suggested last week.
Merkel and Poroshenko "expressed confidence that this event will be organised on Tuesday," the Ukrainian administration said.
There was no immediate response to the invitation from the rebel command.
AFP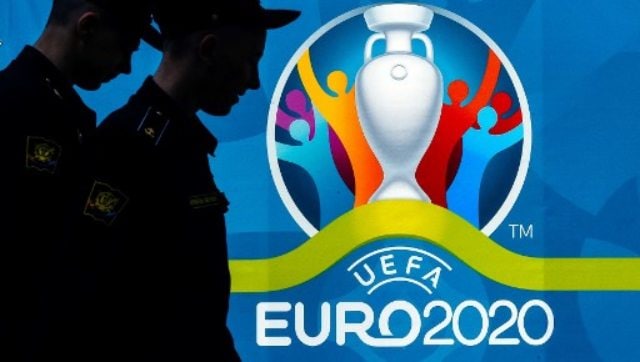 Sports
City officials announced a ban on food sales in the Euro fan zone and the closure of food courts in shopping centres.
World
Joe Biden and Vladimir Putin are no friends, and neither did they make themselves out to be. But the two presidents did agree to show mutual respect and work on issues of mutual interest
India
Both the US and Russia are keen to bury the hatchet and restore a modicum of normalcy and a lot is at stake as Presidents Joe Biden and Vladimir Putin meet in Geneva soon