Too many jokers in the Republican circus
Republican candidates vying for their party's nomination to run against President Barack Obama next year are more than a massive dose of depression. To many, George W Bush today seems reasonable and bright by comparison.
Washington: A joker a pack is usually enough for comic relief but when most of the line-up is clownish, it quickly balloons into a tragedy. Republican candidates vying for their party's nomination to run against President Barack Obama next year are more than a massive dose of depression. Against a cerebral Obama, the anti-intellectuals appear even more achingly thick and proudly so. To many, George W Bush today seems reasonable and bright by comparison.
Eight televised debates and hundreds of sound bites into the campaign, the emerging picture is a giant warning sign. Republican hopefuls seem to be in a race to establish their Bible-thumping, anti-science and gun-toting credentials rather than providing real answers to real problems. Policy recommendations are thin on how to pull America out of a recession and the accompanying funk but who cares so long as The Candidate is to the right of his competitor. Global warming is imaginary and teaching evolution in school must be balanced by "creationism." Even the persistence of protestors against Wall Street's crony capitalism has failed to jolt the candidates out of la la land.
Enter Rick Perry, the Texas governor who looks and acts like he stepped out of a bad western. Can't shoot you but can pile you on Death Row. He has the dubious distinction of presiding over more state executions than any governor in US history – 235 in 11 years. He says he has "never struggled" in his mind about any case. Ahem. Such "clarity" of mind can only come from a space uncluttered by excess knowledge because it causes confusion.
You should pray instead. Earlier this year as Texas was reeling under a harsh drought, Perry grandiosely announced he was using the "authority vested in me by the Constitution and Statutes of the State of Texas" to call for three days of prayers for rain. With god and gun on your side, books seem redundant.
He recently bragged about his bad college grades (C's, D's and even an F) to university students in Virginia, firmly breaking any linkage they might have made between high grades and achievement. Hell, if he can pack a pistol, become a governor and then run for president, who needs good grades?
If Perry is the true Texan, Michele Bachmann of those "Charlie Manson eyes" (Tina Brown's infamous Newsweek cover) is the queen of the Tea Party movement, throwing a fit here, a careless non-fact there. Her mantra is simple: "Fire Obama." The more she slips in the polls, the more distant she grows from reality. During a debate in September she declared that no one should pay any tax to the federal government. None. Zero. Zilch. The Republican-friendly Fox News panel of journalists accepted her prescription without as much as a question. She has called global warming "all voodoo, nonsense, hokum, a hoax."
The world according to Bachmann is topsy-turvy and garbled where all this business of democracy in the Middle East is simply an obstruction. Obama "laid the table for the Arab Spring by demonstrating weakness," she told the audience at a fundraiser in North Carolina. If only he had shown some spine and supported the strongmen of Egypt and Tunisia, we wouldn't have to worry about these cumbersome popular uprisings. Take that, you freedom-hungry masses of the Middle East. Bachmann is a sinking ship — her entire staff in New Hampshire — the site of the first primary and therefore crucial — quit last month.
And someone who should fade with her is Pizza King Herman Cain, currently in second place behind the frontrunner, Mitt Romney, former governor of Massachusetts. Personable and folksy, the cheesy ex-magnate of Godfather's Pizza chain can sing. He has butchered John Lennon's classic Imagine and rendered it in pizza terms. But ask him about the world, and he is lost.
With his chest out, Cain recently told reporters he didn't know who the president of "Uzbeki-beki-beki-stan" was and thought it hardly mattered because it had nothing to do with creating jobs. Uzbekistan just happens to be a country through which supplies go to US and NATO troops in Afghanistan but why would Cain need to know that as he creates pizza franchises for the jobless?
The rest of the world is simply the "Not United States." His innocence has come under scrutiny and Cain has taken to slowly repeating all questions put to him, as he desperately "searches" for clues. You can almost see the neurons scrambling, the synapses clicking. Depending on the day, his answer on hot-button issues such as abortion can be different. Oh, he might have a Bill Clinton problem as far as women go.
Then there is Rick Santorum, a former senator, whose main agenda is gay bashing and Newt Gingrich, a former Congressman, who prides himself as the thought machine but is really an angry old man. A flame-throwing "Reagan revolutionary," Gingrich is made of acid, which is bound to spill unexpectedly. There is also John Huntsman, a saner, worldly wise candidate who speaks Mandarin, but no one remembers him. They even forgot to invite him for the last debate.
In this line-up Mitt Romney is numero uno, but by default. He doesn't warm the hearts of the Republican base (Evangelical Christians) because he is a Mormon, a somewhat strange sect not considered fully Christian by most Republicans. It could hurt him but Republicans hate Obama more and are expected to unite behind him in the end.
Smug GOP strategists have said they don't need a perfect candidate. Amen.
Seema Sirohi is a foreign policy analyst currently based in Washington. She has worked for The Telegraph (Calcutta), Outlook and Ananda Bazar Patrika in the past, reporting from Geneva, Rome, Bratislava, Belgrade, Paris, Islamabad and Washington. Author of Sita's Curse: Stories of Dowry Victims, she has been a commentator on BBC, CNN and NPR. Geo-politics is exciting but her nirvana is being able to dance like The Mick Jagger at his age. Until then, it is yoga and Jon Stewart/Stephen Colbert.

Subscribe to Moneycontrol Pro at ₹499 for the first year. Use code PRO499. Limited period offer. *T&C apply
Arts & Culture
Forum, a Penguin Random House imprint, announced on Tuesday that McCain's Stronger: Courage, Hope, and Humor In My Life With John McCain will be released on 27 April.
World
Last month, Limbaugh tried to minimise Donald Trump's influence on his supporters who had attacked the US Capitol, saying that Democrats are 'lying'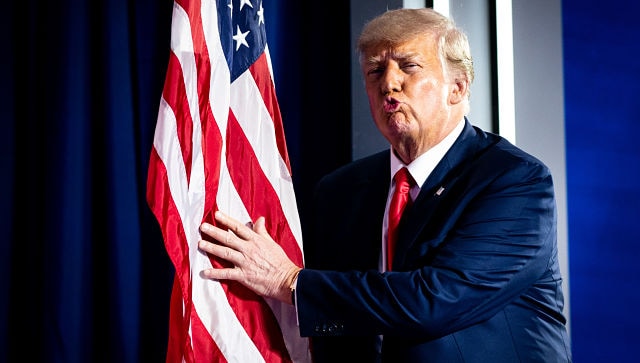 World
A handful of Republican lawmakers have urged the party to move on from Trump, most prominently Representative Liz Cheney of Wyoming