Timing of Jessica Drake's sexual assault allegations against Donald Trump is real trump card
Jessica Drake's accusations against Donald Trump came a day after she launched a new guide to wicked sex and sexual wellness tools on her site
Donald Trump's woes are far from over. After the leak of a 2005 Access Hollywood tape which showed Trump bragging about using fame to 'get' women; 10 women came forward to accuse Trump of sexually assaulting them.
And a lacklustre showing in the third presidential debate later, one more woman has alleged that Trump molested her. Jessica Drake — entrepreneur, sex educator and adult film actress — accused Trump of grabbing her and two other unnamed women tightly and kissing them on the lips 'without asking permission'.
Drake made these accusations at a press conference on 22 October, at which she was accompanied by lawyer Gloria Allred. Allred has previously introduced two Trump accusers to the public. Drake alleges that the events happened during a golf tournament in Lake Tahoe 10 years ago. After the now Republican presidential nominee 'grabbed' her and two other women and kissed them, he then offered Drake $10,000 and the use of his private plane if she would agree to come back to his room and accompany him to a party, the actress said.
The Trump campaign has refuted the claims, saying: "This story is totally false and ridiculous. The picture is one of thousands taken out of respect for people asking to have their picture taken with Mr Trump. Mr Trump does not know this person, does not remember this person and would have no interest in ever knowing her. This is just another attempt by the Clinton campaign to defame a candidate who just today is No 1 in three different polls."
While the presidential nominee's camp claims that Drake's allegations are 'Trump'ed up, the actress herself has been busy with more than sharing her revelations. A 12-part instructional series called 'Jessica Drake's Guide to Wicked Sex' (that she has written, produced, directed) and 'jessica-approved' sexual wellness tools, were launched on 21 October on her website, according to a press release on Xbiz.com — just a day before she launched her attack on Trump.
Intentional or otherwise, it can't be denied that Drake's allegations against Trump have seen interest in her (and her site) skyrocket.
Whatever the outcome of the investigations may be, one thing is certain: Drake has out-Trumped Trump at his own game.
World
Republican lawmakers, seeing a vulnerability for Biden, have portrayed the pullout as chaotic and accused the president of abandoning Americans to the fate of the Taliban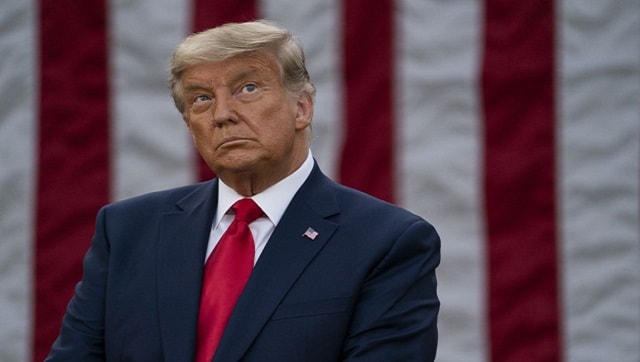 World
Former president Donald Trump has said the official ought to be tried for treason if the report was true
World
NATO is urging China to join international efforts to limit the spread of nuclear weapons amid concerns that the country is rapidly developing missiles capable of carrying atomic warheads