Times Square mayhem raises question about recent redesign | Reuters
By Hilary Russ | NEW YORK NEW YORK The mayhem and death left in the trail of a car that sped along crowded sidewalks in New York's Times Square has revived calls for banning vehicles from the Manhattan crossroads, one of the world's busiest tourist destinations.The incident on Thursday, which killed one person, injured 20 others and brought a new sense of vulnerability to New Yorkers and visitors alike, has raised concerns about other safety provisions in a recent $55 million revamp of the area. The project, completed in 2016 after six years of planning and construction, included a limited number of barricades designed to protect pedestrians. In deciding how many barriers to install, planners wanted to avoid cluttering the square and impeding foot traffic along sidewalks that are often choked with people.Shaped like a bow tie, Times Square takes form around the intersection of Broadway and Seventh Avenue and stretches for nearly six blocks north of 42nd Street
By Hilary Russ
| NEW YORK
NEW YORK The mayhem and death left in the trail of a car that sped along crowded sidewalks in New York's Times Square has revived calls for banning vehicles from the Manhattan crossroads, one of the world's busiest tourist destinations.The incident on Thursday, which killed one person, injured 20 others and brought a new sense of vulnerability to New Yorkers and visitors alike, has raised concerns about other safety provisions in a recent $55 million revamp of the area. The project, completed in 2016 after six years of planning and construction, included a limited number of barricades designed to protect pedestrians. In deciding how many barriers to install, planners wanted to avoid cluttering the square and impeding foot traffic along sidewalks that are often choked with people.Shaped like a bow tie, Times Square takes form around the intersection of Broadway and Seventh Avenue and stretches for nearly six blocks north of 42nd Street. As the centrepiece of the overhaul, officials closed off five blocks of Broadway to motor vehicles and created two acres (0.8 hectare) of pedestrian plazas.Thursday's incident, in which a driver steered along Seventh Avenue, made a U-turn on to the sidewalk and mowed down pedestrians as he accelerated, prompted questions about whether the Broadway closure was enough."The closing of Broadway through Times Square was itself intended as (a) pedestrian safety measure, and I think it has been successful in accomplishing that," said David Burney, who was commissioner for design and construction under former Mayor Michael Bloomberg. Burney helped oversee the project for the city and select Norwegian architectural firm Snohetta to design it. "Personally I think this incident supports the argument for closing of all traffic through Times Square," Burney told Reuters in an email.Even though Thursday's incident was not believed to have been politically motivated, New York City has been on high alert since the attacks that destroyed the World Trade Center on Sept. 11, 2001. More recently, it has grappled with how to protect people from attackers who use vehicles as weapons. Those concerns ratcheted higher last year when militants intentionally drove trucks into holiday crowds in Germany and France, killing scores of people.
The Times Square incident might have been even worse if not for the short steel posts, known as bollards, installed last autumn in some parts of the area to protect pedestrians, officials said."Without those bollards, the incident would have seen far greater harm to pedestrians," Burney said.One of the posts eventually helped stop the runaway car driven by the 26-year-old suspect, Richard Rojas, now charged with murder, attempted murder and vehicular homicide.But planners never considered putting bollards along all of the sidewalks, Burney and another person involved with planning said. That included the block where the car killed 18-year-old tourist Alyssa Elsman, even though that stretch of sidewalk was widened in the renovation."We wanted to be sure safety measures did not define the public space, while also creating highly effective protective features in the most populated areas," said Craig Dykers, founding partner of Snohetta.
"This was a fundamental concept of the redesign as a whole, which focused on reducing visual and physical clutter and confusion," he said. The city envisioned the project as creating two distinct kinds of spaces - pedestrian plazas and sidewalks - with the bollards used mostly to surround and protect the pedestrian zones. After Thursday's incident, the balance between aesthetics, convenience and safety that the architects and city officials sought may need to be reassessed, people familiar with the plan said."It's certainly worth looking at ... in light of this," said Tim Tompkins, president of Times Square Alliance, a business development partnership for the area. Tompkins participated in discussions about the renovation plan.On Friday, police had lined most of the sidewalks around Times Square with temporary concrete and metal barriers, a stark reminder of Thursday's mayhem and the risks inherent in visiting tourist destinations in any city.
In the redesign, decisions on the placement of bollards were based on recommendations from the New York Police Department, Burney said. The city bars the placement of bollards in front of individual buildings unless the NYPD deems them to be a potential target, he said.Deputy Chief William Aubry, who commands Manhattan detectives, said at a news conference on Friday that he could not comment on the department's role in the design process.City Councilman Ydanis Rodriguez, who chairs the council's transportation committee, on Friday said he planned to introduce legislation that would require installation of bollards along busy sidewalks. Mayor Bill de Blasio said on WNYC radio earlier on Friday that the city would consider making changes."We're going to look at Times Square and see – obviously we'll look at some other key locations – if we have to do different things in our approach," he said.Representatives for de Blasio did not immediately reply to a question about whether he would support Rodriguez's bill.Dykers, of Snohetta, said in an emailed statement that the design firm may also take a second look, with an eye to "further minimize the impact of any future situations without interfering with the open, vibrant and unique character of Times Square." (Additional reporting by Jeffrey Dastin; Editing by Frank McGurty and Jonathan Oatis)
This story has not been edited by Firstpost staff and is generated by auto-feed.
Find latest and upcoming tech gadgets online on Tech2 Gadgets. Get technology news, gadgets reviews & ratings. Popular gadgets including laptop, tablet and mobile specifications, features, prices, comparison.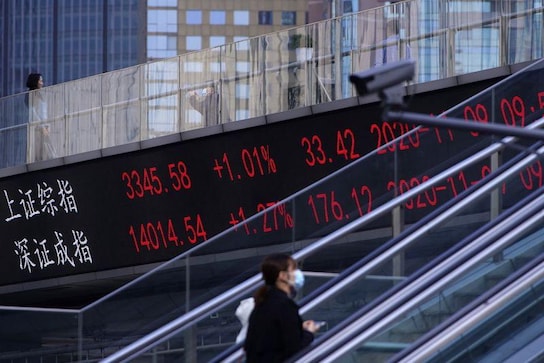 Business
By Chuck Mikolajczak NEW YORK (Reuters) - A gauge of global stocks hit a record and oil prices jumped on Monday as the newest positive data for a potential COVID-19 vaccine and signs of economic recovery in Asia boosted sentiment. U.S. stocks advanced, with the Dow Industrials setting a record as it neared the 30,000 mark for the first time, after pharma company Moderna said its prospective vaccine was 94.5% effective in preventing the illness, which has crushed economies across the globe
Business
By Anirban Sen and Joshua Franklin (Reuters) - Airbnb Inc's initial public offering (IPO) registration showed on Monday that the home rental startup turned a profit in the third quarter despite the COVID-19 pandemic, as it gears up for one of the most anticipated stock market debuts in recent years. The filing, published ahead of Airbnb's anticipated stock market debut in December, showed a dramatic recovery in its fortunes, after the coronavirus outbreak dragged down its core home rental business during the first half of the year. The slump forced it to lay off 25% of its workforce in May, suspend marketing activities for the year and seek $2 billion (£1.5 billion) emergency funding from investors, including Silver Lake and Sixth Street Partners, at a valuation of $18 billion
Business
By David Lawder WASHINGTON (Reuters) - U.S. President-elect Joe Biden said on Monday the United States needed to negotiate with allies to set global trading rules to counter China's growing influence but declined to say whether he would join a new China-backed Asian trade pact signed on Sunday.