Tigrayan refugee takes comfort in music after fleeing to Sudan
By Seham Eloraby and Baz Ratner HAMDAYET, Sudan (Reuters) - Like thousands of others fleeing to Sudan from the conflict in Ethiopia's northern Tigray region, 20-year-old Girum left his family and many of his possessions behind. But a friend managed to salvage his kirar, a small string instrument that he strums softly while waiting with fellow refugees to be transferred by bus to the camp of Um Rakuba, about 12 hours from the border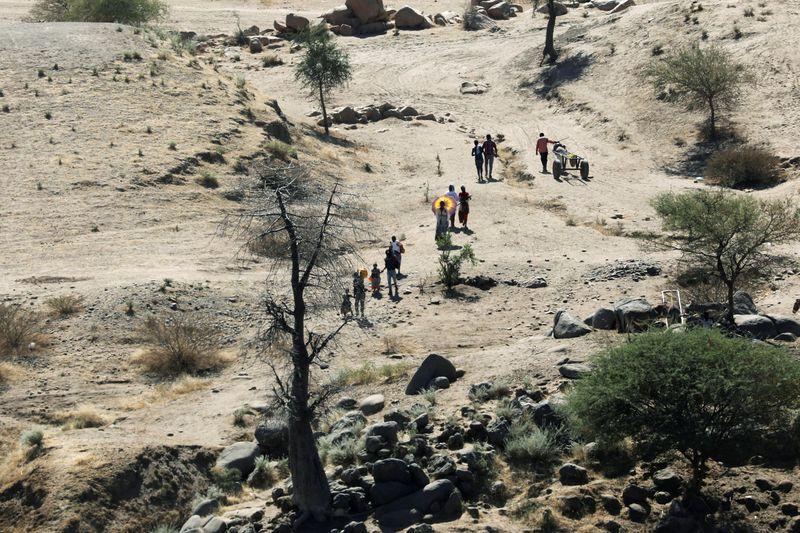 By Seham Eloraby and Baz Ratner
HAMDAYET, Sudan (Reuters) - Like thousands of others fleeing to Sudan from the conflict in Ethiopia's northern Tigray region, 20-year-old Girum left his family and many of his possessions behind.
But a friend managed to salvage his kirar, a small string instrument that he strums softly while waiting with fellow refugees to be transferred by bus to the camp of Um Rakuba, about 12 hours from the border.
He has had no contact with relatives since he fled in early November, when fighting between Ethiopia's federal forces and the Tigray People's Liberation Front began.
"My whole family has been separated. I don't know where they are now," he says.
In total more than 46,000 have crossed from Ethiopia, though since last week arrivals have slowed to a trickle. Like Girum, most have been ferried across the Tekeze river and into Sudan at Hamdayet, clutching few if any belongings.
Girum said his instrument, which has strings stretched across a simple rectangular wooden frame, was retrieved after his home had been looted. "The people who robbed our property … only cared about gold and money," he said.
Other Tigrayan refugees have said they fled attacks by government forces and allied militia. Reuters is unable to verify their claims.
The government denies it has killed civilians in the conflict. Both sides have accused the other of ethnic-based killings, while denying responsibility for carrying them out.
After arriving at Um Rakuba, Girum will be assigned a plot of land with a tent, supplied with blankets, cooking utensils and food rations, but he has no idea how long he will stay.
In a speech to parliament on Monday, Ethiopian Prime Minister Abiy Ahmed urged those who fled into Sudan to return.
Dozens, keen to find belongings and relatives and frustrated with the lack of humanitarian assistance in eastern Sudan, have crossed back into Ethiopia at Hamdayet over the past week, an aid worker in eastern Sudan said on Wednesday.
Girum was studying mechanical engineering but dreams of becoming a musician and singer.
"If I ever feel sad, I just use the instrument to express how I feel," he said.
(Additional reporting by Aidan Lewis; Editing by Lisa Shumaker)
This story has not been edited by Firstpost staff and is generated by auto-feed.
Find latest and upcoming tech gadgets online on Tech2 Gadgets. Get technology news, gadgets reviews & ratings. Popular gadgets including laptop, tablet and mobile specifications, features, prices, comparison.
World
By William James LONDON (Reuters) -British Prime Minister Boris Johnson said on Sunday tougher lockdown restrictions were probably on the way as COVID-19 cases keep rising, but that schools were safe and children should continue to attend where permitted. COVID-19 cases in Britain are at record levels and the increase in numbers is fuelled by a new and more transmissible variant of the virus
World
By Maher Nazeh BAGHDAD (Reuters) - Tens of thousands of supporters of Iranian-backed Iraqi paramilitary groups chanted anti-American slogans in central Baghdad on Sunday to mark the anniversary of the U.S. killing of Iranian general Qassem Soleimani and an Iraqi militia commander.
World
By Nathan Layne and Joseph Ax CUTHBERT, Ga. (Reuters) -Control of the U.S. Senate – and with it, the likely fate of President-elect Joe Biden's legislative agenda – will be on the ballot on Tuesday when voters in Georgia decide twin runoff elections