Tight U.S. Senate race in Florida hangs on hand recount of ballots
By Letitia Stein TAMPA, Fla.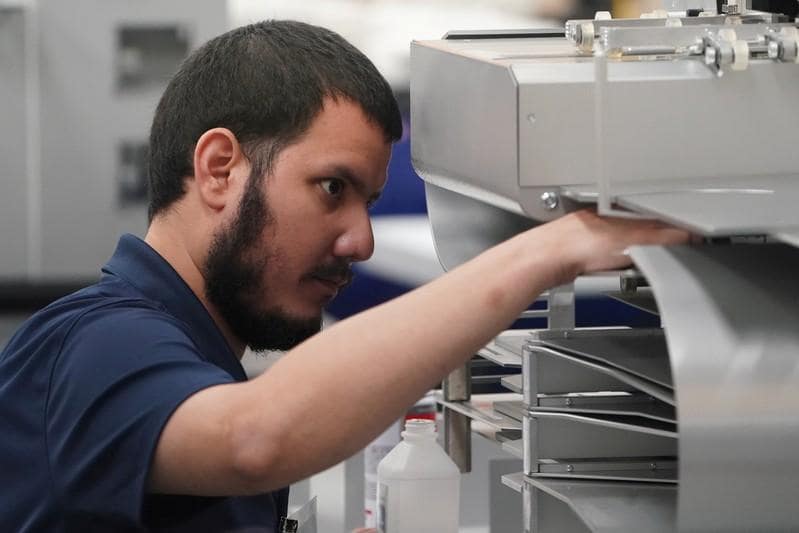 By Letitia Stein
TAMPA, Fla. (Reuters) - Florida election officials on Friday were slogging through a hand recount of ballots to determine who won a hard-fought U.S. Senate contest, with about a dozen high-profile races across the country remaining unresolved more than a week after elections.
Outgoing Republican Governor Rick Scott held a narrow lead over incumbent Democrat Bill Nelson after an electronic recount was completed on Thursday. Officials have until noon on Sunday to tally any votes missed by electronic voting machines.
Scott's campaign has called on Nelson to drop out, saying it was mathematically impossible to make up the difference of about 12,600 votes, 0.15 percent of the more than 8 million ballots cast. Nelson's lawyer, Marc Elias, says he expects Scott's lead to ultimately disappear as the recount continues.
Nelson has accused Scott of trying to undermine the recount through unsubstantiated accusations of voter fraud and has said Scott, who as governor is also in charge of election oversight, should recuse himself from the process. (https://bit.ly/2DqLPze) Republican President Donald Trump has repeatedly accused Democrats of voter fraud, contrary to evidence.
Scenes of thousands of people across the state reviewing ballots brought back memories of Florida's 2000 presidential recount, which ended only after the U.S. Supreme Court stepped in, effectively handing the presidency to Republican George W. Bush.
The result of the Nelson-Scott race will not change the balance of power in the Senate, where Republicans extended their lead in the Nov. 6 midterm vote, while Democrats took a majority in the House of Representatives.
In another tight Florida contest, Republican Ron DeSantis appeared to secure the governor's seat over Democrat Andrew Gillum after the electronic recount showed DeSantis with an 0.4 percentage point lead, outside the threshold to trigger a hand recount. The state is scheduled to certify results Tuesday.
Georgia officials may certify as soon as 5 p.m. ET (2200 GMT) Friday the results in the governor's contest between Republican Brian Kemp and Democrat Stacy Abrams.
Along with the unresolved Florida senate race, Republican Senator Cindy Hyde-Smith of Mississippi is headed to a Nov. 27 runoff against Democrat Mike Espy after neither candidate secured a majority of the vote in a four-way race.
About 10 seats in the U.S. House of Representatives remain up in the air.
BALLOT INSPECTION
The outcome of the Florida Senate race will likely hinge on ballots where machines indicated that voters did not pick one candidate or the other, or picked more than one. Election workers are inspecting those ballots to see if voters made their intentions clear.
Roughly 26,000 voters in Broward County, a heavily Democratic area north of Miami, appeared not to vote for the Senator race despite making picks in the governor's contest. Nelson's attorney has said these undervotes may reflect problems with machines reading the ballots, and said that a hand review could reveal significant votes for Nelson. But some election observers said voters may have missed the race due to poor ballot design.
U.S. District Judge Mark Walker denied a request from Nelson's campaign to change how election workers determine voter intent on ballots like those. People reviewing the ballots are looking to see whether voters were consistent, for instance circling names of candidates rather than filling in bubbles, or using check marks. Votes can also be counted if voters made their choice clear with written words.
Election officials have also rejected an estimated 5,000 mail-in and provisional ballots that did not appear to have matching signatures. Voters have until Saturday to validate their signatures.
Technical problems have hampered the recount effort in some areas. Palm Beach County was not able to complete its electronic recount on time due to malfunctioning ballot machines, prompting Nelson's campaign to request a hand recount of all ballots in that county.
(Writing by Andy Sullivan; Editing by Scott Malone and Bernadette Baum)
This story has not been edited by Firstpost staff and is generated by auto-feed.