Three killed, hundreds injured in Iran earthquake
The shallow quake hit the city of Khoy in West Azerbaijan province at 9:44 pm local time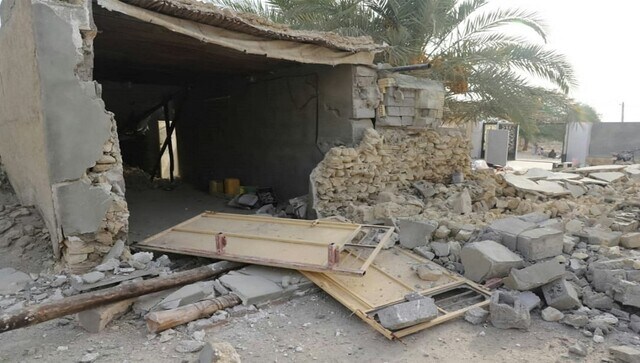 Tehran: A 5.9-magnitude earthquake struck northwest Iran near the border with Turkey late Saturday, killing at least three people and injuring 816, state media said.
The shallow quake hit the city of Khoy in West Azerbaijan province at 9:44 pm (1814 GMT), the Seismological Centre of the University of Tehran said.
"This incident has left 816 injured and three dead," West Azerbaijan governor Mohammad Sadegh Motamedian was quoted as saying by IRNA news agency, revising up an earlier toll of two dead and 580 injured.
Following the quake, Iran's minister of interior, Ahmad Vahidi, travelled to Khoy to observe the situation, IRNA reported.
Iran sits astride the boundaries of several major tectonic plates and experiences frequent seismic activity.
On 18 January a 5.8 quake near Khoy left hundreds injured.
In February 2020, a 5.7-magnitude earthquake that rattled the western village of Habash-e Olya killed at least nine people across the border in Turkey.
Iran's deadliest recorded quake was a 7.4-magnitude tremor in 1990 that killed 40,000 people in the country's north, injured 300,000 and left half a million homeless.
Read all the Latest News, Trending News, Cricket News, Bollywood News,
India News and Entertainment News here. Follow us on Facebook, Twitter and Instagram.
Opinion
China needs to balance its key energy suppliers and maintain its friendship with both Iran and Saudi Arabia
World
The shallow quake struck at about 2:00 pm (0600 GMT), a few kilometres from Maragusan municipality in the mountainous gold-mining province of Davao de Oro on Mindanao island
Opinion
While tying foreign policy to the apron strings of ideology may have constrained America's hand, it presented an opportunity for China in a region where the major players have either been put off by sermonizing or been at the receiving end of western economic sanctions