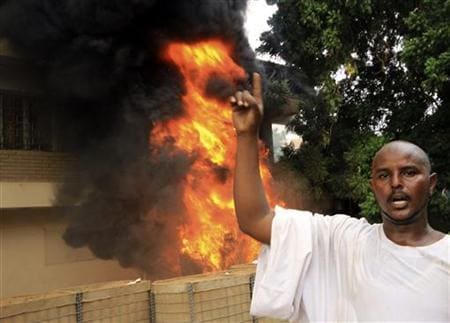 KHARTOUM (Reuters) - Up to three people were killed when Sudanese police clashed with thousands of protesters who broke into the U.S. embassy and raised an Islamic flag on Friday in protests against a film that denigrates the Prophet Mohammad, state media said.
More than 5,000 people also gathered to storm the German embassy and attack the nearby British mission to protest against the film, which depicts the Prophet as a womaniser and a charlatan.
Police fought demonstrators for more than an hour in front of the heavily fortified U.S. embassy outside Khartoum but retreated after a police car struck a demonstrator and left him on the ground in a pool of blood.
Sudanese state radio said three people had been killed during the clashes but a police statement carried by the state news agency SUNA put the death toll at two, and said 50 policemen had been injured.
As news of the deaths spread, the protesters turned their anger on the government of President Omar Hassan al-Bashir, who is facing growing dissent over an economic crisis and corruption.
"The people want to topple the regime!" chanted the demonstrators. As police pulled back under a hail of rocks, protesters jumped the outer wall of the U.S. embassy, a vast compound comprising several buildings and tiers of fences.
After several protesters clambered onto a balcony and hoisted a black Islamic flag, guards sitting on roofs inside the embassy fired warning shots.
A U.S. embassy spokesman said no embassy staff had been injured and that the protesters had all been expelled.
GERMANY
Earlier in the day, police had fired tear gas to try to scatter around 5,000 demonstrators who had surrounded the German embassy and nearby British mission in the tightly-controlled center of Khartoum.
However, a Reuters reporter later saw policemen standing by when protesters entered Germany's mission and stayed there for more than an hour. Two officers even helped protesters to climb down from the first floor, where they had smashed windows.
Protesters raised a flag emblazoned with the Islamic profession of faith, "There is no god but God and Mohammed is his prophet". They smashed windows, cameras and furniture in the German complex and then started fires inside and outside, witnesses said.
"I am the first who stormed the embassy," said a young man who gave his name as Abu Bakr Awad, proudly waving three keys he said he had found in the reception area. "We set the embassy on fire, we set it on fire," he shouted.
Firefighters arrived to put out the flames.
German embassy staff were safe "for the moment", Foreign Minister Guido Westerwelle said in Berlin. He also told Khartoum's envoy to Berlin that Sudan must protect diplomatic missions on its soil, a Foreign Ministry statement said.
The film was made in the United States, and Muslim outrage has led to crowds assaulting U.S. diplomatic missions in a number of Arab countries.
Sudan has also criticised Germany for allowing a protest last month by right-wing activists carrying caricatures of the Prophet Mohammad, and for Chancellor Angela Merkel giving an award in 2010 to a Danish cartoonist who had depicted the Prophet, an act that triggered protests across the Islamic world.
Bashir has been under pressure from Islamists who feel the government has given up the religious values of his 1989 Islamist coup.
The Sudanese government had called for protests against the film, but peaceful ones.
U.S. President Barack Obama's administration said it had nothing to do with the crudely made movie.
The film was blamed for an attack on the U.S. consulate in Libya's eastern city of Benghazi that killed the U.S. ambassador and three other Americans on Tuesday, the anniversary of the September 11, 2001, al Qaeda attacks on the United States. (Reporting by Khalid Abdelaziz; Writing by Ulf Laessing; Editing by Kevin Liffey)
Updated Date: Sep 15, 2012 04:15 AM