India sends 3 journalists from China's Xinhua back home for 'un-journalistic activities'
India has reportedly decided to expel three journalists from China working with Xinhua news agency following "concerns" flagged by intelligence agencies.
India has reportedly decided to expel three Chinese journalists working with Xinhua news agency following "concerns" flagged by intelligence agencies. India has refused to renew their visas, a move which can further worsen the relations between the two countries, Hindustan Times reported.
They have been ordered to leave India by 31 July. The three journalists also include the heads of Xinhua's bureau in New Delhi and Mumbai. Wu Qiang heads the Delhi bureau, Lu Tang manages the Mumbai headquarters and the third journalist She Yonggang is a reporter based in Mumbai.
The Wire reported that the decision of the Indian authorities was based on "adverse attention" from security agencies.
The Hindu quoted Indian government sources as saying, "The three journalists had overstayed their visa and subsequently they had received several visa extensions. So we asked them to go back as it is no longer possible to give them visa extensions."
India now hopes that Xinhua will soon send their replacement. Wu told The Hindu that "No explanation has been given for the denial of visa renewal."
The three expelled journalists are experts on Indian affairs and Lu Tang was working with researchers on India-China relations. The Wire spoke to a source who said, "We were giving them these short extensions as they wanted to stay on till their successor was there. But, since their successor were not here even after months, we gave them a cut-off date."
The Ministry of Home Affairs, however, said that the journalists had recently met Tibetan activisits, which raised a concern for the Indian authorities. The move might be reciprocated by China. Five Indian journalists work out of Beijing and a number of Indians work for China's English state media, reported Hindustan Times.
The three journalists travelled to Bengaluru recently and met exiled Tibetan activists, which became an issue with the Narendra Modi government. Though the Tibetan government in exile is headquartered in the northern town of Dharmsala, thousands of Tibetans live in Karnataka.
No official reason was given for the Indian government's decision, but sources said the three had come under the "adverse attention of security agencies" for allegedly indulging in activities beyond their journalistic brief, reported The Hindustan Times.
The expulsion of journalist are not expected to help the already tensed relations between New Delhi and Beijing. The move also comes at a time when the two countries' ties have been under strain following China's refusal to support India's application for membership of the Nuclear Suppliers Group (NSG) at a meeting in Seoul last month. Chinese journalists' expulsion looks like a calculated move by the Indian government to attack China for creating hurdles on India's path towards its NSG membership. 
Earlier, Beijing had also blocked India's bid to get Jaish-e-Mohammed (JeM) chief Masood Azhar designated as a terrorist by the United Nations. India took aim squarely against the use of secret vetoes to protect terrorists and their backers from UN sanctions, an action that China has repeatedly taken to provide cover for Pakistan-based terrorists and Islamabad.
That secrecy results in a lack of accountability and engenders impunity, India's Permanent Representative Syed Akbaruddin had said. "The general membership of the UN is never ever formally informed of how and why requests for listing terrorists are not acceded to," he said. "Counter terror mechanisms such as the Sanctions Committees that act on behalf of the international community need to build trust not engender impunity by the use of this form of a 'hidden' veto."
Akbaruddin had not named China or Pakistan in his speech. China, however, had urged India and Pakistan to resolve the issue through direct and serious consultations. Beijing was constantly in touch with Islamabad over the Azhar matter, as some Chinese officials said.
Following this, India in April this year, upped the ante with China by issuing visas to World Uyghur Congress leader Dolkun Isa and three others, and by allowing them to visit India for a conference in Dharmsala. This was India's way of paying China back. Smarting under Beijing's refusal to sanction Azhar as a terrorist, who New Delhi blames for the Pathankot terror strike, India hit back.
These growing ties between the two nations have become an issue of worry for India. As David Devadas points out in this Firstpost article, "China has adopted Pakistan as a key economic, political, and military ally. Indeed, Pakistan is now arguably China's most trusted strategic ally." It is also slated to be China's most important neo-silk route.
Considering that the relations between India and China have soured over the years, the expulsion of the journalists can be seen as a hint of further deterioration of ties.
World
China's 'zero-COVID' policy has limited international visitors in the country. Due to the policy, China previously withdrew as the host of soccer's 2023 Asian cup and has indefinitely postponed the 2022 Asian Games.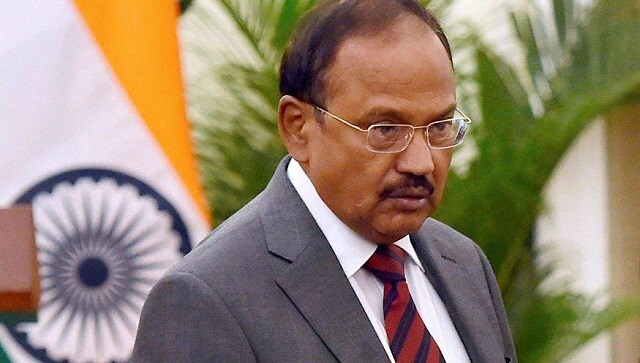 India
Ajit Doval talked about external security measures taken by India after its border standoff with China.
World
NATO faced rebukes from Moscow and Beijing on Thursday after it declared Russia a 'direct threat' and said China posed 'serious challenges' to global stability.