Thousands told to flee as Florence-triggered floods wash into South Carolina
By Harriet McLeod and Gene Cherry CHARLESTON, S.C./RALEIGH, N.C.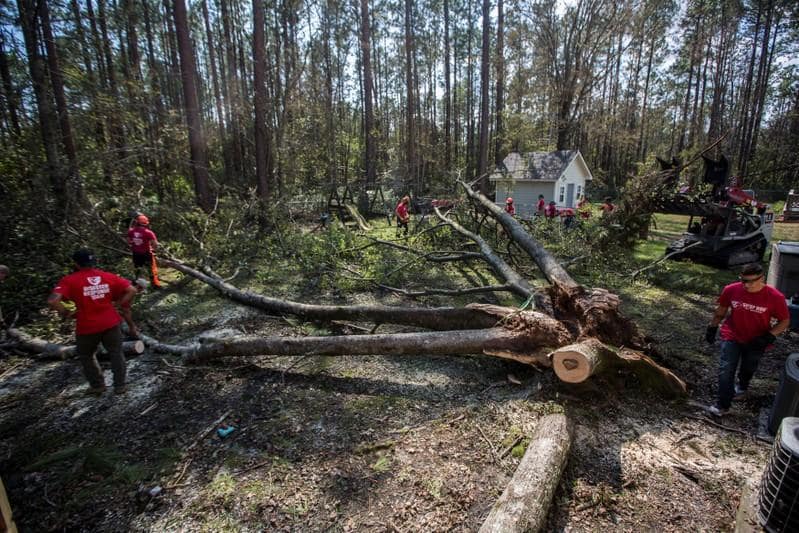 By Harriet McLeod and Gene Cherry
CHARLESTON, S.C./RALEIGH, N.C. (Reuters) - Thousands of people in the Georgetown, South Carolina, area were urged to evacuate their homes on Tuesday as rainwater unleashed by Hurricane Florence surged down rivers, threatening to submerge some neighbourhoods under 10 feet of water.
Georgetown, which sits at the confluence of the Waccamaw, Great Pee Dee and Sampit rivers, was largely spared the initial fury of Florence, which came ashore on Sept. 14 as a Category 1 hurricane, killing 46 people in three states.
But the port city of more than 9,000 stands in the path of what the National Weather Service has said could be significant flooding as water dumped by the storm system drains to the ocean.
"We are urging people to take this event seriously. We expect the flooding to be worse than Hurricane Matthew a couple years ago," said Randy Akers, deputy public information officer for Georgetown County. "We always urge people to prepare for the worst and hope for the best."
Akers said between 6,000 and 8,000 people have been exhorted to leave, but it was not clear how many had done so as of Tuesday evening. He said the county lacked authority to mandate evacuations.
"We do have some concerns that people are not taking this event as seriously as they should," he said.
Parts of Georgetown could be submerged in up to 10 feet (3 meters) of water in the coming days as the Pee Dee and Waccamaw rivers overrun their banks, the National Weather Service said, adding that the deluge threatened to cut off highways and isolate communities.
COAL ASH POND COULD FLOOD
In neighbouring Conway County, the Waccamaw, which was already well above flood stage on Tuesday, could inundate a coal ash pond that holds more than 200,000 tons of toxic ash, according to Santee Cooper, South Carolina's state-owned electric and water utility.
Santee Cooper said it has removed more than 1 million tons of coal ash, which can contaminate water and harm fish and wildlife, from the site in the past few years.
The Waccamaw was forecast to crest on Thursday at 22 feet in Conway and at 21.2 feet in Georgetown, a representative with the South Carolina Emergency Management Division said.
The potential flood zone encompasses roughly 3,500 homes in Georgetown, 37 miles (60 km) south of Myrtle Beach, and the coastal resort community of Pawleys Island where as many as 8,000 people live, Georgetown County spokeswoman Jackie Broach-Akers said.
Authorities warned residents in harm's way with recorded telephone messages and home visits. The county opened two emergency shelters on Monday, and hotels in nearby Myrtle Beach were offering discounts to evacuees. Public schools were closed until further notice.
State transportation crews were working to erect temporary dams on either side of U.S. Highway 17, the main coastal route through the area, and National Guard engineers were installing a floating bridge at Georgetown in case the highway is washed out at the river.
In North Carolina, Governor Roy Cooper said on Monday that seven rivers in the southeast part of the state were at major flood stages and three others at moderate flood stages.Meanwhile a new storm was brewing in the Atlantic Ocean on Tuesday, bringing scattered showers and thunderstorms across the
Carolinas on Tuesday and Wednesday, according to the National Hurricane Center.
Florence dumped 30 to 40 inches (75 to 100 cm) of rain on Wilmington, North Carolina, alone.
Insured losses from Hurricane Florence will range from $2.8 billion to $5 billion, according to RMS, a risk modelling and analytics firm.
(Additional reporting by Brendan O'Brien in Milwaukee and Dan Whitcomb in Los Angeles; Writing by Dan Whitcomb; Editing by Bill Trott, Leslie Adler and Cynthia Osterman)
This story has not been edited by Firstpost staff and is generated by auto-feed.
Find latest and upcoming tech gadgets online on Tech2 Gadgets. Get technology news, gadgets reviews & ratings. Popular gadgets including laptop, tablet and mobile specifications, features, prices, comparison.
World
OTTAWA (Reuters) - Canadian Prime Minister Justin Trudeau on Friday said he will continue to stand up against China's "coercive diplomacy" and its human rights abuses in Hong Kong and Xinjiang after being rebuked by Beijing for similar comments earlier this week. "We will stand up loudly and clearly for human rights all around the world, whether it is talking about the situation faced by the Uighurs, whether it is talking about the very concerning situation in Hong Kong, whether it's calling out China for its coercive diplomacy," Trudeau said in a news conference. (Reporting by Steve Scherer and Julie Gordon, Editing by Franklin Paul)
World
By Caroline Pailliez PARIS (Reuters) - Solene Tissot, a 19-year-old student in Paris, will obey the curfew imposed to fight COVID-19, but she has one request for her country's leaders: don't blame young people for the second wave of the virus. "There's been this kind of assigning guilt to young people," she said on Friday, hours before the new curfew was to come into force in Paris and major French cities. "I reject that." After a lull over the summer, the rates of transmission of coronavirus are going up in many parts of Europe and officials have identified social interactions between young people as a source of the resurgence.
World
By Adrian Portugal and Eloisa Lopez MANILA (Reuters) - Jailed Philippine activist Reina Mae Nasino wanted to hold her three-month-old daughter for the last time before she was laid to rest on Friday but she could not. Heavily armed prison officials guarding her refused to uncuff her despite pleas from her family and human rights supporters, who have decried what they described as inhumane treatment of Nasino and other mothers in Philippine jails.