Thousands protest Argentina's negotiations with IMF
BUENOS AIRES (Reuters) - Thousands of Argentines on Friday protested the government's bid to secure a credit line from the International Monetary Fund, which they blame for hardship during a past financial crisis. Opposition parties, unions, human rights organizations and artists took part in the march near the capital Buenos Aires' emblematic obelisk, under the banner 'the country is in danger.' The protest is the latest of several organized since President Mauricio Macri announced on May 8 that he had started financing negotiations with the IMF after weeks of market volatility. The unexpected move surprised investors and stoked Argentines' fears of a repeat of the nation's devastating 2001-2002 economic collapse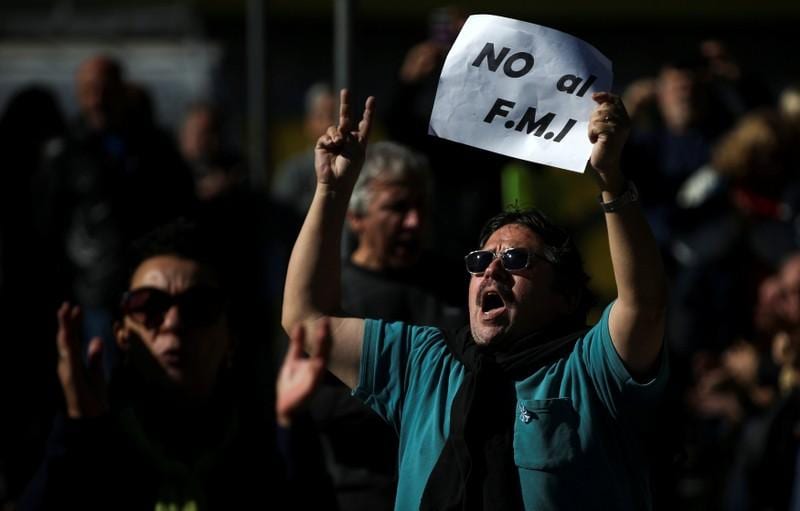 BUENOS AIRES (Reuters) - Thousands of Argentines on Friday protested the government's bid to secure a credit line from the International Monetary Fund, which they blame for hardship during a past financial crisis.
Opposition parties, unions, human rights organizations and artists took part in the march near the capital Buenos Aires' emblematic obelisk, under the banner "the country is in danger."
The protest is the latest of several organized since President Mauricio Macri announced on May 8 that he had started financing negotiations with the IMF after weeks of market volatility.
The unexpected move surprised investors and stoked Argentines' fears of a repeat of the nation's devastating 2001-2002 economic collapse.
Many Argentines blame IMF-imposed austerity measures for worsening the crisis, which impoverished millions and turned Argentina into a global pariah after the government defaulted on a record $100 billion in debt.
(Reporting By Nicolas Misculin, Writing By Mitra Taj; Editing by Susan Thomas)
This story has not been edited by Firstpost staff and is generated by auto-feed.
Business
By Stephen Nellis (Reuters) -Apple Inc on Monday said it will offer the ability to store state-issued identification cards digitally on iPhones and that it is working with the U.S. Transportation Security Administration to accept the digital IDs at airports, one of several updates to the software that runs on its devices. It also showed updates to its FaceTime video chat app, adding the ability to schedule calls with multiple attendees and making the software compatible with Android and Windows devices.
Business
LONDON (Reuters) - The bosses of all airlines flying passenger services between Britain and the United States called on Monday for the countries' governments to relax COVID-19 restrictions to reopen travel routes between the two countries. After more than a year of restrictions, the CEOs of American Airlines, IAG unit British Airways, Delta Air Lines, United Airlines and JetBlue Airways Corp said high vaccination rates in both countries meant travel could restart safely. The push for reopening trans-Atlantic routes on Monday comes ahead of meetings between U.S.
Business
BRUSSELS (Reuters) - The European Union's patience towards Britain over Brexit arrangements in Northern Ireland is wearing thin and the bloc will consider its options should Britain continue its "confrontational path", an EU official said on Monday.