Thousands of Peruvians say goodbye to ex-president following suicide
By Marco Aquino LIMA (Reuters) - Thousand of Peruvians said goodbye on Thursday in Lima to ex-president Alan Garcia -- who killed himself this week - in the second of three days of national mourning declared by President Martin Vizcarra. Garcia shot himself in the head on Wednesday to avoid arrest in connection with alleged bribes from Brazilian builder Odebrecht, in the most dramatic turn yet in Latin America's largest graft scandal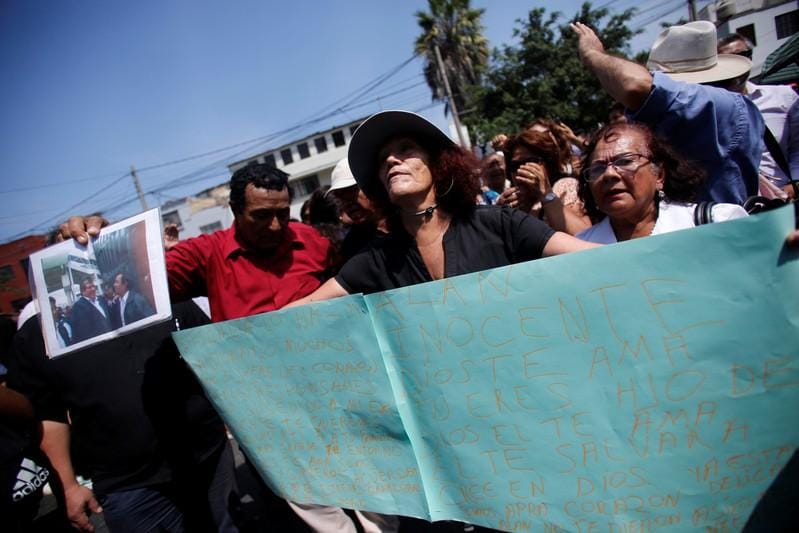 By Marco Aquino
LIMA (Reuters) - Thousand of Peruvians said goodbye on Thursday in Lima to ex-president Alan Garcia -- who killed himself this week - in the second of three days of national mourning declared by President Martin Vizcarra.
Garcia shot himself in the head on Wednesday to avoid arrest in connection with alleged bribes from Brazilian builder Odebrecht, in the most dramatic turn yet in Latin America's largest graft scandal.
Friends, allies and leaders across the political spectrum paid homage to Garcia at the headquarters of his APRA party, one of Latin America's oldest political parties, and one which twice helped usher Garcia to the presidency.
Vizcarra ordered flags to be flown at half mast at the country's Congress and other public buildings to honour the ex-President and former lawmaker.
Despite that, some of Garcia's most tenacious allies cried out "Vizcarra is a murderer," at the wake, a nod to Garcia's recent critique that his prosecution was politically motivated.
A pugnacious politician considered one of Latin America's best orators, Garcia had long been dogged by graft allegations that he brushed off as baseless political smears.
But prosecutors investigating Brazilian builder Odebrecht gathered enough evidence to secure a judicial order this week to hold Garcia in pre-trial detention while they prepared charges against him, prompting the ex-president's suicide.
The investigation in Peru had picked up speed in recent months, with a judge ordering another former president, Pedro Pablo Kuczynski, to jail before trial in connection with the company last week.
The scandal had already touched the highest levels of Peru's ruling political class.
Ex-President Alejandro Toledo is fighting extradition from the United States after a Peruvian judge ordered him jailed in 2017, while another former leader, Ollanta Humala, spent nine months in pre-trial detention before he was released last year on appeal.
(Reporting by Marco Aquino, writing by Dave Sherwood; Editing by Alistair Bell)
This story has not been edited by Firstpost staff and is generated by auto-feed.
Find latest and upcoming tech gadgets online on Tech2 Gadgets. Get technology news, gadgets reviews & ratings. Popular gadgets including laptop, tablet and mobile specifications, features, prices, comparison.
World
By Tim Hepher and David Ljunggren PARIS/OTTAWA (Reuters) - France said on Friday it would download the black boxes from a Ukrainian airliner downed by an Iranian missile in January, easing a stand-off over where they should be read. France's BEA crash investigation agency said it was acting at the request of Iran, which remains responsible under global rules for conducting a formal accident probe after acknowledging that the Boeing 737 was downed by its forces
World
By Brad Brooks LUBBOCK, Texas (Reuters) - With new coronavirus cases surging in Texas and Florida, officials in both states on Friday ordered bars to close again and imposed tighter restrictions on restaurants, setting back efforts to reopen their economies. Governor Greg Abbott gave bars in Texas until midday Friday to shut, while Florida's Department of Business and Professional Regulation told bars to immediately stop serving alcohol on their premises
World
By Patricia Zengerle WASHINGTON (Reuters) - The U.S. Senate passed legislation on Thursday that would impose mandatory sanctions on people or companies that back efforts by China to restrict Hong Kong's autonomy, pushing back against Beijing's new security law for the city. The measure also includes secondary sanctions on banks that do business with anyone found to be backing any crackdown on the territory's autonomy, potentially cutting them off from American counterparts and limiting access to U.S.