Thousands of Czechs protest for fourth week against justice minister
PRAGUE (Reuters) - Thousands of Czechs protested for a fourth week in a row on Tuesday against a justice minister they fear could influence a criminal case against Prime Minister Andrej Babis. Protesters say Justice Minister Marie Benesova's past comments and actions were supportive of Babis, a billionaire-turned-politician who has been charged with illegally tapping 2 million euros in European Union funds a decade ago when he was in business. He denies the charges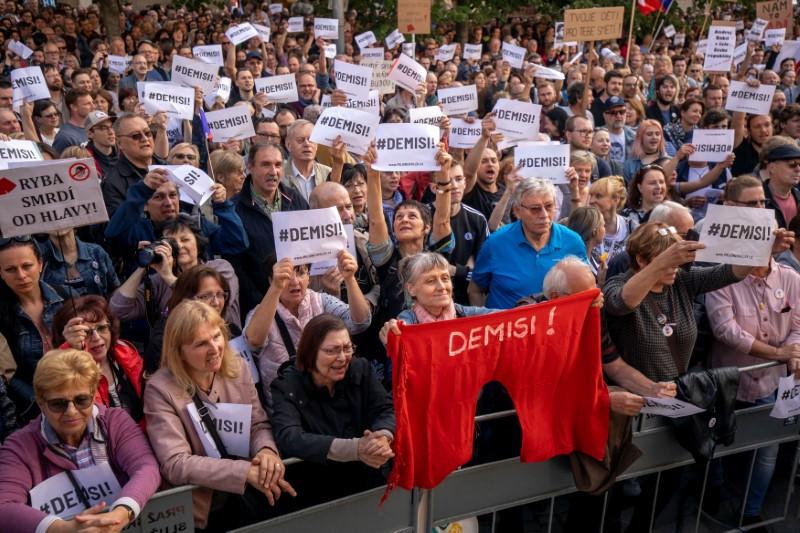 PRAGUE (Reuters) - Thousands of Czechs protested for a fourth week in a row on Tuesday against a justice minister they fear could influence a criminal case against Prime Minister Andrej Babis.
Protesters say Justice Minister Marie Benesova's past comments and actions were supportive of Babis, a billionaire-turned-politician who has been charged with illegally tapping 2 million euros in European Union funds a decade ago when he was in business. He denies the charges.
As a member of parliament in 2017, Benesova was among a small group of lawmakers who did not support lifting Babis's parliamentary immunity in the subsidy case. Earlier, in 2013, she served as justice minister in a caretaker government appointed by President Milos Zeman, an ally of Babis.
People gathered at Wenceslas Square in the centre of Prague, moving the protest to a larger space as the number of participants grew. Organisers estimated attendance at 50,000, surpassing the previous protests with around 20,000.
The crowd waved Czech and European Union flags and signs that read "You can't break justice" or "I am ashamed of my prime minister".
"If such people (as Babis) represent us, it is not good," said Josef Hovorka, 34, an NGO employee.
"We could take inspiration from Austria, where politicians resigned for less," he said, referring to a scandal that felled Austrian Chancellor Sebastian Kurz's coalition government at the weekend.
Despite the protests, Babis and his ANO party have not suffered any significant drop in support ahead of a European Parliament election this weekend, garnering around 30 percent in opinion polls.
Prosecutors, who can halt the case before it gets to court, have yet to decide on police recommendations delivered last month that Babis stand trial.
Benesova's predecessor at the justice ministry resigned one day after the police wrapped up their investigation, sparking worries that political pressure might be involved.
(Reporting by Robert Muller; Editing by Gareth Jones)
This story has not been edited by Firstpost staff and is generated by auto-feed.
Business
By Stephen Nellis (Reuters) -Apple Inc on Monday said it will offer the ability to store state-issued identification cards digitally on iPhones and that it is working with the U.S. Transportation Security Administration to accept the digital IDs at airports, one of several updates to the software that runs on its devices. It also showed updates to its FaceTime video chat app, adding the ability to schedule calls with multiple attendees and making the software compatible with Android and Windows devices.
Business
LONDON (Reuters) - The bosses of all airlines flying passenger services between Britain and the United States called on Monday for the countries' governments to relax COVID-19 restrictions to reopen travel routes between the two countries. After more than a year of restrictions, the CEOs of American Airlines, IAG unit British Airways, Delta Air Lines, United Airlines and JetBlue Airways Corp said high vaccination rates in both countries meant travel could restart safely. The push for reopening trans-Atlantic routes on Monday comes ahead of meetings between U.S.
Business
BRUSSELS (Reuters) - The European Union's patience towards Britain over Brexit arrangements in Northern Ireland is wearing thin and the bloc will consider its options should Britain continue its "confrontational path", an EU official said on Monday.