Theresa May prepares to take over as PM: Britain set to get new leader post-Brexit
British PM David Cameron steps down today and Theresa May prepares to take his place following a momentous referendum to leave the European Union (EU) that has sent shockwaves around the world.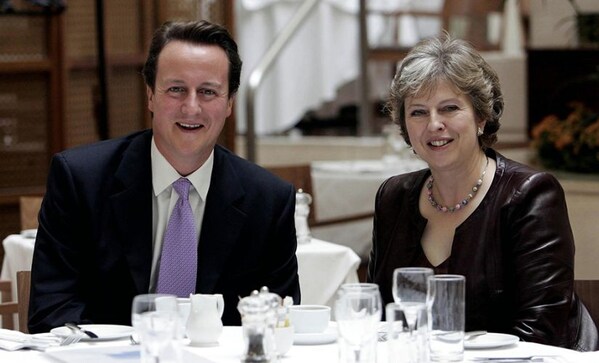 British Prime Minister David Cameron steps down today and Theresa May prepares to take his place following a momentous referendum to leave the European Union (EU) that has sent shockwaves around the world. Cameron will hold his final weekly question and answer session in Parliament before tendering his resignation to Queen Elizabeth II at Buckingham Palace.
The monarch will then call on May to form a government and the newly-anointed prime minister will make a statement outside her new Downing Street residence. European leaders have asked the government to move quickly to renegotiate its relationship with the EU but May has indicated she will not be rushed into triggering the formal procedure for Brexit.
The 59-year-old, who will become Britain's second female prime minister after Margaret Thatcher, also has to attempt to bridge Conservative Party divisions and deal with a potential economic downturn. Her other daunting challenges include keeping pro-EU Scotland from bidding for independence in order to stay in the 28-nation bloc, and weaving new global trade and diplomatic alliances to prepare for a post-Brexit future.
Clouds start to disperse
May campaigned with Cameron for Britain to stay in the EU and she will also have to convince Brexit supporters that she will implement the result of the 23 June referendum to leave the EU as she has promised. After six years in office, Cameron announced he would resign the day after the vote. He will chiefly be remembered for proposing the referendum in the first place and then spectacularly failing to clinch it.
He sought to deflect that criticism in an interview with The Daily Telegraph on Wednesday, saying: "As I leave, I hope people will see a stronger country, a thriving economy and more chances to get on in life. "It has been a privilege to serve the country I love."
May's bid for his job accelerated as key proponents of Britain's EU withdrawal, including charismatic former mayor of London Boris Johnson, stepped back in a head-spinning round of political bloodletting. The vote exposed deep inequalities in British society which May has promised to address and upended the political scene, sending her Conservatives and the main opposition Labour Party into turmoil.
Labour's embattled leader Jeremy Corbyn, who was accused of failing to persuade working-class voters to back EU membership, now faces a bitter leadership contest of his own against rebel lawmaker Angela Eagle. Investors will be watching May's first days in office closely but with greater optimism as the value of the pound, which fell by up to 15 percent against the dollar and the euro in the days of the Brexit vote, has rebounded on news of her impending promotion.
"Theresa May's virtual 'coronation' as prime minister has delivered a boost to the pound as the clouds of uncertainty following the Brexit vote start to disperse," said market analyst Neil Wilson at ETX Capital, a financial trading company in London. May is expected to begin announcing cabinet picks later on Wednesday and these could reportedly include current energy minister Amber Rudd, foreign minister Philip Hammond and Brexit campaigner Chris Grayling, the Conservatives' House of Commons leader.
Leopard-skin heels
May has been a tough-talking interior minister for the past six years and is something of an unknown quantity internationally, although she has received ringing endorsements from party colleagues and a normally sceptical British tabloid press. She is also liked in and around Maidenhead, the well-to-do commuter town west of London that she has represented in parliament since 1997.
"She will get this country back on its feet," said 69-year-old Jim Charlesworth, a neighbour of May and her banker husband Philip. Martin Trepte, editor of the Maidenhead Advertiser, the local newspaper, said: "She's a mature, grown-up, no-nonsense politician. She knows her stuff."
The daughter of a Church of England vicar, May is a cricket fan with a sober, well-mannered demeanour who lists her hobbies as cooking and walking. She shows a flash of flamboyance with a colourful shoe collection — particularly her leopard-skin heels — which has become famous in the British press.
India
Prime Minister Narendra Modi also asked the ministers to spend the maximum possible time in their constituencies and to implement all the schemes of the government, according to sources
World
Irish unity did not play a big role in this year's Northern Ireland election campaign, which was dominated by more immediate worries, especially a cost-of-living crisis driven by the soaring costs of food and fuel
World
The protocol approved for use in the United States includes two medications. The first one, mifepristone, blocks a hormone called progesterone that is necessary for a pregnancy to continue. The second, misoprostol, brings on uterine contractions